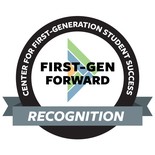 Biola University received the national honor of being selected as a member of the 2021-22 First-gen Forward cohort by The Center for First-generation Student Success, a national initiative, in March. The First-gen Forward designation recognizes institutions of higher education who have demonstrated a commitment to improving experiences and advancing outcomes of first-generation college students.
"I am so excited about this national recognition," said Dr. Tamra Malone, Biola's Chief Diversity Officer. "When we started this program a few years ago, we were looking to design a program with best practices in mind, so FirstGen students would not only survive while enrolled but thrive! To receive this national recognition and the network that comes along with it affirms our current work at the national level and will enable us to have access to experts as we continue to build upon the strong momentum and continued growth we have projected for the future."
Receiving this designation showcases how Biola has not only taken steps to serve first-generation students but is prepared to make a long-term commitment and employ strategies that foster an environment of success for this important student population, according to Dr. Sarah E. Whitley, assistant vice president of the Center for First-generation Student Success, which is an initiative of the National Association of Student Personnel Administrators (NASPA).
"We are pleased to welcome Biola University for their long-term commitment and demonstrated strategies for advancing first-generation student initiatives," said Whitley.
The Biola FirstGen program is housed under the Department of Student Enrichment and Intercultural Development (SEID), which offers programs to help FirstGen students succeed in their college career. A first-generation college student is someone who is in the first generation of their family to graduate with a bachelor's degree in the United States. As of 2020, first generation college students made up 24% of Biola's incoming class, which makes them a key subpopulation who adds to the rich diversity of Biola's student body.
Biola launched its FirstGen Scholars program, a scholarship program for first generation college students entering Biola for the first time, in fall 2016 with 25 students. The program has grown to include over 150 students. Biola's FirstGen program also offers mentorship opportunities, a summer bridge program that seeks to ease the transition into college life and set students up for success, and community building experiences. As of 2020, the FirstGen Program has also expanded to include each first-generation student at Biola which includes about 750-800 students.
"It's truly an honor to receive this national recognition and a testament to the many teams and individuals who have helped us get to where we are today," said Lester Larios, assistant director of Student Enrichment and Intercultural Development at Biola. "This is only possible through the support and partnerships of various departments at the university. With this new recognition we hope to continue adding to the legacy and really live out the motto of FirstGen Forever."
The mission of Biola's FirstGen Scholars Program is to enhance the ability of first generation college students to thrive and persist while at Biola through strategic holistic support. Students selected for the program participate in a three-week summer bridge program and live in Blackstone Hall. In addition, they enroll in a Bible course during the fall, attend cohort connection activities, participate in faculty and peer mentoring, academic and career coaching, and also attend a kick-off event during orientation week at the start of the school year.
As a First-gen Forward Institution, Biola's first-gen program coordinators will receive professional development, community-building experiences, and a first look at the Center's research and resources. Biola faculty and staff will be afforded multiple opportunities to engage with peer institutions who are also creating environments that improve the experiences and outcomes of first-generation students. Biola will have the opportunity to send representatives to the First-gen Forward Workshop this summer and will participate in monthly phone calls, virtual professional development, goal setting, blog development, annual reporting, and more.
"We commend Biola University for their leadership and look forward to witnessing continued progress throughout their participation," said Dr. Kevin Kruger, president and CEO of NASPA.
Learn more about the FirstGen program at Biola. Learn more about the Center for First-generation Student Success.
For more information, contact Jenna Loumagne, assistant director of strategic communications and media relations, at jenna.loumagne@biola.edu.