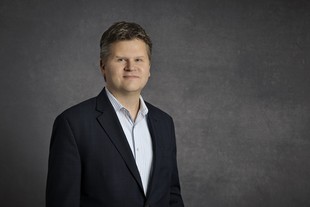 LOS ANGELES, CALIF. — Executive Vice President from AMC Networks, Tom Halleen, who led programming and scheduling for Emmy Award-winning television shows has been selected as the founding dean of Biola University's new School of Cinema and Media Arts.
"We are so thankful that God has led Tom Halleen to join Biola. His credentials as a leader in the entertainment industry are impeccable but even more important are his Christian character and witness," said Biola University President Barry H. Corey. "This appointment is a major step for our film school as we shape the next generation of students to be ambassadors of Christ who are excellent at their craft."
After leading AMC Networks for nearly two decades with programming strategy, acquisitions and scheduling, Halleen will guide Biola students in their journey to work in the entertainment industry. During Halleen's 18 years at AMC Networks, he was a key team member in the transition of AMC into one of the most innovative cable networks on television in part through the launch of groundbreaking and Emmy Award-winning series including Mad Men, Breaking Bad, and The Walking Dead, the highest rated basic cable series in television history.
At AMC Networks, Halleen led a 43-member programming strategy team across the linear and on-demand platforms for five of its entertainment services including AMC, BBC America, IFC, Sundance TV and WEtv. Together with his reputation for integrity, ingenuity, and transformative leadership, he's uniquely qualified to lead Biola's School of Cinema and Media Arts to grow and thrive into new media opportunities as a top film school in the world.
Halleen will oversee a team of nearly 30 faculty and instructors and will usher the school into a new era of growth as the school launches new programs over the next five years in areas such as executive producing, directing, writing, short form production, game design, and animation. Biola hopes to double the school in size to 750 students by 2027. He will also oversee the $76 million building project for the new school — a new state-of-the-art 50,000-plus square-foot facility.
Biola's School of Cinema and Media Arts, launched in 2018, has been ranked as one of the top film schools in the nation by multiple industry-leading sources. It was listed as one of the 50 best film schools around the world in Variety's Entertainment Education Report in 2018, 2019, and 2020. Located just 20 miles from Los Angeles, the entertainment capital of the world, Biola's School of Cinema and Media Arts has abundant opportunities for students, including several off-campus programs and an on-campus production center with almost $4 million worth of state-of-the-art equipment. Learn more about the school at https://www.biola.edu/film. Read Tom Halleen's full bio at https://www.biola.edu/film/about/our-dean.
Biola University is a leading Christ-centered university in Southern California that offers a premier, nationally ranked education and has been named one of the nation's "up and coming" universities by U.S. News & World Report four times in five years. Founded in 1908, Biola is committed to the mission of biblically centered education, scholarship and service — equipping men and women in mind and character to impact the world for the Lord Jesus Christ. With more than 6,300 students at its Los Angeles-area campus and around the world, the university offers more than 150 academic programs through its nine schools, ranging from the B.A. to the Ph.D. For more information, visitwww.biola.edu.
Contact Jenna Loumagne at jenna.loumagne@biola.edu for photos or interview opportunities.