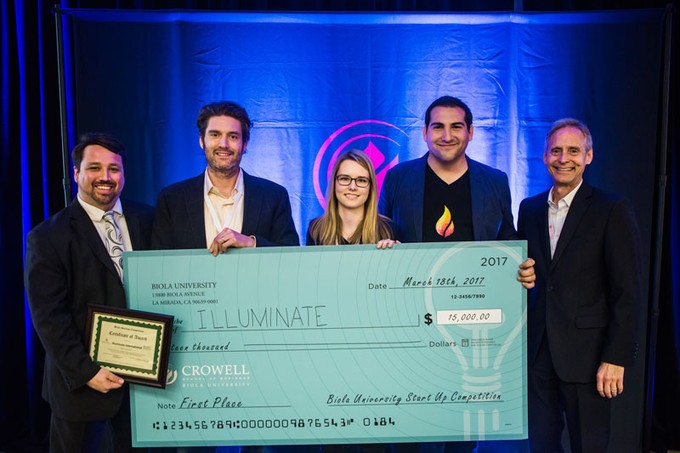 Getting knocked out of the first round of the Biola Startup Competition in 2015 didn't stop senior Jordan Perkins ('17) and alumnus John Terranova ('13) from entering again this year — and learning some valuable lessons about entrepreneurship and resilience in the process.
After sensing affirmation from the people around them, they, along with support from senior Karina Bodemeijer ('17), created a team and pitched Illuminate International, a social enterprise that publishes children's books by global storytellers in order to fund education efforts in under-resourced schools around the world. On March 18, Illuminate presented their pitch, along with five other teams, and took first place, receiving $15,000, and a $10,000 legal package from Brown & Streza LLP.
The Biola Startup Competition, sponsored by the Crowell School of Business and now in its second year, encourages entrepreneurial Biola students — both undergraduates and graduates — and recent alumni, to develop a faith-inspired business or startup with the potential to win cash prizes. Teams have opportunities to work with experienced executives and business leaders and receive expert coaching as they develop a business plan and pitch their concept. This year, 12 teams entered the competition, and six were selected as finalists.
"This year, we focused a lot more on building an entrepreneurial community at Biola," said Robert Harp, director of the competition and of Crowell's strategic initiatives. One of Crowell's newest efforts to foster a faith-based, entrepreneurial community is the Fireside Chat with an Entrepreneur, which gives opportunities for students to interact with Christian entrepreneurs and venture capital sources.
Perkins and Terranova conceived of their idea when they first met and discovered their common interest in nonprofits and social entrepreneurship. This conversation not only led to their partnership in a social enterprise, but also a partnership in life, as they are now engaged to be married this year. Illuminate unites both their areas of expertise. Perkins, a business administration major, has served multiple summers with a nonprofit in Kenya in the area of program development. Terranova, who studied cinema and media arts, now works at Disney and is passionate about storytelling.
Illuminate seeks to bring established teachers who have been in education for a significant number of years and have experience in building curriculum to teach and train local teachers in under-resourced countries, with the goal of creating a sustainable, educational program that will prepare students for the global marketplace. To cover the cost of this program and not solely rely on donors, Illuminate will publish children's books written by global storytellers.
"One of the things I think the competition did was it made us much more focused and really understand our whole entire business development plan, and for us to understand how exactly each and every aspect of this was going to work," Terranova said. They deeply valued the mentors who advised them along the way, including their coach Stan Jantz (M.A. '05), a Biola trustee with extensive experience as an author and publisher.
"It's hard to break into an industry and so you need people who are going to be on your side," Perkins said. "I think what the Biola Startup Competition seeks to do is to celebrate creativity, ingenuity, entrepreneurship and also community, and what it means to work together — or side-by-side — to create companies that can make an impact."