Books
Winsome Persuasion: Christian Influence in a Post-Christian World will be on sale on Amazon from Sept. 2–8, 2021!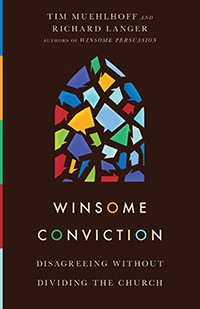 Winsome Conviction: Disagreeing without Dividing the Church (IVP)
We generally assume that those sitting around us in church share our beliefs. But when our personal convictions are contested by fellow Christians, everything changes. We feel attacked from behind. When other Christians doubt or deny our convictions, we don't experience it as a mere difference of opinion, but as a violation of an unspoken agreement.
Tim Muehlhoff and Rick Langer offer a guide to help Christians navigate disagreements with one another. In today's polarized context, Christians often have committed, biblical rationales for very different positions. How do we discern between core biblical convictions and secondary issues? How do we cultivate better understanding and compassion for those we disagree with? Muehlhoff and Langer provide lessons from conflict theory and church history on how to avoid the dangers of groupthink and how to negotiate differing biblical convictions to avoid church splits and repair interpersonal ruptures.
Christian unity is possible. Discover how we can navigate differences by speaking in both truth and love.
"Our culture seems to be increasingly defined by sharper elbows or sharper edges or sharper tongues. This seems antithetical to the gospel, which calls for truth with grace and grace with truth. The polarization evident in politics, media and universities is even showing up in the church. Polarizing attitudes are not unifying attitudes, and this must grieve the heart of God. Through this book, Biola professors Rick Langer and Tim Muehlhoff offer a timely, helpful and hopeful resource for Christians who yearn to cultivate biblical kindness and unity as we together seek truth. This thoughtful and practical book will certainly go a long way to help Christians model healthy discourse around crucial issues and to reclaim a winsome gospel witness to a broken world. I would put this on a must-read list for any Christian today who is a leader or aspiring to lead."
— Barry H. Corey, President of Biola University and author of Love Kindness: Discover the Power of a Forgotten Christian Virtue
Purchase Book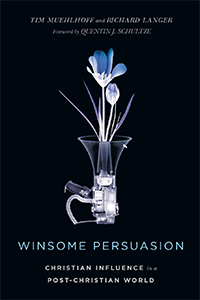 Winsome Persuasion: Christian Influence in a Post-Christian World (IVP Academic)
How are Christians viewed in the broader culture? We blush at the possibilities. Brainwashed fanatics? Out-of-touch dogmatists? Buffoons? The task of bearing faithful witness to Jesus is complicated by persistent ― and not altogether baseless ― cultural stereotypes. In our post-Christian society, thoughtful Christians are considering again how to engage the dominant culture as a minority, a counterpublic, amid varying perceptions and misperceptions.
In this timely book, Tim Muehlhoff and Rick Langer ask what our interactions with the dominant cultural ethos should look like. How might we be persuasive and civil at the same time? How should we respond to those who ridicule and caricature us? How can we challenge the beliefs of other communities with love and respect? Muehlhoff and Langer present a model for cultural engagement that integrates communication theory, theology, and Scripture. Penetrating, wise, and relentlessly practical, it includes test cases and examples from history, such as William Wilberforce and Harriet Beecher Stowe. Now more than ever, Christians need what Winsome Persuasion offers: a compelling vision of public engagement that is both shrewd and gracious.
"The American public square is now more cantankerous and less civil than perhaps any time in the modern era. How should a Christian live and speak hope without merely adding more noise? Muehlhoff and Langer's book Winsome Persuasion casts a positive vision for a way forward and indeed models it."
— Jonathan Merritt, Contributing writer for The Atlantic.
Purchase Book