The first question my family members asked when I was born was "¿Como salió?" Among Latinos this is a common question asked about a newborn. The literal translation is, "How did they come out?" They're not really asking about health, which, of course, is important to them. They're asking the color of the baby's skin.
My mother and father are from Guadalajara. I was born in Long Beach, but, because my parents immigrated just a few years earlier, I picked up English as they were studying it. I was delighted to run around Ralphs, naming food items in Spanish and English. In early childhood I played with my neighbor Timmy in the U.S and enjoyed meals with my abuelos, tías, and tíos in Mexico. My mom, dad and I flew back and forth while my parents house hunted in Mexico. My parents finally decided it was best to settle in a Latino community in Santa Ana and they successfully provided for my brother and I.
From preschool to late elementary, I was surrounded by people who were like me. It was "normal" to speak two languages and to understand Mexican cultural values and expectations. However, despite being surrounded by people who were like me, I wasn't surrounded by people who looked like me. Yes, my family is from Mexico, but part of my ancestry is European, specifically Spanish. It didn't occur to me as a child that I was different—or even looked different—despite my light skin and green eyes. I didn't feel excluded because I was able to talk to my friends Kimberly and Frida about our favorite telenovelas and what gifts we got for Día de los Reyes Magos.
Growing up, I kept looking for people who looked like me. My dad even recalls seven-year-old me storming out of Toys R Us because I couldn't find a brown-haired Barbie. During middle school and high school, I flipped through Seventeen and Teen Vogue, wanting to be anything but myself. At the time I was unaware I felt underrepresented, but I lacked all the features I saw in ballet class or on The Suite Life of Zack and Cody: lighter skin, blonde hair, blue eyes and a smaller frame. (It would've cost my mom $100 for a custom American Girl Doll that looked like me.)
Yet, at family parties, I was complimented for my looks far more often than my cousins were. In high school, I enjoyed the surprised look people gave me when I switched instinctively from English to Spanish. On the other hand, I flinched when, a native Spanish speaker encouraged me to switch to English after I messed up on a single word. Looking back, I'm chagrined by those prideful moments, for being so pleased by the shocked looks I got because I had light eyes and spoke Spanish. I'm ashamed at my reactions when I was told I didn't look Mexican.
After I moved out of my Santa Ana home and into my Biola dorm, loneliness hit me as soon as my parents dropped off my stuff. Biola is the first school I've attended that is predominately white. So, to keep from feeling left out, I assimilated. I got rid of my gold-plate name necklace, disregarded my Catholic upbringing, and began to regard fluency in Spanish as just something to list on my resume. As I assimilated, many just assumed I was white. Mind you, people at Biola didn't intentionally make me feel left out. However, the subtle pressures were prevalent enough for me to want to blend in. Of course, I can still engage in Biola's culture, but sometimes I still feel a little uneasy going along with it.
Visiting my family in Mexico also gets tricky. Almost everyone in my family is light-skinned, but the moment I step out on the streets, it's obvious to everyone that I'm from the U.S. I can't pinpoint what it is that makes me stick out, but I felt as if I wasn't Mexican enough.
Every now and then, I hate having to juggle two identities and cultures. Sometimes I feel as though I don't even have an identity because when someone asks me a simple question about either U.S or Mexican culture, my answer comes out as incomplete.
For the longest time, I thought that if I became 100% fluent in Spanish or went to Mexico more often, I could maintain my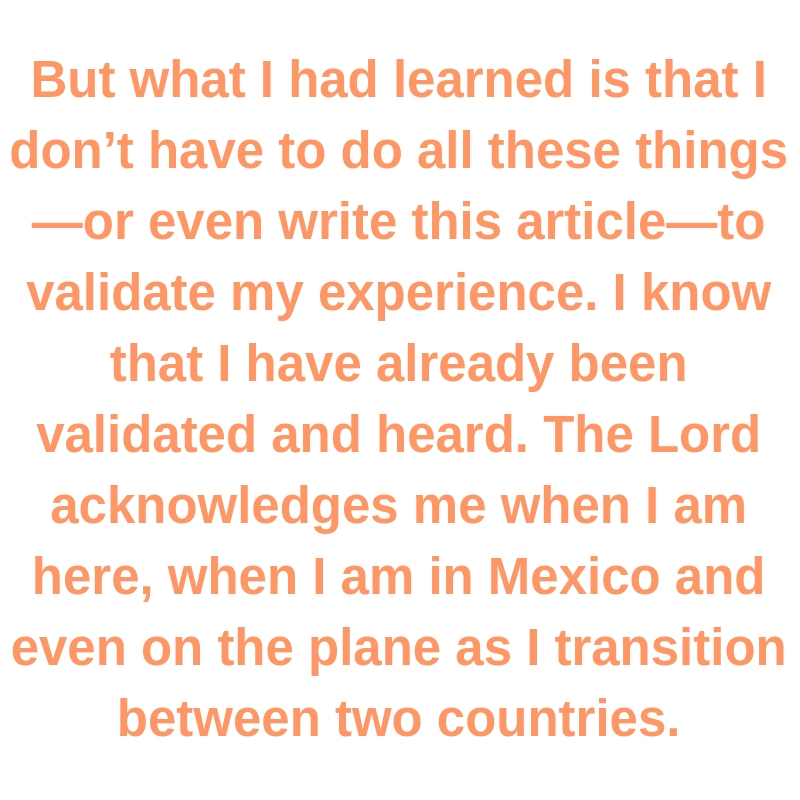 Mexican identity. That if I went to enough Fourth of July parties or celebrated Christmas the American way, I could prove I belong in this country.
But what I had learned is that I don't have to do all these things—or even write this article—to validate my experience. I know that I have already been validated and heard. The Lord acknowledges me when I am here, when I am in Mexico and even on the plane as I transition between two countries. I stopped questioning God as to why I couldn't have just been born in Mexico, or be white and live in the U.S to end these feelings of incompleteness. And instead I am now aware and accept my privilege and my hardships.
God has made me with intention and purpose and behind this strong Latina is a group of even stronger latinos y latinas. Mi mamá y papá, who immigrated here at ages 20 and 22; who endlessly provide and rejoice over me just like my Father in heaven. Mi hermanito and his nightly prayers for our family here and in Méjico. Mis abuelos who prepare their home and days for me when I visit Méjico. Mis tiós y tiás as they share stories about the landmarks we walk by when I tour around our city of Guadalajara.
I've realized that I don't have to prove myself because I can declare my identity. That is, I am American, I am Mexican, and I am enough.
***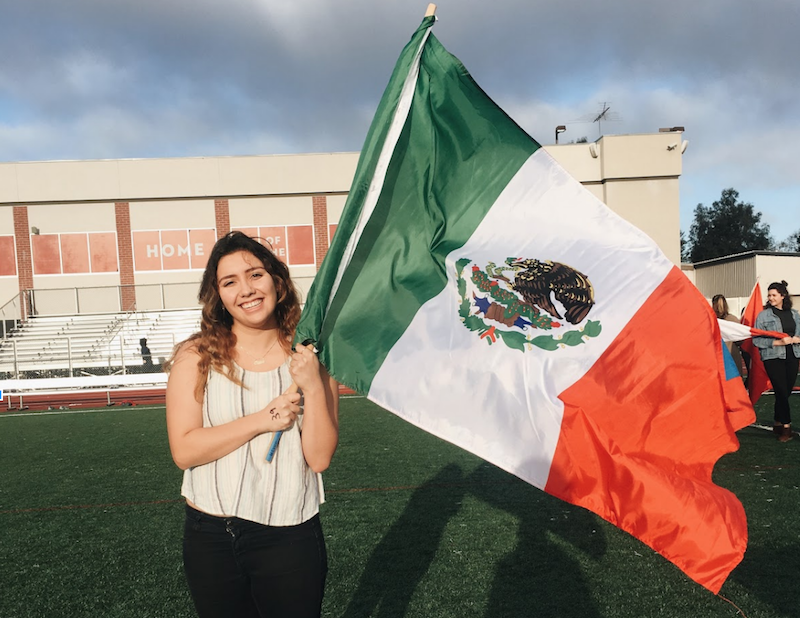 Melissa Fernanda Valle is a Senior Elementary Education major. When she isn't teaching tiny humans or writing lesson plans, she's either hanging out in Blackstone's RA office or watching her little brother's baseball games.