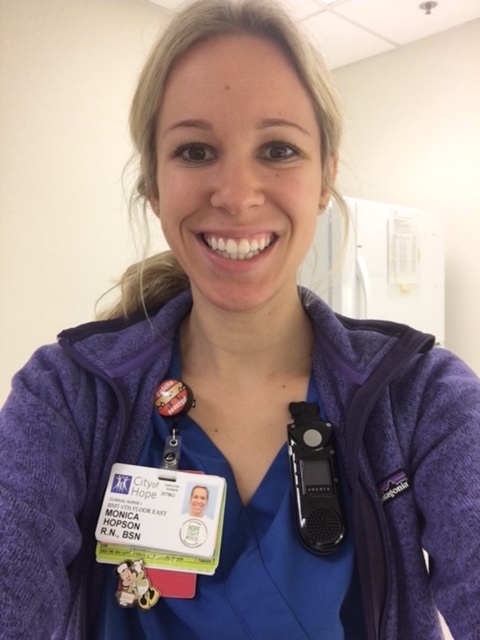 A number of our GRIT community are eager to be graduating in just a few short months. Actually, "eager" may not be quite right... anxious? bewildered? downright terrified?

You're not alone.
This week's "Life After Biola" interviewee, Monica Hopson, says it like it is: it can be rough out there when you're just not sure what's going to happen next. But in the midst of her own season of uncertainty between graduating and landing a job, she identified a high value by which she now lives: stay connected to community.
For a realistic outlook on the limbo between graduation and work, take a quick peak at Monica's story. I have a feeling she'd say, "Listen, if I can do it, so can you!"
GRIT: What's your current role & company/organization?
Monica: City of Hope Medical Center. I work as Registered Nurse on the Bone Marrow Transplant (BMT) unit. I have been working there since October of 2014, and this is my first nursing job.
GRIT: Where's "home" for you?
Monica: I'm originally from Santa Maria, CA, and I currently reside in La Habra, CA
GRIT: What has been your journey since leaving Biola? Was it what you expected or imagined?
Monica: Transitioning into post-graduate life was hard. I found it difficult to live in the limbo between graduation and my first job; the unknowns of where and when I would get hired, having to apply for countless jobs online, and studying for the test to receive my actual RN license were all things that kept me awake at night. Right after graduation I lived in an apartment in Fullerton with a few other girls who graduated from Biola while I searched high and low for a new graduate nursing job via the internet. I continued to work for Biola because I had a student job in IT and I kept working there until I got my first nursing job. It took me six months to find that first nursing job. Since then I have enjoyed working as a nurse at City of Hope, and though I could live closer to work, I chose to prioritize living close to my community of friends.
GRIT: What do you wish someone had told you before you left Biola?
 What do you wish you would've known or understood then?
Monica: Get a job NOW. I wish that someone stressed to me the importance of having some career-related experience before I graduated. I had excellent grades, but so did many other university graduates. What makes a new graduate stand apart is job experience and a dependable reputation. Companies want to see dedication and hard work to make it worth their investment in hiring someone, especially if it is their first job. So go for the internship, go for the job in the same field of expertise, start doing the research now if you want to go to grad school. Not only will this give you experience but if you get your foot in the door at that company, and they may very likely hire you on in the position you want after you graduate. I know that finding a job during school may be difficult or challenging. If you cannot get a job during school, do volunteer work, or something that pertains to your major.
GRIT: What have been the 'aha' moments or surprises since leaving Biola? What did you least expect? What has been a pleasant surprise?
Monica: The average length of time it took me to be hired in my first career job was longer than I expected, at the time I graduated the mean length was 6 months. This is normal. If you start searching in the spring before you graduate, it may still take you months to find your job. Also, your dream job will probably not be your first job. It doesn't hurt to even find a temporary job (Starbucks, any food-service location) to make money while you search.
GRIT: How would you describe your spiritual journey post-Biola - areas of growth, struggle, questions about God, etc?
Monica: I have been learning about God through those that surround me. I was fortunate to have a good group of friends that supported me and continue to support me right after I graduated and now. I had to find my people, and I decided to stay in this area so that I could continue to grow with these people. The nature of my job proves to be very draining and demanding, and having friends that come along side me to deal with tough questions about God and about life has been life-giving.

GRIT: What is one thing you wish you could say to your former Biola self?
Monica: To current Biolans and to my former Biolan self: Continue to work hard in school. It is exhausting, I know, and life is exhausting, I know, but push through. It will be worth it in the end. Do not be discouraged or intimidated, especially when the job market favors your male counterparts. Use the resources you have now to learn and to grow and to make friendships that will last for the rest of your life. Find your courage, your voice, and your knowledge in your major and with those in your life while you are still in school.

Use all the resources at your fingertips (the career center, your professors, etc.) to look over those valuable pieces of paper such as your resume and cover letter until they are perfect. Compile a google doc for you and your friends where you write down the questions you have been asked in job interviews. View interview experience (even if you do not get the job) as valuable knowledge that will set you up for success in the interview that will grant you your job.
To my nursing students: Go for that CNA job or that PCA job. Hospitals like to see that experience and they like to know you before hiring you on as an RN. Grades are important but so is experience. If you simply cannot work prior to graduation, try to stay connected to the nurses that you do your preceptorship with, or ask them if they could introduce you to the nurse manager of the unit if you are interested in working there. This may sound intimidating, but it could be valuable to you come the time to write your cover letter.
GRIT: Thank you, Monica. Thanks for modeling for us the tenacity it takes to keep on adult-ing in Life After Biola, even in the midst of unknowing!
~