If you attended the GRIT launch party, you may have noticed Alex, Celeste, Lisa and me wandering around the Collegium, wide eyed, not quite sure what to do or how to act.

Where did they all come from?
How did this happen?
Are we dreaming?
We whispered these questions to each other as we moved around the kitchen to make sure the cooler was stocked with LaCroix, opened another box of (to die for) blueberry glazed donuts, and handed out supplies for the "write a card to a woman you admire" table. It's not that we didn't expect a few of you to show up and celebrate Biola University's first resource collective for women—we just didn't expect so many of you.
And your presence made the room electric. As I was making the rounds, I heard you swapping names, majors, and stories—offering encouragement, making each other laugh, and calling out the best in one other. Sisterhood is a powerful thing—particularly when sisters carry the Image of our good and life giving God—and having you all in one room made me want to slip off my shoes lest I disturb holy ground.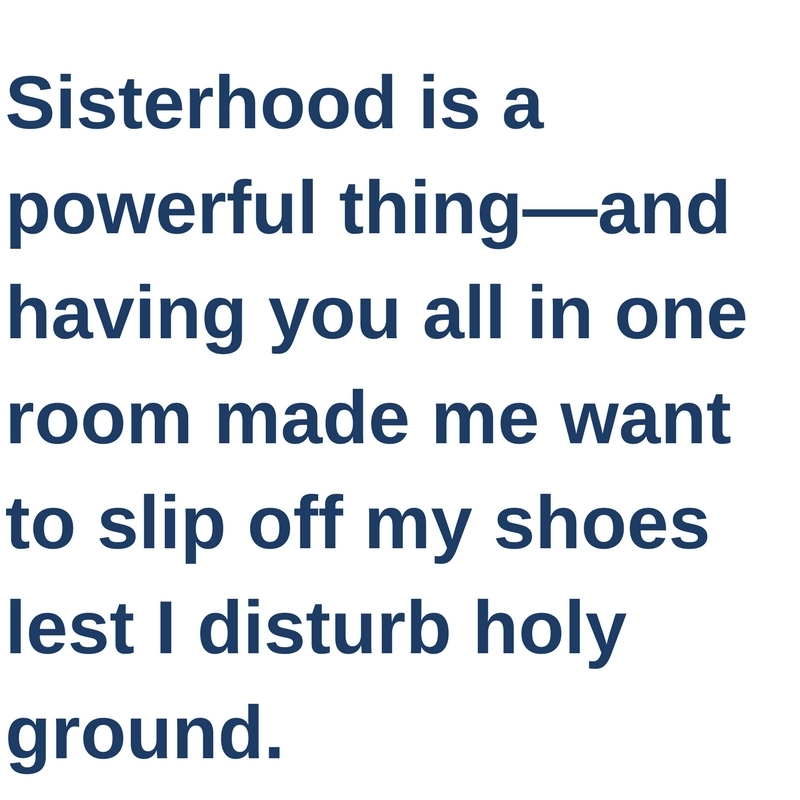 As a Biola alumna myself, it was particularly meaningful to have several of my best friends from college at the party—the women who helped and are helping me, as e.e. cummings says, find the courage to grow up and become who I really am. I'd be lying if I said I didn't tear up at the full circle significance of launching a project aimed at developing Biola women's belief in their ability to set the world on fire, with the Biola women who first handed me a set of matches in attendance.
The encouragement the editorial board has received from the entirety of the Biola community has knocked us off our feet, and we could not be more excited about the future of GRIT: a resource collective for women. Make sure to keep checking back for new content, because this is just the beginning. (And don't forget to follow us on Twitter & Instagram!)

Until next time, I'll leave you with the prayer that was read at the launch. Grab a friend or two this week, and offer it up together.
God of Sarah and Hagar, Naomi and Ruth, Esther and Deborah,
God of Mary and Elizabeth, Mary and Martha, Mary Magdalene, Lydia,
and all the unnamed women of scripture,
as you anointed these women with the oil of faith and calling,
so anoint women everywhere.
As you blessed these women with finding the courage and strength,

persistence and perseverance within them,

so bless women everywhere.
As you transformed the world through the vision and work of these women,
continue to transform the world through the vision and work of women everywhere.
From California to Florida, from Chile to Uganda,

may women continue to form and build community

in ways that birth justice, love and peace among us.
In their labor, keep them focused, strong, steadfast and unwavering.
God, bless the women who continue to work tirelessly, often unnoticed,
but full of beauty and power, for all manner of good.
Continue to make them vessels of your sustenance;

instruments of your peace; an inspiration to all.

Amen.
(Erin Matteson)