Dr. Walter Bo Russell, former professor of Bible exposition at Talbot School of Theology, passed away on Saturday, September 3, 2022. Below is a tribute to Russell written by former student and alumnus Will Parker Anderson ('09 B.A., '15 M.A.).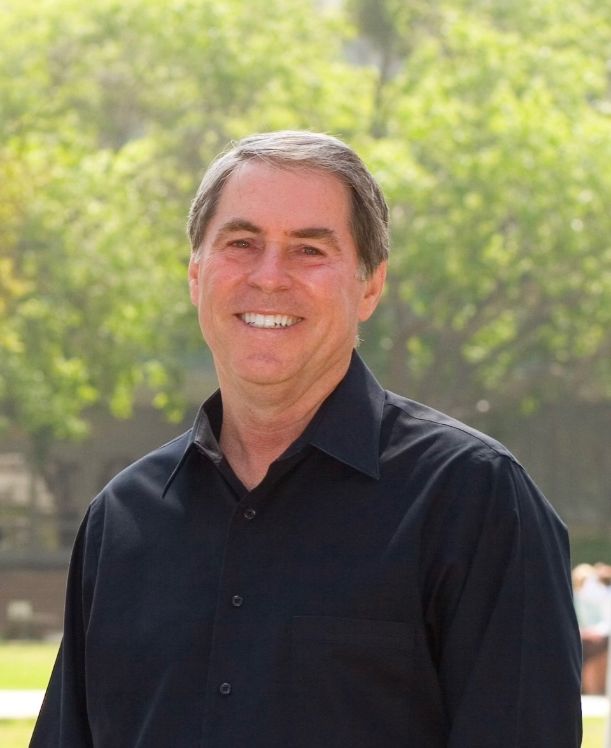 In his classic book, Between Two Worlds, John Stott reflects on how long it takes to prepare a sermon: "Probably the best answer is 'your whole lifetime,' because every sermon is, in a way, a distillation of everything one has learned hitherto."

That quote returned to me when I first heard that Dr. Walt Russell, who taught at Talbot from 1990-2018, is now face to face with Jesus. Though God has used many people to sculpt my knowledge and character, few chisels have shaped me as indelibly as Walt.

Scrolling through a PDF of his New Testament survey syllabus 一 one of my first seminary courses in 2013 一 it strikes me that this 110-page document is a paper trail of his legacy. I smile at the abundance of clip art 一 a Walt trademark. I pause to decipher diagrams with as many arrows as words. These pages unlock memories a decade has dulled, especially page two, on which Walt decries our Western existential worldview as "radically individualistic, pervasively relativistic, and alarmingly a-historical." Walt knew the blind spots of young seminarians better than we knew ourselves, yet his correctives never resembled the church-as-punching-bag spirit so common among those deconstructing faith today. Instead, he guided us out of anachronism and reductionism, increasing our hunger to know God's Word in its full context and beauty.

For our final expositional paper, he forbid us from using a commentary series written by a well-known pastor 一 not because its theology was flawed 一 but to challenge us to become rigorous researchers, capable of mining precious ore from Christian history, rather than parroting our pet preachers.

In Stott's words, here's what I have learned from Walt "hitherto." I suspect he may have a few more lessons up his sleeve from his headstart in the heavenlies, so until then, here are some treasures from a professor that have shaped my life as a preacher, teacher, writer, and disciple of Christ.

Attentiveness to Head and Heart
Seminary can be spiritually precarious, for when theology becomes a purely academic endeavor, love for God is dampened. Christian faith is ultimately about loving God with all one's heart, soul, mind, and strength (Deut. 6:5, Mark 12:30), yet for some seminarians, the academic process begets big heads, hard hearts, and cold affections. How tempting it is to be trivial with the things of God, or to leverage them for our own status. Tragically, what is meant to be a fertile environment for faith becomes a sterile den of self-righteousness. Satan loves to dilute our delight in God into a begrudging sense of duty, in the very institution meant to stir worship.

In this regard, Walt Russell was like a weathered sea captain, resilient against the crashing waves of spiritual apathy, modeling what it looks like to sharpen your mind even while feeding your soul. One of his sharpest tools was vulnerability 一 as seen in a blog post on his own battle to connect knowledge and worship, especially after years of theological study:

"I was older and more sophisticated now. I had a little education. I could even explain the Bible to others. I wanted people to appreciate the intellectual dimension of the Scriptures. I didn't want them (or me) to get caught up in a culture that is moving very rapidly into emotivism. Perhaps my lopsided solution was to dig a chasm ever so gradually between my head and my heart—between my rationality and my emotionality. But God has remarkable means of filling in our false chasms."

It was in the darkest season of his life, staring into the grave of his son, that Walt realized the chasm between his head and heart had grown vast. God brought to mind 1 Thessalonians 4:13-18, a text which he previously viewed as an eschatological treatise. He realized that this passage was:

"… theology wrapped in real, gritty, emotion-filled experience… not an abstract and mechanical interest in the end-times, but the tear-stained eyes of believers who had lost their friends and family members, even their children. It was addressed at this moment to me. It was God's Word to me to pull me back from the abyss of despair and unbelief."

This encounter with Scripture became a deeply ingrained conviction Walt strove to instill in his students, who, like him, were lured toward lukewarmness without even knowing it. He recounts teaching a graduate Greek class the same passage, 1 Thessalonians 4:13-18:
"Very predictably, several of the graduate students glossed over the grieving believers and argued passionately that Paul was primarily teaching about the end-times. Recognizing my fellow chasm-diggers, through my tears I invited them to stand beside me and stare into my son's grave. I recounted my experience with God and His Word some years before. I tried to express fervently how my love for the Scriptures grew out of bridging the chasm between my head and my heart in the midst of deep despair and grief. I don't know how successful I was. Yet I do know that my prayer for them, and for you, is that it will not take a grave for you to see the chasm."

I'll never forget his lectures on the Holy Spirit from Galatians 5, in which he vehemently insisted that sin is no match for God's sanctifying power. As I listened, my heart burned within me. He shared about a time decades earlier, while he was a pastor in Baltimore, when he noticed some adult magazines in a convenience store, and was suddenly tempted to peruse them. Uttering a prayer to God, that his Spirit would empower him to resist, Walt walked away briskly. That following Sunday, filled with joy and gratitude, he shared the story with his congregation, encouraging them to rely on God's power against whatever temptations they faced. Not surprisingly, several people complained 一 a few even left the church, disgusted that their pastor would ever be tempted by pornography. But over the years, almost like clockwork, his congregants approached him privately, confessing their own struggle with lust. Walt's vulnerability from the pulpit gave them permission and motivation to come into the light, to receive prayer, and to enlist the Spirit's help in their own war against sin.

Walt skillfully showed us the telos of exegesis: an obedient life. Theology is fuel for holiness, not stuffiness.

Theological Tenacity
If you took a class with Walt, you undoubtedly heard him speak about the flesh/spirit conflict in Pauline theology. In a 1993 edition of JETS, he argues that in Galatians 5:13-26, sarx and pneuma do not describe an "internal duality" within Christians, but rather "two successful historical eras of modes of existence, separated by Christ's death, burial, and resurrection." It confounded Walt that the 1984 NIV translators rendered "flesh" as "sinful nature" 一 a translation he felt downplayed a believer's transformed status in Christ. During one lecture, Walt recounted how he approached one of the NIV translators at an ETS conference, zealously asking: "Why did you translate sarx like that?!"

Walt wasn't being persnickety about one Greek word: he desperately wanted fellow Christians to live in the confidence and hope of a Spirit-filled life! Tacitly, Walt was teaching us something valuable: theology matters. And things that matter should get our blood boiling when they're misrepresented. Granted, there's a crucial difference between divisive dogmatism and scriptural tenacity. As a millennial, my generation rightly distances from the former, but is cowardly about the latter. White flags have a place in theology, but sometimes anger is more biblical. Consider Paul's about the Judiazers who were wooing the Galatians away from the true Gospel: "I wish those who unsettle you would emasculate themselves!"
Tenacity isn't a value in and of itself, nor a way to flex one's "rightness" or interpretive prowess. It rather speaks to the nature of what theology is, namely, precious truths that God wants us to know and live out一truths that must be stewarded and defended so they might bear fruit in the lives of those we're teaching.

Humility
A great litmus test for the health of one's "theological tenacity" is the co-presence of humility. Numerous times I saw Walt graciously field aggressive questions by self-assured students. I certainly don't judge those students' motives, as seminary is a place for lively debate, but sometimes it seemed excessive when, during class breaks, they'd practically corner Walt, peppering him with additional inquiries. I imagine sometimes he would have appreciated the freedom to visit the restroom or grab a coffee, yet he never skirted his inquisitors.

With patience, he re-explained, illustrated, and pointed them to resources if they wanted to investigate further. Walt wore a serious expression in these exchanges 一 you could tell he cared deeply about his words. And yet, his smile and laughter punctuated the gravitas of those moments, which assured all of us eavesdroppers that somehow he was enjoying himself.

A recent Tweet by one of Walt's former students distills the scene I've been describing: "Just a few days ago I was remembering how gracious he was when I wanted to spend all the breaks in our hermeneutics seminar arguing with him."

Pastoral Warmth
Meeting with Walt during his office hours, or after class, never felt like you were intruding on his time or space. I remember sitting in his office on numerous occasions, to brainstorm ideas for my sermon on Romans 1, or to vent about the challenges of my youth group.

There is a difference between a professor and a pastor; I understand that. But seminarians need professors who care for people as much as they do about present active imperative verbs, who share from the trenches of everyday life, not just the ivory tower, and who model what it looks like to fight sin, not merely assign 10-page papers on hamartiology. Good professors steward, and invest in, the valuable teaching moments outside the classroom.

Walt's office was never a bunker to shield himself from inquisitive students; it was an open door where wisdom was poured into the next generation. Both academia and ministry are plagued with toxic platform-ism, which leverages relationships to build your name or brand. Walt's interruptibility (and availability) charted a countercultural course, away from self-promotion.

Another Talbot professor once shared that, while attending a prominent theological conference, most people he met looked at his name badge (which listed his degrees), instead of looking into his eyes. He realized how easy it is, even among Christian scholars, to view people as commodities rather than image bearers.

I thank God for men like Walt Russell, whose giftedness could have turned him into an aloof elite, but whose heart kept him grounded in the everyday lives of his students.

Written by Talbot School of Theology alumnus Will Parker Anderson ('09 B.A., '15 M.A.).