This is Part Two of a three part series. To read the other posts in this series, see Part One and Part Three.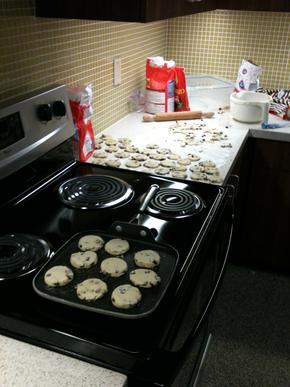 Of course, if you are going to use a lens of food and hospitality to teach theology, you'd better be ready to feed your students. The beginning of semester means a marathon Welsh cake baking session in the Draycott home. In our January intensive Interterm, I get to welcome the whole class to our home for a session of teaching. In regular semester the larger classes don't allow this. But hospitality then becomes an experiential learning project for the students. Throughout the semester, in groups they will have eaten a meal together and deliberately fasted and prayed together.
Then they are asked to execute a hospitality project. They must invite themselves over to the home of a church leader in order to provide that household a meal. In the process they will explore elements of learning from practitioners how the doctrine of the church shakes down on the ground, and how they as students can be involved in encouraging church members. But of course there is way more learning that goes on: working as a team, learning of each other's food traditions and cultural understanding and expectations of meals and hospitality, new recipes, or even how to cook! The group project surfaces joy and frustration at serving together with people randomly grouped together. Always there is the blessing of receiving a welcome into a home of the people the group is serving.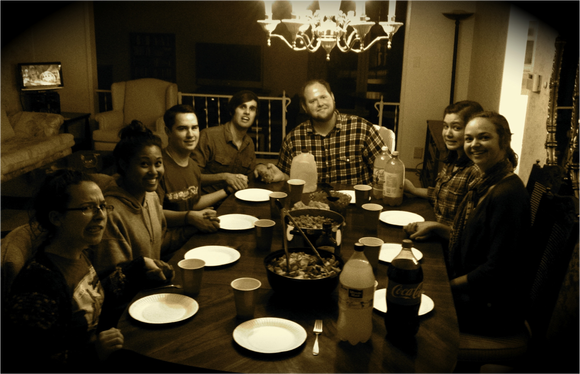 Good news transforms us as people in the power of the Holy Spirit. Theology is the task of comprehending and articulating the truth of that reality as authorized by God's word in Scripture, and as lived, through that same Spirit empowered faithfulness, in church history. So while theology is an intellectual activity, it is more than intellectual. It is robustly holistic, expressing our embodied discipleship and so tracing the impact of the good news of Jesus Christ on our affections and moral relations to others as demonstrated in our love and action.
In the third section of Taste and See I'll review a couple of the textbooks. I'll encourage you to read them as great tools toward this holistic theological project.