Ed Curtis, professor of biblical and theological studies at Talbot, just released the new book, Ecclesiastes and Song of Songs (Teach the Text Commentary Series). He kindly took some time to answer a few questions about the book.
How would you briefly summarize your new book, Ecclesiastes and Song of Songs?
It is part of a new commentary series called Teach the Text that is being done by Baker Books. It is designed for busy pastors, Bible teachers, and anyone who is serious about studying Scripture.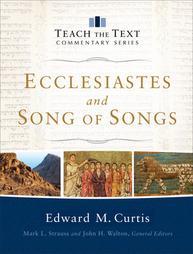 How will readers benefit from reading the book?
The major benefit is that readers will find biblical scholarship condensed into no more than 6 pages per section. It is presented in a clear, concise, attractive, and user-friendly format. The volumes are designed to provide a ready reference for the exposition of the biblical text, giving easy access to information that a pastor needs to communicate the text effectively. The main idea of each section is identified along with the central teachings of each passage. A section is included on teaching each text. Examples and illustrations appropriate to the section are included as well.
What led you to write the book? How does this book relate to your previous scholarship? And how does it intersect with your classroom teaching at Talbot?
I was asked by the OT editor to do this volume, probably because I have done several articles and papers on OT wisdom literature, especially Ecclesiastes and Song of Songs. I regularly teach these books in undergrad upper division electives and the research that I did for the commentary is directly translated into our discussions of the text in these classes.
Ecclesiastes and Song of Songs are two books that seem particularly challenging for teachers and preachers. What makes them difficult books?
Ecclesiastes 12:11 tells us that the words of the sage are like the sharp sticks that a herdsman uses to poke animals to guide them in the direction he wants them to go, and Ecclesiastes seems to illustrate that kind of teaching. He deals with issues of reality in a fallen world in ways that make many people uncomfortable. He raises questions that we cannot readily answer and points out that many things in human experience work differently than our paradigms suggest they should. He makes it clear that there are many things in life that we cannot understand or control. He shows us clearly that life in the world is far more complex than our pat answers often suggest. He raises questions that seem to call into basic assumptions about faith and the work of God in the world. He raises questions about whether life has meaning or whether anything that we pursue has value that death can't erase. He points to injustice and oppression in ways that raise questions about whether the governance of the universe is just. He makes it clear that the data of human experience is sufficiently ambiguous to make us wonder about the goodness and justice of God. Such questions are obviously important, but often the Christian community wants cleaner, neater answers that Ecclesiastes gives.
It appears that the author of this book believed that difficult exercises like the one he puts us through with his questions and observations play an important role in helping us develop skill in living according to Yahweh's order, which is an important goal of the Old Testament Wisdom Literature.
The difficulties with Song of Songs have to do with the content of the book. We are largely past the time when many Christians believed that a book dealing with the relationship between a man and woman, including the physical aspects of that relationship, could possibly be an appropriate topic for a book of the Bible. There are some interpretive issues that are difficult to deal with such as Solomon's relationship to the book – he can hardly be a positive role model for relationships between men and women. Another difficulty has to do with how to deal with the fact that the book has no explicit mention of marriage or anything to say about sexual morality. The biggest difficulty in teaching the material is probably how to appropriately teach a diverse group what the book has to say about male – female relationships. Obviously one would have to teach this book to a youth group in a different way than to a group of married adults.
What are the biggest takeaways readers should expect from this book?
With Ecclesiastes the biggest takeaway is the importance of a life that is centered in God. Despite all the difficulties and struggles of living in a fallen world, what pleases God is for his people to live in trusting dependence on him (that is, to fear/love him and keep his commandments). This sage also makes it clear that God is working out his purposes in the world, despite the fact that the realities of life often seem to stand in significant tension with that idea. I also think an important takeaway has to do with the importance of understanding the realities of life (including the life of faith) in a fallen world. A proper understanding of human limits regarding how much we can understand and control in life is important as well. An appropriate awareness and acceptance of such things can move us in the direction of the kind of trust that God desires in his people. Ecclesiastes also reminds us of many things that do not give meaning to life and many things whose benefit to us will end when we die. While Ecclesiastes cannot answer the question with the clarity that the New Testament will finally bring, it makes it clear that living in trusting dependence on God is the only way to accrue a profit in this life that death cannot rob us of.
The takeaway from Song of Songs has to do with allowing us to observe and listen to a man and woman who presumably live out the one flesh relationship of Genesis 2 in ways that reflect God's order. It contributes little to many of the hot button questions that are often divisive in the church today, but it shows us a couple functioning in ways that reflect what this relationship should look like. Among the things that are clear about their relationship are practical things like mutuality, respect for one another, a clear appreciation for the other and a willingness to express their gratitude and delight, a commitment to the other, and a deep and growing love for the other. One thing that makes what we see in this book even more remarkable is the fact that most marriages in the world where these poems originated were arranged ones – passion and romantic love had to develop from those beginnings. One suspects that what we see in this book reveals some of the practical features of a marriage that can move us toward the kind of relationships that demonstrate to the world what Christ's love for the church looks like.