Jobs for accounting graduates are plentiful — and on the rise. At the same time, there is currently a documented shortage of accountants, so an unprecedented number of organizations and companies are offering scholarships and educational aid for current and would-be accounting majors.
Accounting is no longer — if it ever was — the refuge of nerdy number crunchers, locked in closet-sized offices with an adding machine and a giant can of dangerously-sharp pencils. It's for problem solvers, project managers, detail-minded puzzle-lovers, and critical-thinking detectives who can put pieces together and then explain to others the how and why of those numbers.
Accounting work is classified into two broad categories — private and public — and then lots of subcategories beyond that. Private accounting refers to accountants employed by a single company. These types of accountants analyze and prepare financial reports internally, along with accounts payable, accounts receivable, setting up internal systems to record business transactions and overseeing the company's financial status.
Public accounting is when a firm (or individual) helps clients — individuals to corporations — prepare financial documents. Becoming a public accountant requires a CPA license, because they act as a third party to review the financials of a company for public disclosure. They may also prepare tax returns for both individuals and organizations. Other duties may include audits, consulting services and tax advising.
Most accountants start as public accountants — after that, the sky is the limit. There is an accounting-related career for almost every kind of person! With this in mind, here are a number of careers that an MPAcc in accounting can lead to (several with 2022 salary estimates from Glassdoor):
Auditor
An auditor inspects a company's financial records and checks for accuracy and reliability. The role of an auditor can vary depending on the company or the type of auditor
internal,
external,
government [see below], or
forensic [see below].
Internal auditing can include organizing and examining financial statements to comply with laws, making best-practice recommendations to management, and ensuring taxes are filed properly and on time. An auditor is a critical part of the "checks and balances" system within any company. Average Salary: $60,232
Information and Technology Accountant
There is an increasing demand for careers in technology and accounting. Information and technology accountants are responsible for which system a company uses to organize and report financial data. This role requires knowledge in both accounting and information technology. It's perfect for someone who is a natural problem solver and interested in identifying technology solutions. Average Salary: $79,709.
Tax Accountant/Consultant
A tax accountant focuses on tax-related accounting work, such as preparing quarterly and annual tax returns (local, state, and federal) for individuals and companies. A tax consultant is usually a more senior accountant and is expected to offer not just completed forms but strategies and wisdom, by reviewing the financial documents of a company to create an effective strategy to save money. Note: all tax accountants need to have a current CPA license in the state in which they're employed.
Budget Analyst
They examine the current budget and try to uncover opportunities to cut costs and spend more efficiently. In addition to analyzing reports from the financial department, they
provide regular reports on how the company is doing,
present financial data in a way that is easy for everyone to understand,
and more.
They can often find employment not only in private businesses, but in virtually all areas of the federal government as well.
Senior Financial Analyst
Financial analysts go by many names including investment analysts, research analysts, and more. Regardless of job title, they dive deep into available investment options. They are consistently up to date on all market activities and industry trends. They help evaluate not only the internal financial operations of a company but their financial standing, too. This position appeals to those who are interested in
data gathering,
financial modeling,
spreadsheet maintenance,
developing investment theses,
communicating with investors and management, and
forecasting.
Average Salary: $94,543​
Forensic Accountant/Auditor
Forensics accountants are among the most popular jobs in law enforcement today. As the name suggests, they dive deep into instances of fraud, examine companies' financial statements and provide analysis for legal cases such as embezzlement or fraud. Forensic accountants must be extremely detail oriented as their reports will be scrutinized in court by judges, attorneys, and juries. Average Salary: $82,874
Financial Planner
Some accounting professionals choose to work for financial planning firms, or as independent financial consultants. Financial planners assist individuals with their finances, from budgeting to taxes to investing.
Sports Accountant
A sports accountant is by far one of the best career paths for sports aficionados anywhere. It's a job that allows someone to be deeply involved with not only the budget management of a sports team, but payroll operations as well. May be employed by an organization or as an independent contractor.
Government Accountant/Auditor
Accountants and auditors are employed by federal, state, and local governments for a variety of reasons. They not only do the books for government agencies, but they also audit businesses and individuals who are required to conform to government regulations or pay taxes. Accountants who work for the federal government may be employed by the IRS or may be responsible for auditing government organizations to ensure financial objectives are being met.
Finance Manager
At a smaller organization, a finance manager may be the senior financial officer, tasked with overseeing the financial health of a business. They perform research, leverage analytics to make informed decisions, and track historical performance over time, with the goal of developing financial strategies that will ultimately propel a company to long-term success.
Managerial Accountant/Financial Accountant
A managerial accountant is in charge of analyzing costs and profits, and planning and preparing financial reports for internal employees. Their mission is the help high-level executives make informed and financially responsible decisions. Some tasks include
adapting operation and cost-based planning,
forecasting,
overseeing the product process,
incremental costing, and
enterprise optimization.
Managerial accountants prepare reports for internal review, to help businesses plan, budget, and improve performance.
Financial accountants prepare reports that assess fiscal performance (for example, profit and loss statements, balance sheets, and cash flow statements) for external stakeholders — stockholders, creditors, and taxing agencies. Average Salary: $62,132
Controller
Controllers tend to work underneath the CFO at large organizations, and they manage the accounting department specifically. The typical main duties of a controller are maintaining financial statements, payroll, preparing budgets, general ledger, tax compliance, and more. Experience in business forecasting and tax management is critical to become a corporate controller. Average Salary: $107,027
Chief Financial Officer (CFO)
A CFO's job responsibilities vary depending on the company, however, there are a few key areas in which all CFOs should excel. These include financial management, performance, business strategy, and risk management. CFOs are cross-functional leaders who help a company make informed financial and business decisions, by
implementing revenue strategies,
accessing financial risks and opportunities,
overseeing financial planning and records keeping,
monitoring cash flow, budgets, and liability, and
much more!
Many top-earning CFOs have multiple credentials, so if your career goal is to become a CFO it is strongly advised to have your MPAcc and CPA license as well as an MSA or MBA. Average Salary: $177,546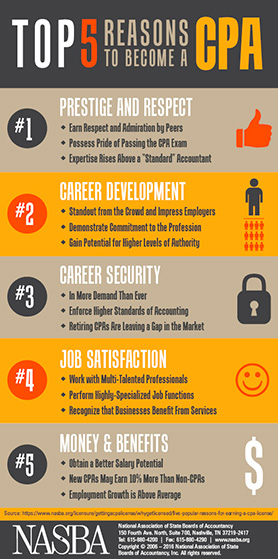 Sources
Learn more or apply to Biola's B.S. in Accounting degree or Master of Professional Accountancy (MPAcc) degree.