Dr. Uche Anizor, professor of theology at Talbot School of Theology, recently received the honor of Christianity Today's 2023 Book Award. His book, Overcoming Apathy: Gospel Hope for Those Who Struggle to Care, was among four finalists considered for the award.
"This recognition from Christianity Today is altogether right and I'm delighted for what it says not only of Dr. Anizor's faithful scholarship, but of the kind of faculty that serve here at Biola," said provost and senior vice president, Matthew Hall.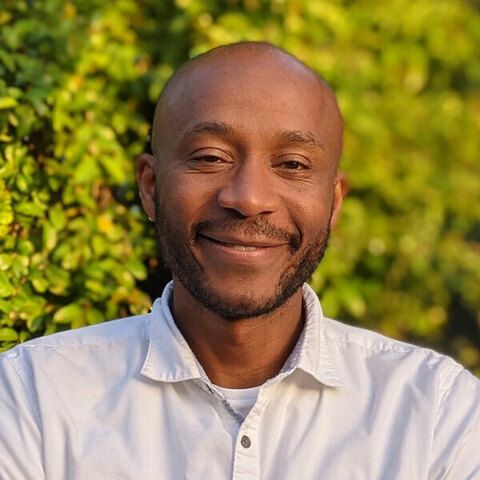 Every year, Christianity Today strives to honor a set of outstanding books that are most likely to shape evangelical life, thought and culture. Publishers were instructed to nominate books for the award early in June 2022 and the winners were announced on December 13, 2022.
This was not Anizor's first book. He has written five books on different theological topics before he tackled the question of apathy.
"I've been hoping to write this book for a long time as a way to get my mind around my own, as well as fellow Christians', apathy," Anizor said.
In his early twenties, he was involved with Campus Crusade for Christ (Cru) and was involved with them for almost a decade. As a ministry devoted to sharing the gospel and mobilizing people for mission, the fervor and zeal Anizor's peers shared was something he did not experience which troubled him.
"I shared the gospel a lot, but found the motivation difficult to come by more often than I would have liked. Spiritual apathy is a lack of motivation to engage with the things of God," he said. "That described me to some degree and it bugged me."
In April 2020, clarity struck. Pausing all his other projects, he dove into writing. Though not an expert on apathy, he yearned to know more.
"This was my first real attempt at writing for a general audience," said Anizor.
Each chapter that Anizor wrote was exploratory. Often, he did not know what he was going to say until he started writing. Sometimes he was in the middle of writing a chapter before he understood where it was going.
As he wrote, he realized that apathy was not his fate and he hopes that his readers realize the same. Through his book, he explains how God has given his people his Son and Spirit to empower them to move past apathy.
There are no shortcuts in this endeavor, however.
"We must embrace the Gospel as the ultimate cure and cultivate a life that makes it difficult for apathy to get a foothold," Anizor said. "We combat apathy by centering on Christ and cultivating certain virtues and heart postures."
The book can be purchased on Amazon. If you are interested to learn from Anizor, visit Talbot's website to explore the academic programs available.
Written by Charlotte McKinley, public relations intern. For more information, please email media.relations@biola.edu.