Biola University studio arts alumna Morgan Reynolds ('23) received an award for exceptional academic excellence during her study abroad program at Oxford University.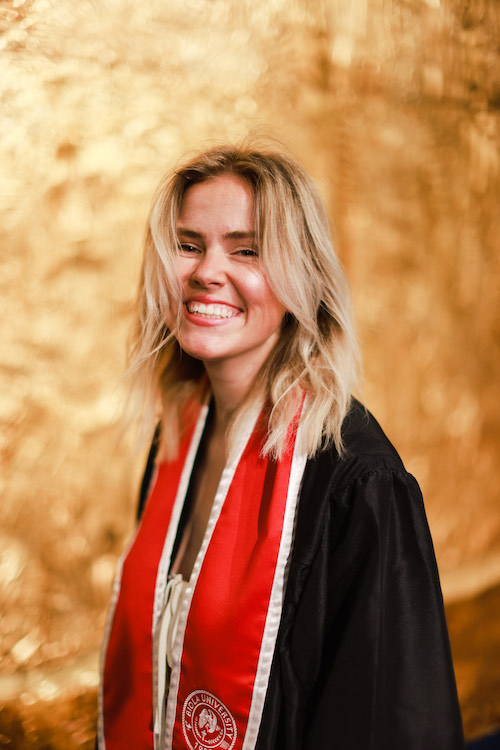 "My true joy came from the work I had the privilege to engage in and the freedom I experienced throughout the process," said Reynolds. "This opportunity allowed me to delve into a topic that holds personal significance and aligns with my future aspirations of working with refugees."
The recent alumna was recognized through a program in Oxford, England with the Scholarship and Christianity in Oxford (SCIO) program.
"It was such a blessing to receive the outstanding news related to Morgan's experience at Oxford," said Dr. Todd Guy, dean of Biola's School of Fine Arts and Communication. "As a school, we are extremely proud of her accomplishment. Morgan is a great example of students from Biola's School of Fine Arts and Communication who take advantage of the excellent opportunities they have to be involved in these types of high impact experiences."
As part of the Oxford program, Reynolds was afforded the opportunity to delve into a research paper of her choice. Titled, "The Psychology of Home: Exploring the Effects of Displacement on Individuals," her paper focused on various theories pertaining to place, place identity and place attachment.
"I felt a deep personal connection to this topic due to my frequent relocations throughout high school and college," said Reynolds.
Her literature review revealed that individuals can develop a strong sense of home even when they are physically distant from it, provided they maintain robust social connections. Her conclusion proved true through her own reflection on her experience at Biola.
"During my time at Biola, I lived with a group of five girls with whom I formed incredibly close bonds," she said.
SCIO Executive Director Dr. Stan Rosenberg remarked on Reynold's outstanding application and ability. Reynolds found her time in SCIO to be academically rigorous and a standout experience in her undergraduate education. She expressed gratitude for the chance to conduct her own research and forge connections with fellow students from Council for Christian Colleges and Universities affiliated schools.
"I cherished my time at SCIO," said Reynolds. "My involvement in the local church in Oxford provided me with numerous opportunities to establish meaningful friendships. In fact, I am returning in a few weeks to reconnect with them."
Reynolds appreciated the ample time she had during the program to reflect on her long-term goals and the opportunity to hone her skills and knowledge in her chosen field. In the future, Reynolds aims to raise awareness about the distinction between voluntary and involuntary relocations and find improved ways to support those who are compelled to leave their homes.
Written by Michael Matchell, director of the Office of Strategic Initiatives and Recruitment in the School of Fine Arts and Communication. For more information, contact media.relations@biola.edu.