"If you haven't noticed, these are especially perilous times for Christian higher education," said Dr. Matthew J. Hall, Provost and Senior Vice President, in his address at his formal installation ceremony held on Feb. 24, 2023 at Biola University. "In recent days, there are reports of institutions closing, bracing for insolvency, and sliding toward extinction. And, of course, those stories are hardly limited to Christian institutions. Higher education as a sector continues to clumsily wrestle through its own identity crisis in North America."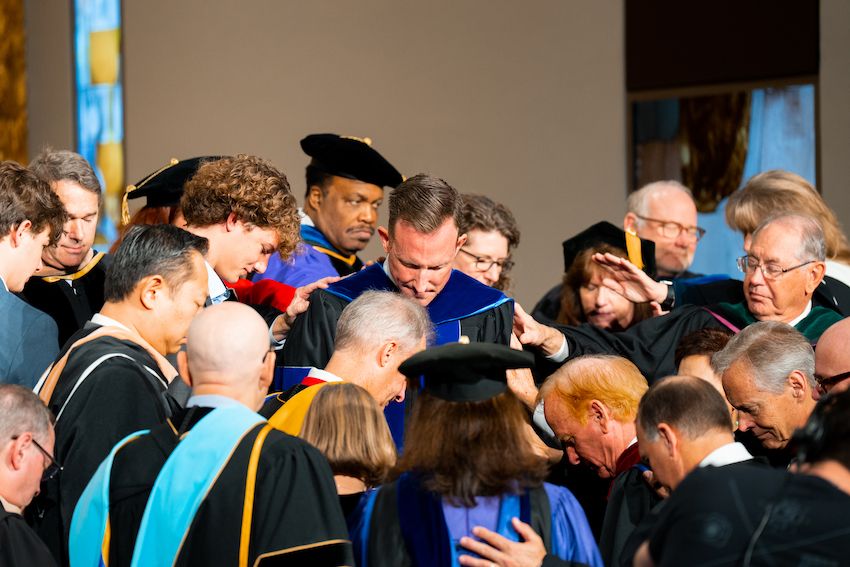 It is undeniable that Christian higher education is experiencing tumultuous times. As Hall emphasized in his address, 44% of 18-28 year olds now are counted among the "nones," or the group of individuals who have no religious affiliation. Hall referenced Stephen Smith's book, Pagans & Christians in the City: Culture Wars from the Tiber to the Potomac, and how Christianity is facing a form of "modern-paganism."
However, there is a dichotomy between those experiencing turmoil and revival within the Christian faith. Christian higher education is also in a season of hope and endurance, seeing revivals that have struck up on Christian college campuses across the nation.
"I want to suggest that this is a particularly thrilling time to be a follower of Jesus and to be about the great project of Christian higher education. I say that because I believe this world, and a generation of young adults, is asking an urgent question, one I pray we will have ears to hear," said Hall.
Dr. Barry H. Corey, president of Biola, opened the ceremony with gratitude to Hall and his work at Biola.
"To be relevant and redemptive, Biola must be a hub of the most vibrant forms of Christian thought. We must be thought developers, thought defenders, thought communicators and thought leaders," said Corey, in his opening of the ceremony. "We must not fear the intellect but embrace it as a gift from God. This is a calling not just to our new provost, Dr. Hall, but to all of us gathered here, as faculty, staff, trustees, students, alumni, friends. We must lead believers everywhere into a more intellectually fertile faith."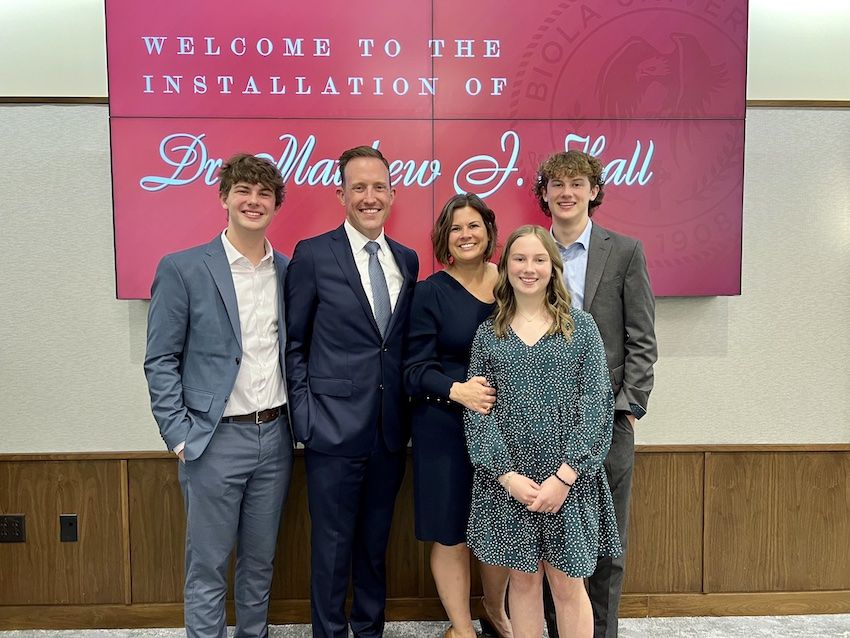 The rainy and windy conditions did not deter an enthusiastic audience from attending the special occasion for Hall and his family: wife Jeannie, and three children, George, Charles and Jane. Corey opened the ceremony followed by charges from Dr. Melissa Schubert Johnson, dean of the school of humanities and social sciences, Dr. John Poston, associate professor of psychology, student Sophia Block, vice president of finance, HR and technology, Dr. Jeremy Pierre, dean at Southern Baptist Theological Seminary, Dr. Russell Moore, editor-in-chief of Christianity Today and finally Dr. Kenneth C. Ulmer, senior advisor to the President on community reconciliation.
Hall's family, friends and colleagues gathered around him at the end of his address to pray for him and his service moving forward at Biola. Matt Redman, well-known worship artist and songwriter in residence at Biola, led a song of worship called "Halfway Empty" to close the ceremony.
The installation ceremony can be watched on Biola's YouTube channel. Learn more about Dr. Matthew Hall on Biola's website. Please contact media.relations@biola.edu with any questions or inquiries to meet with or interview the provost.
Written by Charlotte McKinley, public relations intern, and Sarah Dougher, media relations coordinator.