Biola University is one of America's top universities, according to U.S. News and World Report, landing in the top tier of "Best National Universities" in the publication's 2024 Best Colleges ranking, released today. Biola is also spotlighted on three special recognition lists.
"The excellence of our faculty and positive student experience highlighted in our top tier ranking in U.S. News and World Report's national universities list is encouraging. We are heartened to be recognized for the premier education and flourishing community Biola offers to more than 5,000 undergraduate and graduate students," said Biola University President Barry H. Corey. "In particular, special recognitions on a handful of U.S. News lists this year feature and support our priorities of student success and commitment to academic excellence."
The U.S. News rankings are considered one of the most notable annual published college rankings. For over three decades, Biola has maintained a consistent presence on the U.S. News roster of national universities, which consist of institutions that offer a wide range of undergraduate and graduate level academic programs and emphasize faculty research.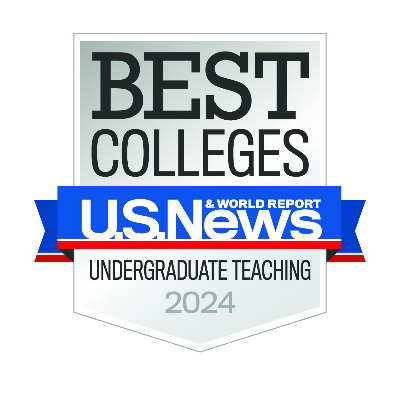 For the fourth time, Biola is on the Best Undergraduate Teaching - National Universities list, showcasing Biola's strong commitment to teaching undergraduates, an important part of the academic experience. According to the guide, schools featured on this list include institutions whose faculty and administrators are committed to teaching undergraduate students in a high-quality manner.
For the fifth year, Biola is on the Top Performers on Social Mobility list, which highlights schools for having commendable indicators of social mobility, such as quality outcomes for economically disadvantaged students and Pell Grant recipients. First generation graduation rate factors are also taken into account.
Biola was recognized on a new list this year — the 2024 Undergraduate Psychology Programs list — for its undergraduate psychology program. Institutions eligible for inclusion on this list are regionally accredited institutions that award a medium to large number of bachelor's degrees in psychology.Biola's Rosemead School of Psychology is a top psychology school for Christians who want to integrate their faith with their field.
This year, with the ranking of 236, Biola is one of the top Council for Christian Colleges & Universities (CCCU) schools within the national university category, which includes 330 schools ranked of 439 eligible institutions.
U.S. News and World Report changed their methodology this year to emphasize first-generation graduation rates, social mobility factors, faculty research volume and outcomes. Factors such as alumni giving, class size, number of faculty with a terminal degree, and high school class standing were eliminated.
The U.S. News rankings are the latest in a series of national recognitions for the university. This summer, Money recognized Biola as one of "The Best Colleges in America 2023," Forbes included Biola on its list of "America's Top Colleges 2023," and Wall Street Journal ranked Biola on its "2024 Best Colleges in the U.S." list.
The Princeton Review also included Biola in their 2024 Best Regional Colleges list as one of 79 best colleges in the Best in West category. Students surveyed for the Princeton Review shared that the Biola community has "a strong sense of biblical foundation," but it is also "a very safe space to be in." Students at Biola "value learning and education but keep Jesus at the center." Read more at Biola's Princeton Review profile. In late August, Niche.com released their best colleges rankings, and recognized Biola as one of the top 10 Christian universities in America, top three Christian colleges in California, as well as in the top 40 Colleges for Film and Photography.
Biola's School of Cinema and Media Arts was also recently recognized as a top film school by Variety Magazine and the Hollywood Reporter. Biola is also a "Great College to Work For," according to The Chronicle of Higher Education's 2023 report.
U.S. News' Best Colleges 2024 Guidebook will be in stores in late October and is available for pre-order online.
Learn more about Biola's academic programs across its nine schools.
For more information, please email media.relations@biola.edu.