Biola University student Marta Dropping, a senior public relations and strategic communication major, won the 2022 Washington Media Scholars Foundation (WMSF) Media Plan Case Competition on June 9, 2022. As one of six finalist teams in this national competition, Dropping went on an expenses-paid trip to Washington, D.C. with teammate, Trinity Klomparens, a sophomore at Patrick Henry College, to compete in the final round.
"Biola's public relations and strategic communication program has helped me tremendously in this competition. At Biola, my PR classes often involve campaign creation, creative thinking, presentation delivery, and in-depth conversations about communication theories and the role of perception in media," Dropping said. "I feel incredibly lucky to be given an education at an institution dedicated to teaching real-world solutions and out-of-the-box thinking. Biola PR taught me to dig deep, think creatively and to always pay attention to the details."
The Media Plan Case Competition represents the cornerstone of the Washington Media Scholars foundation and challenges students to think creatively to develop a strategic media plan based on a hypothetical public policy issue.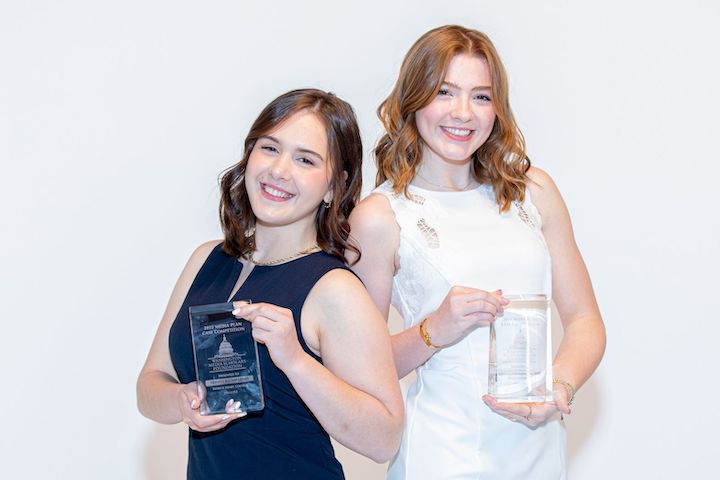 "In our competition, students work with real-world data from leading national research and ratings firms to create a media plan that effectively reaches their target audience," said Kara Edwards, Vice President and Executive Director of the WMSF. "Our panel of five expert industry judges representing major media companies including National Association of Broadcasters, NBCUniversal, Roku, TEGNA, and GMMB found Dropping and Klomparens case study to be the most compelling, which is quite the achievement as this was an especially competitive year."
Dropping is excited to share her experience with others in the Biola community as she steps into the president role for the Biola Public Relations Students Society of America (PRSSA) for the next academic year.
"Student leadership is a core component to our public relations program. I'm incredibly proud of how Marta used her expertise and education to compete in such a prestigious program," said KiYong Kim, chair of the Public Relations and Strategic Communication department and advisor to both Dropping and Klomparens for the competition. "It's experiences like these that our program really encourages students to go after, as they elevate learning and leadership to open up so many opportunities for their future."
Learn more about Biola's Public Relations and Strategic Communication academic programs.
For more information, please email media.relations@biola.edu.