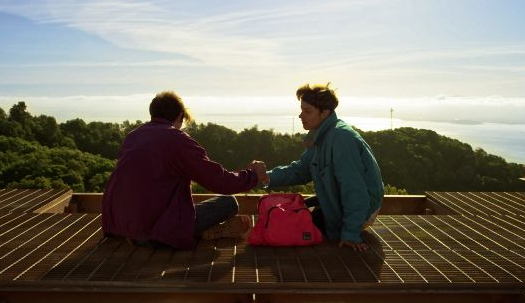 Spencer Whiteout ('18) and Andrew Baer ('19) wanted to make a movie. Using the equipment and resources available to them as Biola University School of Cinema and Media Arts students, they did. The result is Space Waves, a feature-length comedy about two friends who endeavor to catapult their podcast to the top of the iTunes chart. Shot in 2018 , the film spent several years in post-production, but the wait was worth it. Now, Space Waves is ready to sell. We talked to Whiteout, who wrote and directed this passion project, and Baer, who produced it.
From a production standpoint, this must have been a huge undertaking. Why did you decide to make a feature film, as opposed to a short film?
Whiteout: I wanted to start my career with a bang. I wanted Space Waves to be my first entry on a blank slate so I decided to fully commit to a feature film. Also, I knew this story couldn't be told in the short film format. I am fascinated with the passage of time because rarely do we as humans drastically change in one day. More often than not, our beliefs, actions and passions change slowly over time. Feature films have the unique advantage of being able to show characters learn, grow, and change over a longer period of time.
This feels like a very personal film. Why did you choose to tell this story?
Whiteout: I chose to tell this story because I wanted a movie that properly represented my experience of growing up in a small town. I'm not the biggest film buff because so often I feel like movies don't get it right when it comes to relatable, realistic stories — particularly in the coming-of-age category. I wanted to make a movie that celebrated all the precious little life moments that get passed by when 40-year-old Hollywood writers try to write teen flicks.
What would you say was the biggest challenge in shooting or completing the finished product?
Baer: One of the biggest challenges was continuing to find the money to keep moving forward. We were working on a very low budget from pre-production through post, and when Spencer and I ran out of money for the movie, we had to keep getting creative to find money to put into the movie. The Space Tower shoot, the time our master hard-drive failed and the time we scrapped all our post-production audio process (70-80% completed) to start from Square 1 are all examples of times that progress was stalled because Spencer and I had to save up money to keep forward progress.
One of your leads, Rudy Pankow, is now a star on a big TV show, Netflix's Outer Banks. How has this impacted the film?
Whiteout: We shot Space Waves long before Rudy was in Outer Banks. For years we were frustrated with how long our film was taking to complete. We were walking with God the whole time, so why were there so many setbacks and disappointments along the way? It's only in hindsight that we now see how God was moving. God gave us 'fluke star power' with Rudy, and we are so thankful. We had no idea how his fame and popularity would blow up the way it did. Rudy being attached to Space Waves is a huge blessing because now there is already a built-in audience for this movie. It turns out God's timing is always best, and we just have to keep trusting in that.
How did Biola prepare you artistically for this endeavor?
Whiteout: Biola offers the most value in two aspects: the equipment and the people. Space Waves never would have looked as polished as it does had it not been for the incredibly high-end equipment we were able to use. And Space Waves never would have existed had it not been for the strong community of passionate, genuine people that make up Biola's Cinema and Media Arts department. I'm forever grateful for this film and all the new experiences and friendships that have been brought into my life because of it.
The Space Waves teaser will be dropping soon. Follow @spacewavesfilm on Instagram and Facebook for news about the movie.
Learn more about Biola's School of Cinema and Media Arts.
Written by Nate Bell. For more information, contact Jenna Loumagne, assistant director of strategic communications and media relations, at jenna.loumagne@biola.edu.