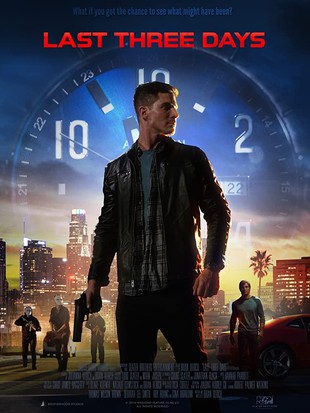 Biola University Snyder School of Cinema and Media Arts alumnus Brian Ulrich ('12) wrote, produced, and directed his first feature, Last Three Days, a dramatic, mind-bending thriller with a philosophical undercurrent. It was sold to Gravitas Ventures at the 2020 Cannes market and released on iTunes on November 13. Ulrich produced the film alongside his wife, alumna Julianna Ulrich ('12).
"We've been wanting to make a movie for a while," said Ulrich. "I went to a business leadership conference in 2016 and then the annual marriage conference hosted by Biola's Center for Marriage & Relationships. Sitting there, I was like, 'Oh! I should write a movie about marriage.' A month later I had a first draft of the script."
Last Three Days is about an undercover cop named Jack (played by Walking Dead: World Beyond star Robert Palmer Watkins) who wakes up one day to find himself drugged and his wife (Deborah Lee Smith) is missing. Dr. Chris Grace, director Biola's Center for Marriage & Relationships, read the script and advised Ulrich on the marriage and psychology aspects of the story. Biola alumnus Steve Hahm ('93) advised on the police aspect.
A crucial subplot involves a powerful Japanese crime syndicate called the Yaku.
"Ten percent of the movie is in Japanese," Ulrich says. "My inspiration came from working with Prof. Dean Yamada on a Biola short film, Persimmon, which I edited. Jack Hafer (then department chair of Cinema & Media Arts) helped me put together a viable business plan. And then Mark Joseph came on as exec producer in post-production."
The film's crew featured several Biola film alumni — Megan Mead (production designer), Kianna Bliven (art director), Townsend Dick (1st assistant camera), Nathan Johnson (production coordinator), Hannah Parrott (composer), Davy McCall (associate producer), Natalie Grace Comstock and Blake Kliewer (editors).
"At the end of the day I wanted to make an action movie. To get audiences hooked," Ulrich said. "But I also wanted to deconstruct the typical Hollywood love story, which is built up around getting the girl and living ever after."
During the first ten minutes of the movie, we witness two people fall in love and get married. Five years later, the marriage is beginning to unravel.
"Culture tells you that if your relationship isn't working, just pull the plug and find someone else," said Ulrich. "No. That's when you work on it. We folded C.S. Lewis's The Four Loves into the story. How do you make marriage work? It's through forgiveness. That's the emotional thread running through the whole thing."
Financing the film was risky business. A Kickstarter fundraising campaign fizzled, so Ulrich and Julianna created a business plan and a budget and went directly to investors. Using this model, the filmmakers were able to secure enough funding to start production. After 30 days of intense shooting, the movie wrapped. Since the film's release in November, reviews have been pouring in. One critic summarized the film as "Memento meets Training Day."
"If you've seen the movie, it's got an intricate plot," Ulrich said. "The people who liked it have responded powerfully to the emotional element. It's like a Greek tragedy in a lot of ways. A guy's descent into hell and back. His emotional journey is what gets you through."
Rent Last Three Days on iTunes or watch several other VOD platforms.
Apply and learn more about Biola's Snyder School of Cinema and Media Arts.
Written by Nate Bell. For more information, contact Jenna Loumagne, assistant director of strategic communications and media relations, at jenna.loumagne@biola.edu.