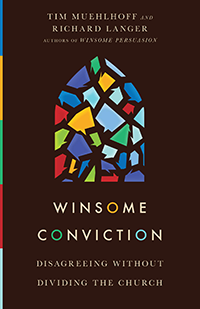 A majority of Americans (98% of those surveyed) believe that incivility is a serious issue, according to a survey by The Civility Project, with 68% believing incivility has reached crisis levels. A new 5-year project, The Winsome Conviction Project, led by Biola University professors Tim Muehlhoff and Rick Langer will seek to combat today's culture of divisive disagreements and work to deepen convictions without dividing communities.
"While Americans have always disagreed to varying degrees on political, social and religious issues, we did so largely as fellow citizens and neighbors. Today, we demonize each other as we retreat into ideological fortresses," said Muehlhoff, professor of communication.
The project is an outpouring of their forthcoming book due to be released in December, Winsome Conviction: Disagreeing without Dividing the Church (IVP). Muehlhoff and Langer both see today's divisive culture as not only a worldwide issue, but specifically a grave issue for Christians.
"Our vision is to help heal a fractured church, foster civility and bring compassion to a warring public square and enrich the lives of listeners rather than tear people apart," said Muehlhoff.
The Winsome Conviction Project will help Christians navigate disagreements with one another in a winsome way through resources including public forums and events, small groups and various services to churches and organizations.
"So part of what we want to do is learn to communicate convictions," said Langer, professor of biblical and theological studies. "The other thing we'd like to do is help us be a little bit more thoughtful about how convictions are formed and perhaps even learn some ways in which we might be able to disagree without our convictions, without dividing the body of Christ."
The growing concern of incivility and lack of compassion for others led the two to research, assess, and develop resources for others to learn how to have tough conversations without causing a divide.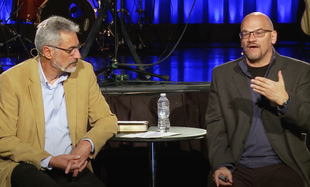 Langer and Muehlhoff will highlight the research they have conducted in the Winsome Conviction Podcast, which will also be a home for conversations with Christian and non-Christian communication and theological experts along with their insights to expressing and identifying convictions.
The podcast will discuss topics like today's argument culture, being brought up to speed with today's news and cultural events such as current division in politics or issues related to race and race theories. The trailer for this podcast is currently available on multiple platforms and the first episode is live on the website.
Winsome Conviction is a continuation of the work the two authors started in their book Winsome Persuasion: Christian Influence in a Post-Christian World (IVP Academic).
Written by Joy Blea, public relations intern. Contact Jenna Loumagne, assistant director of media relations and strategic communications, at jenna.loumagne@biola.edu for more information, photos or media interviews.