Students in Biola University's School of Cinema and Media Arts secured one of the top five spots in the annual Coca-Cola Refreshing Films competition for their short film, "Neon Jungle." Senior Grace Lindblad and alumnus Forrest Clark ('19) received $15,000 as finalists to produce a 30-second film, which will be entered to compete for the grand prize. This year, the winning entry may come from Biola.
Since 2016, Coca-Cola has hosted this competition between film schools across the country to give young filmmakers a chance to gain national exposure and experience. Entries are required to promote Coca-Cola's brand, as well as remind the audience that "popcorn and Coke are the perfect pair and essential to the movie-watching experience." The short films are meant to display the "craveability" of Coke and that going to a movie is a much-needed break from the chaos of life and from technology. Other brand partners Lindblad and Clark collaborated with included Red Digital Cinema, Zeiss, Core SWX and EFILM.
"Neon Jungle" takes on a mockumentary-style approach. Each character in the short represents an animal and a narrator observes them in the "Neon Jungle" of the movie theater. Written by Ryan Hsu ('18), the short was directed by Clark ('19) and produced by Lindblad. The crew included current Biola students, alumni and industry professionals.
"The chance to work directly with industry professionals in a field we hope to pursue was a major point of interest," Lindblad said. "When Forrest approached me and asked if I wanted to hop on this project that had the possibility of being shown in those same theaters that I loved so much, I couldn't say no."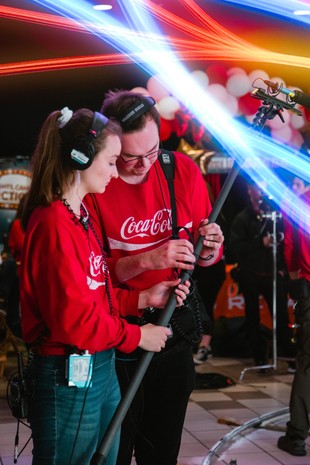 The contest judging committee chooses 15 semi-finalist teams based on the creativity of the submission, creative use of theme and tone, and overall entertainment factor. Semi-finalist teams then work with the Coca-Cola team and its partners to refine their script and resubmit it to be judged under the same criteria and become part of the top five finalists. The winner from the five finalists is chosen by a "Red Ribbon Panel" of judges.
"When we found out we were selected as finalists, it was honestly pretty overwhelming," Lindblad said. "Above all, we are incredibly grateful for the trust from Coca-Cola and Biola. The production process is complex and difficult, but the end result is a professional, polished, project with the opportunity to reach millions of eyes across the country. To represent your alma mater and have your name attached to a project like that is incredibly exciting."
The top five finalists are also encouraged to work with a peer social media manager throughout the six-month process, and teams are mentored in social media management, as well as film production, throughout the entire program. Fellow cinema and media arts student Makayla Smith ('19) serves as the Biola team's social media manager.
While the winning entry has yet to be announced, "Neon Jungle" will be viewable online starting April 30 at cocacolarefreshingfilms.com. Join a special premiere of the film on Biola's YouTube channel on Thursday, April 30, at 7 p.m. PST. The premiere of the student film will be followed by a Q&A with the students involved. Follow the short film's Instagram account @neonjungleshort for more information. Follow the School of Cinema and Media Arts' Instagram account @biolacma and learn more about the film program.
Written by Sarah Dougher and Kiana Karn, Media Relations Assistants. For more information, please contact media.relations@biola.edu.