From Greece to Ukraine
Last Summer I had the privilege of going on a five-week-long mission trip to Athens, Greece to conduct refugee relief and to teach English with my fellow Biola team joined by a team of missionaries from Nashville, Tennessee. Last summer's mission trip Athens was so life-giving that I knew God had me where he wanted me. I always wondered what missions would be like if God had called me to that place. I didn't feel prepared enough to go out and preach the gospel but I knew I wanted to make a difference in the lives of other people. In the process, God taught me a lot that I wasn't thinking before even going in that direction. Before the trip, I learned to step out in full faith and accept the call that the Lord placed on my heart to go to Greece. Upon going on the trip, I learned how to be more obedient, more selfless, sensitive to the Holy Spirit, and I grasped an understanding of letting things out of my control go. This is the concept of full surrender, and from that I gained a sense of peace.
My heart still breaks for the Syrian, Afghani and Iraqi refugees in Greece. Despite spending so much of their life not being given the basic human privileges we have, they still make the most of what they are given. I think one of my biggest takeaways was that after taking so much for granted, I understood what walking a mile in another person's shoes really meant.
In addition, I learned to step out of my comfort zone and take a risk of partaking in ministry halfway across the world. Instead of questioning God and why He wanted me to be a part of this mission, I knew I had to take a leap of faith and go where He was calling me to go.
Greece was an enriching experience where I got to meet so many great people who I now get to call friends. Those relationships that I made, the service I got to partake in — all of it was such a blessing to be a part of. Read more on my preparation for my trip to Greece with the blog I wrote last year as a social media rep! The link is right below: https://www.biola.edu/blogs/becoming-biola/2019/my-missions-trip-to-greece.
So, coming back from a summer trip to prepare for yet another trip in the winter seemed a bit overwhelming at first. Going from being a member on a team to then co-leading a team to travel and partake in missions was a lot for me and my closest family members to process. It's a funny story actually, the plan for our winter trip was to travel to Mexico to conduct orphanage ministry but God had other plans. My team and I prepared for weeks to travel to Mexico. We even learned Spanish together so that we can adapt to the region and be able to communicate with the kids easier. We were looking forward to the mission that was going to be set out for us to do.
However, when we got word from our organizational liaison down in Mexico, we were told due to cartel activity and unsafe conditions we could no longer fly out to that area. Biola University also gave us the red light on that. It was very disheartening to be given the red light and was a very stressful process to go through. It's said that if you want to make God laugh, "you tell him what your plans are," and God for sure had a good laugh with this one, I know I did.
Switching from Mexico to Ukraine= all happened so fast as my team and I had to accommodate for lost time. Looking back on all of it, I knew Ukraine was where God wanted us to serve as student missionaries do, we took a leap of faith and ventured out to Kyiv, Ukraine. Choosing Ukraine and going all-in is one of the best decisions I have made in my entire life.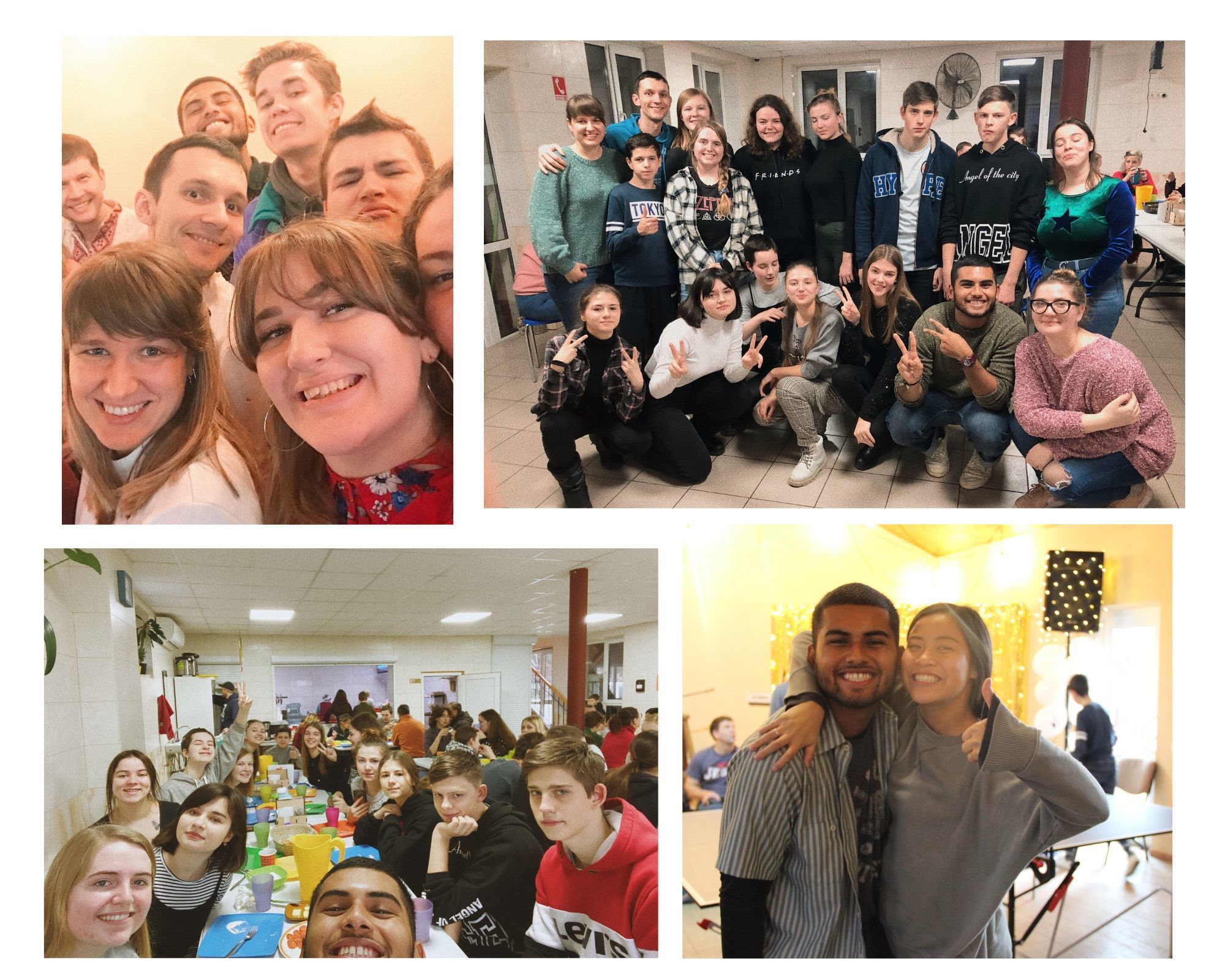 Preparing for the Trip
My co-leader and good friend, Charlotte, and I were the team leads on the Ukraine trip for the winter and we were tasked with taking a short-term Missions Class for the Fall semester for credit. In this class, we learned cultural sensitivity, open communication, and how to be able to confidently step into the fact that we will be participating in cross-cultural engagement. This class really prepared me logistically for the mission ahead of us. In this course, it was such a fun atmosphere and began to be like home for me.
In addition to the class, being involved in our Student Missionary Union (SMU) on campus allowed for great community building and strengthening of relationships of the friends I had been working with in the office. SMU on campus is such a blessing to be a part of. I truly believe that those friends of mine working at the forefront arranging trips, setting up Missions Conference, and all the work that goes into the class has contributed to a beautiful experience in SMU. I am currently not involved with SMU for the time being but my heart will always be with this group on campus. Biola trips would not be a thing without them.
You can read more on what SMU stands for and does for Biola by visiting the link below on our website: https://www.biola.edu/smu,
Furthermore, lots of prayer and careful consideration went into the trip. Adding on to being prepared in all the ways that we can share the gospel and our story, Charlotte and I also had to exercise caution and prioritize the safety of us and our team. Campus Safety made it a point to make sure that all the precautions were taken care of. This process was very tedious at first but I appreciated how much they cared about our safety. If we are representing Biola University in a foreign context, Biola wants to make sure that we will be okay without them. Thank God we didn't have any issues or problems upon arrival and departure of Ukraine, but all the same, Charlotte and I were prepared to take action if things went south at any time. I also really enjoyed taking my first CPR class which is offered through Biola Campus Safety and more information could also be found in the link below on our website: https://www.biola.edu/campus-safety.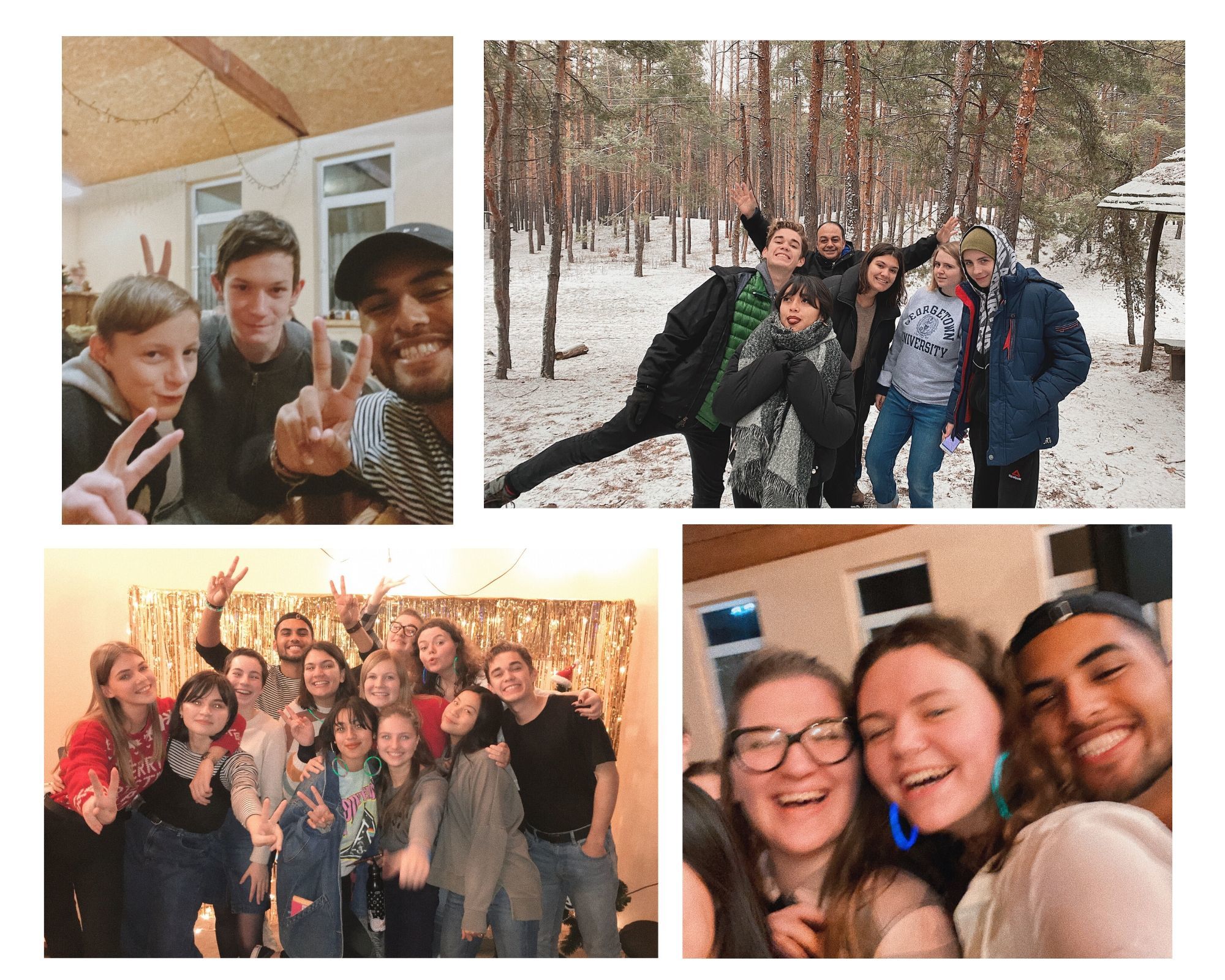 How was the trip?
The trip was SO AMAZING. I loved every second of it, down to the 14-16 hours spent traveling on a plane. The missions organization we got to partner with was called Mercy Projects. Upon conducting youth ministry, we were given the task to be camp counselors for their annual winter camp celebration. I have served in youth ministry countless times over again, so I am familiar with being a camp counselor. It was still very intimidating to have to speak in my native tongue and have one of the translators translate to the kids. One thing my team and I tried to prepare for the most was the culture shock we would experience due to the language barrier. Speaking in English and having it translated was also an experience because when in conversation, both sides were always "10 seconds behind" as I like to call it.
When it comes down to making others comfortable in a space, I will be the first to make a friend. So when I was learning more about cross-cultural communication and cultivating community, I didn't feel confident whatsoever. That is when God really stepped in. I saw God really work in the community while we were there because I was able to do life with so many of the kids and other Ukrainian counselors. Even when we weren't speaking clearly to each other, we understood what was trying to be said. The language barrier was no issue after all! The Lord wanted the American team to love on these kids who come from backgrounds we couldn't even imagine. These kids are so strong and were a true inspiration to me in what they've overcome and gotten through. I learned so much from the amazing teens and really grew to be so comfortable with everyone at camp. I miss it dearly and I know my Biola team misses it too.
The theme for winter camp was the "real meaning for Christmas" and my heart delighted in how happy the kids were to spend Christmas with us. I have taken so much for granted to see how happy these kids are despite not having much. I loved our meal times where we got to share stories, eat and laugh together. I loved having sports time, getting active with the kids and going outside to play volleyball. I loved our time where we played Just Dance and danced the night away. I loved our skit when we practiced and performed it for everyone. I loved the worship and even though the words weren't in English most of the time, God was there with us. I loved being able to do life for a week as a counselor getting to hang out with the teens, lead a small group and really get to listen to their stories and to share my own. I loved tea time, playing ping pong poorly and having the kids beat me, dressing up for a Christmas costume contest, I loved running around in the forest and seeing the icicles form on the roofs of the buildings in the morning. I loved how inconsistent our sleep schedule was for the week for us, making more time for us to spend together. I loved every single waking and sleeping second of Ukraine.
I have never felt more needed in my life when I was on that trip. It taught me so much, it filled me in all the places I needed life again, and it re-familiarized the love I have for youth ministry to take things back that I learned to my home church. If I had to sum this trip up in one word, it would be intentional. God was so intentional in placing us where we needed to be and where he wanted us to do. If I could relive the same day over and over again, it would be the day before we left Ukraine. Just before the sadness and thought of leaving kicked in because of how in denial we were but right after we've all been well acquainted with each other to be cracking jokes and making fun. I have never met such a loving, relational, kind, and intentional group of people. There's not a day that goes by that I don't think about Ukraine and the trip in its entirety. God is so, so good. I love missions and feel that it is so important.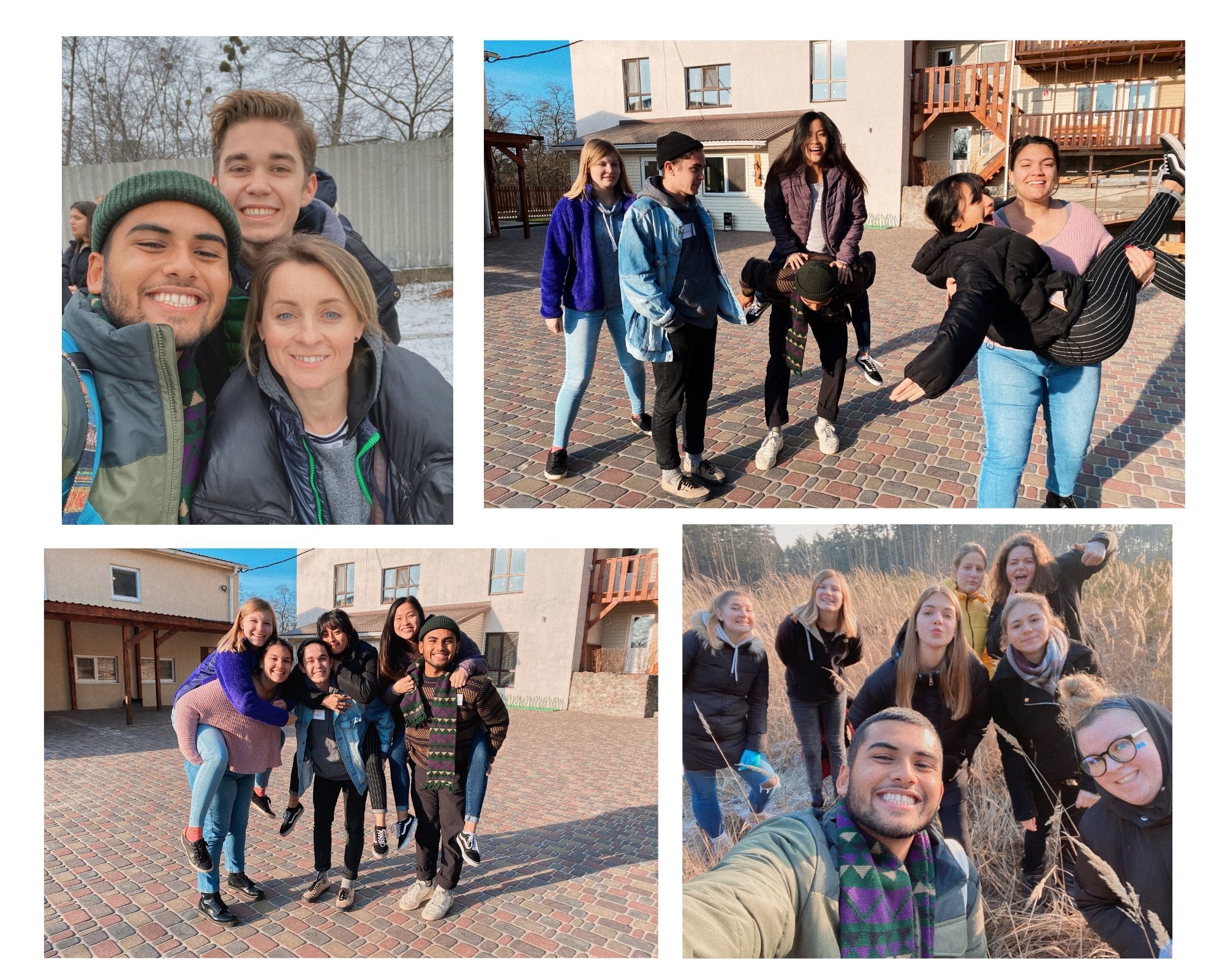 I want to leave you with one of my favorite passages and just tell you how much you are loved and cared for by such a relational God. He has put you where you need to be and if you don't feel that is where you need to be just yet, maybe the time isn't right yet? Know that you have the support and when the environment around you may be dark and feel lifeless, you bring life into those spaces. Continue being the true embodiment of Christ in all that you say and do.
Bless you, guys! Talk soon,
Noa
"After this I looked, and behold, a great multitude that no one could number, from every nation, from all tribes and peoples and languages, standing before the throne and before the Lamb, clothed in white robes, with palm branches in their hands, 10 and crying out with a loud voice, "Salvation belongs to our God who sits on the throne, and to the Lamb!" 11 And all the angels were standing around the throne and around the elders and the four living creatures, and they fell on their faces before the throne and worshiped God, 12 sayings, "Amen! Blessing and glory and wisdom and thanksgiving and honor and power and might be to our God forever and ever! Amen."
13 Then one of the elders addressed me, saying, "Who are these, clothed in white robes, and from where have they come?" 14 I said to him, "Sir, you know." And he said to me, "These are the ones coming out of the great tribulation. They have washed their robes and made them white in the blood of the Lamb.
15
"Therefore they are before the throne of God,
and serve him day and night in his temple;
and he who sits on the throne will shelter them with his presence.
16
They shall hunger no more, neither thirst any more;
the sun shall not strike them,
nor any scorching heat.
17
For the Lamb in the midst of the throne will be their shepherd,
and he will guide them to springs of living water,
and God will wipe away every tear from their eyes."
Revelation 7:9-17