Sam Hammer wants to be a maxillofacial surgeon.
A maxillofacial surgeon is a specialty surgeon who deals with head, neck and mouth trauma. Sam told a story about an Air Force maxillofacial surgeon who treated soldiers shot in combat.
It takes a particular type of drive to do jobs like that. Sam has this drive. If he told you he'd already become an oral surgeon, you'd probably believe him.
But while Sam hasn't arrived there yet, he's on the path. He currently assists an oral surgeon in L.A. helping with chairside assistance. He says he loves working with his boss and fortunate to have the opportunity.
"My health professor advisor has been extremely helpful for me," he says. That's how he found out about the internship.
In efforts to use his gifts, Sam has sought out other opportunities many people don't take advantage. He's been in Residence Life, played varsity sports for Biola as well as intramurals, written a Biola blog, and of course his internship.
The mark of a successful student is the ability to use opportunities to create more opportunities. Sam is using his internship to move towards being an oral surgeon.
For instance, he's applied for a grant from the state of California which uses the money to expand the clinic he works at. Many students haven't applied for a grants from California outside the Cal Grants.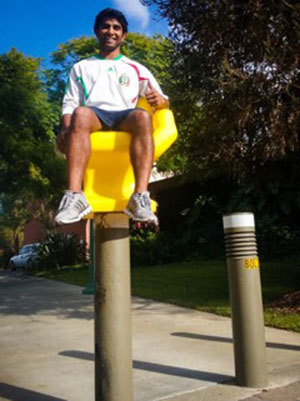 The grant is another opportunity for Sam to achieve his goal. Sam wants to open a dental clinic in India, where he can educate people on dental health and train new doctors. He wants to give back to his home country, and learning the business side of dental work is an important skill.
At the heart of all of this ambition is a desire to give others opportunities. He knows that many people don't have the opportunity to treat dental problems correctly.
Understanding how fortunate he's been in life, his heart for giving others resources to help themselves is evident in how he takes advantage of resources.He says Biola has been a helpful resource for him.
Sam pounces on the opportunities Biola offers. He's out to prove he can solve real problems in the dental world. His love for a challenge will get him to his ultimate goal, but he chooses to run towards being a maxillofacial surgeon because he loves people. Sam wants to give back one reconstructive surgery at a time.
Looking for Internships? See what's listed in Handshake
---