One of the best ways to truly understand a school is to ask students to tell their own stories, so join us in getting to know recent Crowell students and alumni and how they have been transformed — by professors, by fellow students, by God — during their time at Biola in our series, Character and Career: Stories of Transformation.
A college education is often hallmarked by the friends you meet and remember or continue to connect with years later. At Biola University, students often notice it's their friends that God uses to teach us, build us up and pull us through. So in light of how "a cord of three strands is not easily broken" (Eccl. 4:12), we asked three undergraduate students — friends, business administration majors and housemates — to share their perspective on college life during a pandemic.
Here, Biola seniors Brynn Fieldhouse, Laina Lemon and Rachael Jackson share their Biola story with us. Fieldhouse is studying Business Analytics, Lemon is studying Marketing Management and Jackson is studying Marketing.
Why did you choose to attend Biola?
Brynn: The Bible minor was the main reason that I chose Biola. I attended public school and wanted to study the Bible in an academic setting. The community that exists on campus is also incredibly unique — everyone has a similar foundation and motivation for their studies and vocational goals. As members of the body of Christ, we have a responsibility to demonstrate the love of Jesus in all areas of our life and I think a Biola education strongly encourages students to do that.
Laina: I grew up going to public school and had a rocky youth-group past, so I longed for a community with biblical teaching; I knew that the only place I could get that was a place like Biola. Unlike other Christian colleges I visited, my Biola admissions counselor told me they would pray for God to lead me wherever he needs me. The faculty and staff, community of students, and Bible minor all seemed too good to be true and it was the only school that felt like "home."
Rachael: I was blessed to have an older brother who went to Biola before me. I was able to watch the way he grew, and I realized that Biola had something that set it apart. My junior year I visited the school again and was overwhelmed by the peace I felt. The community really stood out and I knew I wanted to experience college surrounded by fellow believers. I also loved that I would receive a Bible minor while at Biola. I am so thankful that I am spending some of the most formative years of my life at a place that has equipped me to make an impact for Jesus Christ.
Why did you choose to major in business?
Brynn: It is so versatile! I love numbers and data, and I hope to help communities experiencing poverty, so I love that economics and business can create sustainable solutions. Crowell's mission of "business as ministry" is such an effective and powerful way to share the Gospel with the world, and I am thankful for the Biblical integration in all of my courses.
Rachael: I am a big fan of being a business major! Brynn, Laina and I always talk about how business is part of every aspect of life, obvious or not. Like Brynn said, I love how versatile the major is! Having hard-working Christian men and women in the business world is very important, but whether you are managing a store or a household, doing it with integrity and excellence is what glorifies God. Crowell teaches us practical ways of conducting business as ministry, which is my favorite part of being a business major.
Laina: I was originally a Kinesiology major until I found out you had to take your science placement exams on move-in day (#exposed)! I also enjoy anything involving numbers so I landed on business! The versatility of options post-grad was a huge plus, especially considering how my interests may change later. That Biola was huge on "Business as Ministry" — since the business world is a great but challenging place to live out your faith — gave me confidence that no matter where I end up, I can always be glorifying the Lord!
What have you discovered about yourself and about God at Biola?
Brynn: Through my classes and activities, I have become more confident about the ways that God has uniquely created me. I've learned that no experience or moment is wasted and he uses everything to advance his kingdom. This has given me peace moving forward, because I know that even when things don't go as I'm expecting, he is in control.
Laina: My biggest discovery has been that I am not alone — not in my beliefs, not in my sense of humor, not in my values, not in my interests, not in my sin, not in my upbringing … not alone in any of it! I came from a high school of 2,300 but I truly felt no one was like me. Then, coming to Biola, I met new friends everyday who were so much like me! So now I see God's movement everywhere! My business classes align with what I'm learning in my Bible classes. I've had hardships and had to lean entirely on God, and then six months later was able to help others through similar situations. Sometimes the Lord gives you blessings and sometimes He takes them away, but what must remain constant is my trust in Him.
Rachael: This season of life is so special...the amount of growth that takes place in such a short time! I have discovered new passions and convictions that I knew were inside me but have been drawn out by friends and professors. When I came to Biola three years ago, I never expected the role that friendships would play in my personal growth. The friends I made at Biola have pushed me to be the best version of myself and to not be afraid of where He's leading me. I am stoked for the growth ahead of me.
Nearly every student would say that spring semester 2020 was disruptive, but each of you had some major plans knocked out from under you. Share more about how you navigated that time.
Brynn: The reality of COVID-19 sunk in less than a week before Biola's annual Missions Conference. I was one of the conference co-directors, and it was heartbreaking to cancel an event that I and a staff of over 100 students had been working on for a year. God sat with me through so many emotions, and I think I learned about His faithfulness and love more intimately than I would have if everything had gone as planned. His plans are different than mine, his plans are better than mine, and he is in control. Spring semester was the perfect reminder of that.
It was such a blessing to quarantine with Laina, Rachael and our other housemates. Their friendship and presence as we tried to figure out how to respond and move forward was really a gift. There are still many moments when I feel sad, but each day has so much purpose and promise, we can't jump from one big thing to another without looking for what God has for us in the simple mundane things.
Laina: As a member of the Missions Conference team, the hardest part was watching Brynn walk through losing something to which she had so willingly dedicated her whole year. I also had to figure out how to live with five housemates that I literally saw 24/7. It turns out that being intentional makes all the difference — intentional in time with the Lord, intentional in time for schoolwork. I feel so blessed, because now it feels strange being away from those girls for even an hour!
Rachael: I had been preparing for a very busy spring, including leading a team for Biola's annual lip-sync dance competition, Mock Rock. Laina and I were together when we got the email that classes were going online and that Missions Conference was cancelled. But I will forever treasure the time we had in quarantine together as housemates and the ways our friendships grew. I feel so grateful for this opportunity to put my future into perspective and realize that instead of seeking control, I should be seeking my Creator. The Lord showed His love to me, in everything from a walk with my sweet housemates to a Facetime call with my family. Those little moments truly mean the most to me!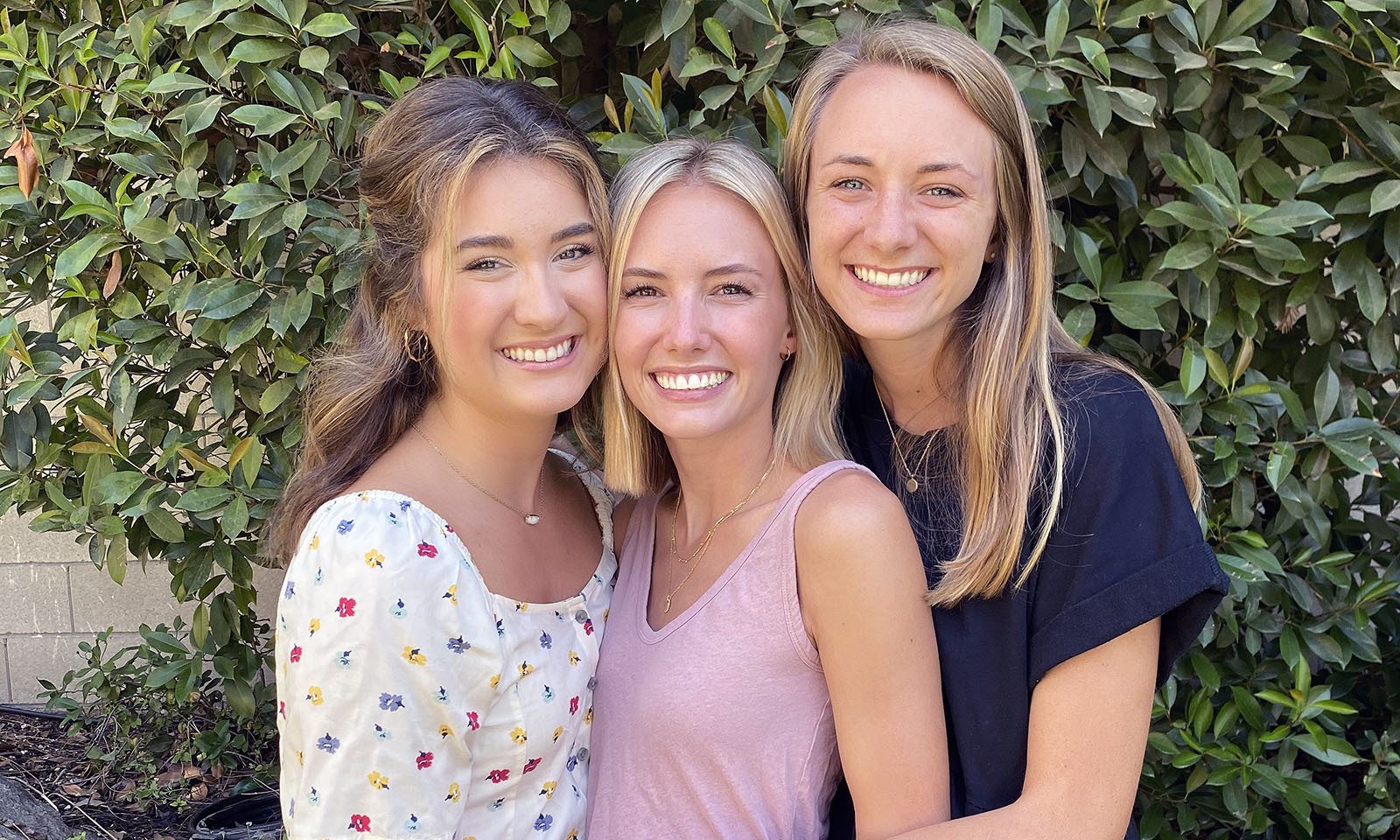 Did you have a favorite class that altered your career interests?
Brynn: One of my unexpectedly-favorite classes has been Intro to Business Analytics. I was nervous because I heard it was difficult, however, I was surprised how much I enjoyed learning the material. I love taking mass amounts of information and using visuals to make it simpler. This prompted me to change my concentration and I am so excited to take the rest of those courses!
Have you been involved in any co-curriculars at Biola?
Rachael: One of my favorite things about Biola is the variety of ways you can be involved. Since I grew up dancing at a studio, Mock Rock has been such fun and I've made some close friends through my team. I enjoyed working for the Student Missionary Union and Student Government Association and for Admissions. I love that Biola gives students opportunities to work in different capacities and stay involved. So many fun memories came from the jobs I've had on campus!
What's the most thought-provoking assignment or project you've done in class?
Laina: One assignment I think about a lot is the "Target Market Project" from my Intro to Marketing class with Professor Les Harman. You research an industry, find a niche that isn't being served, and create a business to serve it. Since starting my internship, not a day goes by that I don't apply something from that project to my work. It breaks down stereotypes about marketing and redefines it in a way that actually makes a business successful.
Have any of your professors been especially supportive?
Laina: All of them have gone above and beyond! I have a couple of special mentions; Professor Randy Markley encouraged me to pursue an MBA right after undergrad! And the professor who has encouraged me the most — who I would consider my mentor — is Professor Laureen Mgrdichian. Whether it's about classes or otherwise, she is always there to support me and give wise advice! She's my professor, mentor and friend!
What passions do you hope to pursue after graduation?
Brynn: In addition to my Business Analytics degree, I am minoring in International and Community Development. I plan to use my knowledge of data analysis and community development to work in international relief and disaster response. I love numbers and data, I love the ways that business and ministry overlap, and I hope to use my education to serve and love people better.
Laina: My passion for people has really developed during my time at Biola! I am currently the Community Engagement Intern at a homeless referral agency here in SoCal, connecting with community partners, talking to donors, and meeting with employees who have great ideas about the agency and need someone like me to put those ideas into action. I also get to visit our shelters and interact with individuals experiencing homelessness.
I would love to keep pursuing my passion to share the gospel with individuals who identify as members of the Church of Jesus Christ of Latter-day Saints. Whether that means living in Utah for a season or making local, life-long LDS friends, sharing the true good news is a calling I hope to live out for the rest of my life.
Rachael: I want to be an advocate for those who feel marginalized and help them discover a life full of purpose and joy in their Creator. I desire to lead a life that points others to Christ, even if I don't get the opportunity to speak to them about my faith. Since I was young, I have been passionate about the ways business can be ministry, but I also love the arts, so I knew that a degree in Business Marketing would allow me to do both. I've thought about going into event planning as well, and eventually opening my own business in my hometown. I would like to work in the entertainment industry for a while, so after graduating I will hopefully go to work at Disneyland as a performer or in customer relations. The Lord placed many different passions in my heart and I am excited to see how he will use me.
Any advice for incoming business students?
Brynn: I would encourage them to enjoy every moment of their education and take the time to get to know their professors! I have learned many life lessons by sitting around a dinner table with my professors, and living with my friends. There is so much opportunity to learn inside and outside the classroom. And time passes quickly, so enjoy every moment!
Rachael: Yes, soak up every moment with Biola's amazing business professors! They have so much knowledge and experience to share about professional life but also life as followers of Christ; like Brynn said, it is so worth getting to know them! Also, I have met some of my best friends (looking at you Brynn and Laina!), so take time to get to know your classmates. You'll spend lots of time with them in everything from accounting tutoring to group projects to study sessions, which are way more fun with friends. Also, don't forget that building a good work ethic will take you farther in life than stressing over a bad grade. Be mentally present in your classes and enjoy the small moments!
Laina: We didn't plan this, I promise, but I also was going to recommend getting to know your professors! If anything, that should be a testament to how amazing the professors are! Every one of them is a willing resource and support for students, and they also make great friends. Who better to learn from than people who have had trials and errors in the real business world? Also, making friends in your classes can make all the difference. Rachael and Brynn have become two of my closest friends. And don't be afraid to go to the tutor or TA … it's free and it really helps!

Photos: (L-R) Rachael Jackson, Laina Lemon, Brynn Fieldhouse.