Bob Doll [center] with Dean Gary Lindblad [left] and Crowell School of Business alums Kevin Vandekamp, Colby Gilmore, and Tanner Gish.
What is it like, being a high-profile boss and a Christian? Chief Equity Strategist and Senior Portfolio Manager at Nuveen Asset Management Bob Doll recently shared at the January 2020 Crowell Distinguished Speaker Series on this very topic.
"When you're the CEO of a decent-sized business, you live in a fishbowl," said Doll. "They watched every move. When did I show up? When did I leave? What kind of car did I drive? Who did I meet with? When I walked down the hall, was I frowning or smiling? This gave me yet another ah-ha moment, an awakening, to remind myself that I'm representing Jesus Christ with my attitude, my actions, everything. That was a great education for me."
Prior to joining Nuveen in 2012, Doll held similar roles at other large asset management firms, including chief equity strategist at Blackrock, president and chief investment officer of Merrill Lynch Investment Managers (MLIM) and chief investment officer of OppenheimerFunds, Inc. He received a B.S. in accounting and a B.A. in economics from Lehigh University and an M.B.A. from the Wharton School of the University of Pennsylvania. He is a certified public accountant and a chartered financial analyst, and appears regularly on CNBC, Bloomberg TV and Fox Business News discussing the economy and markets.
What career advice do you have for business students?
I often hear people ask, "How do I know what I'm supposed to do?" Well, what are the things you like to do? What are the things you're good at? What [do] other people say you're good at? Spend time reading the Bible. God will every once in a while just zing you with something. It's gotta be that intersection of things that God reveals to us over time.
I was always a numbers guy. When I went to undergraduate school, I thought I wanted to major in mathematics. And by sophomore year, the only numbers in the textbook were the page numbers...everything else was Greek symbols, [and] I said, "This is not math!" What I wanted was, of course, applied math: Management science, operations research, quantitative management. It was a process. I was not [yet] mature enough in my faith or educated enough to realize this was God showing me my sweet spot.
There's an intersection of so many things in the investment business. There's some science and there's some art. There's some mathematics, there's a lot of psychology. There is a lot of politics, there are a lot of current events. It just brought so many things together and no day is the same as the day before. What I also enjoy about this business is you see your results every day. You know exactly how you did on a particular day. And if you don't succeed, you try, try again.
How do you integrate work and life?
I spent the first part of my professional life living in New Jersey, and my work was in New York City. I really had two lives: New York City where I had Monday-through-Friday people, and then Saturday and Sunday in my neighborhood, church and other activities. The two hardly interacted. It took awhile for the light bulb to go on that God created us to have integrated lives. [So] I took a job five minutes from home, [and] did that change [things]. The two worlds came together and I began to see that's the way God created us.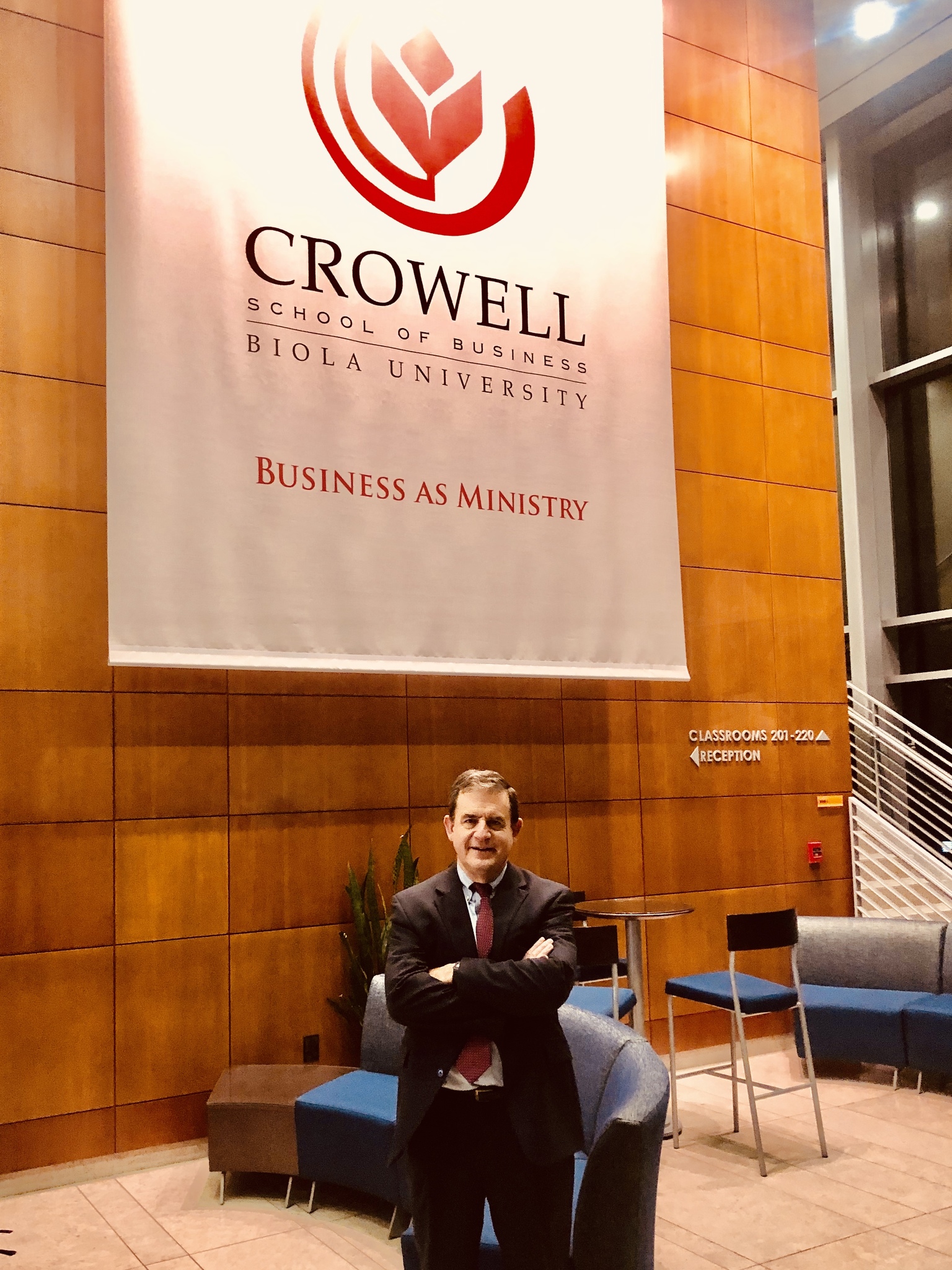 How do you integrate work and faith?
My first decade and a half in the business world, I thought there were no other Christians on Wall Street, because I never met any. Once I put my hand up a little and said "I'm a Christian," then they were all over the place!
I would pray that God would give me a chance to share my faith [at work] with Joey or Susie, [but] I was trying to make it this "God, give me a divine appointment with Joey" sort of thing. And I finally woke up and I said, "No, no, no...it's [got] to be part of my life."
So I purposed to do two small things. First, when people asked, "What'd you do this weekend?" I [said], "I went to church." One guy asked me two Mondays in a row, and both times I said, "I went to church." [And he said,] "Wait a minute, you went to church last week! Do you go to church every week?" [And here was] my teachable moment with Joey: "Why is church important to me? Who is Jesus?"
The second thing: As the head of a business, people come to you with their problems; often work problems, sometimes personal problems. And I would say as they left my office, "I'll be praying for you," or "May I pray for you?" And no one ever said "No." And then if they came to me a second time with a problem, [I'd say] "Can I pray for you, [right] now?" Again, no one ever said "No." So now I'm going to talk to my God right in front of that person. Little things make a difference.
Do you have a theology of work?
First is Jesus himself. Where did Jesus spend most of His time? In the marketplace, on the streets of life, right? Most of what He did, most of what's recorded in the gospels, happened right in the highways and byways of life.
Second is a quote from Billy Graham, who said "The marketplace will be to the gospel in this century, what the medical profession was to the gospel last century." Doctors and nurses took their skills and went to the far-flung places to share about Jesus. Those of us who work in the nine-to-five window, if we think about the responsibility [and] the privilege we have to be God's ambassadors here at this time, it's absolutely incredible.
The third thing: Our jobs are holy callings. It's not a second-class citizen who cleans the floors. It's not a second-class citizen who manages money. It's not a second-class citizen who teaches second grade. I thought, "If I'm not called to be a pastor, I'm a flunky in God's economy." Not true. Whatever you are doing or studying to do, think about [it] as a holy calling. To cite Frederick Buechner: Where your gifts and interests and the world's needs meet, that's your special place, your holy calling.
The fourth thing is about God. We read in the first book of the Bible [that] we are made in God's image. And last I checked, He's a worker; a worker in creation, a worker in sustaining everything, and of course a worker for [our] salvation and sanctification. So if He's a worker, aren't we to be workers? I meet too many people who think work is a necessary evil, or a means to an end, or even [saying], "I make money so I can put some money in the collection plate at church or support a missionary somewhere." Work is way more than that. Work is worship.
Fifth: If we observe the quality of God's work, it's A+++, right? If we're made in God's image and He's excellent at work, are we not to be excellent? Do you think God doesn't care about where we spend [so much] of our time? He cares intimately! Work is a holy calling and we're to be excellent. If we are a B- or a C+ at our work, the rest of the world's not going to care so much about the rest of our lives. But if we're excellent at what we do, they may want to know what makes us tick.
Personal advice: What about giving?
I believe that God gave us everything, and so the question is never "how much should I give?," it's "how much should I keep?" If that doesn't transform your thinking about generosity, I don't think anything will. Did you know the average American gives 2.1% of their income? What percentage does the average American Christian give? 2.4%. Shame on us. We need to be separated, sanctified, different from the rest of the world.
A final word for our students?
[College] is often the point in time when freedom opens up and we have to say, "What do I really stand for? Who is my God? What am I going to live for?" It's Romans 12:2...either you're being conformed to the image of this world or you're being transformed by the renewal of your mind. It's one or the other. And if you don't choose to be renewed in your mind, which informs your choices and attitudes and the behaviors, the world will conform you. Make no mistake about it.
[Mr. Doll concluded his talk with a set of financial predictions for the year 2020; he has made these predictions for nearly 30 years now, and "last year, we were 8 out of 10." His 2020 predictions can be found in detail here, and you can find more of his financial wisdom here.]
The Crowell Distinguished Speaker Series brings a selection of accomplished business leaders to campus to share their varied professional and personal insights and provides the opportunity to network with fellow attendees including alumni, MBA mentors, faculty, and current and prospective MBA students. Complimentary light hors d'oeuvres and dessert are served after the event. The event is always free and open to all.