On behalf of Dr. Gary Lindblad, dean, & the faculty/staff of the Crowell School of Business (CSB) at Biola University, I'm pleased to announce the winners of the 4th annual Biola Startup Competition.

Founded in 2015 by CSB, the Biola Startup Competition is a faith-based business competition designed to help Biola students and alumni launch innovative, kingdom-minded businesses and nonprofits that have the potential to significantly impact the world for Christ.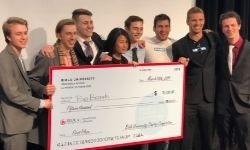 First Place Prize goes to ParaBrands (coached by Sarah Tse)The First Place team will receive $15,000 and a $10,000 pro-bono legal package graciously provided by our sponsor Brown & Streza LLP, represented by attorneys Jay Bettinger and Greg Cragg.

ParaBrands aims to influence the fashion world for Christ with thought-provoking designs. Fashion is an integral part of today's culture. Clothing companies often use phrases, slogans and subliminal messages to influence people into buying their product or boosting their own social image through a brand's status. Out of all the major clothing brands that exist, very few choose to encourage deeper thought and meaningful messages. Messages promoted in today's fashion industry are vanity-driven. ParaBrands aims to innovate man's vanity towards God's glory. We see an opportunity to distinguish ourselves by creating clothing that is aesthetically appealing and pushes wearers towards deeper thought.

TEAM MEMBERS
Nicholas Rumer, Business Administration
Victor Miller, Cinematic Arts
Sam Karabashian, Business Analytics
Quinn Gorham, Journalism
Jackson Collins, Business Administration
Chandler Gorham, Financial Planning
Jack Nicholas, Business Finance
Clayton Owens, Business Marketing
COACH: Sarah Y. Tse ('93)
Sarah Y. Tse ('93) is the CEO of TSE Worldwide Press, Inc. Tse's company, founded in 2004, specializes in manufacturing customized coffee-table style books and packaging. As the CEO, Sarah assists self-publishers and new authors from start to finish and helps them fulfill their dreams in publishing new titles. Sarah expanded her corporation when she founded United Yearbook Printing Services in 2008, providing yearbook publishing solutions and cost-savings to public and private schools, universities, government agencies and yearbook re-sellers (wholesalers). She holds an MBA with an emphasis in marketing and international business from Cal Poly Pomona and is a Biola MBA Mentor.

"As the Business Coach for Parabrands these past two months, I have watched the student contestants develop and stretch in specific areas. These young men grappled with, and seized upon, a simple but profound truth: the goal in group competition is to help each other win! There is no room for self-serving attitudes. Each Parabrand team member lived out and represented their slogan, "Bigger Than Ourselves," during the ups and downs of the training and competition by putting each other first at every opportunity. They made me very proud!"

Nicholas Rumer: "Winning has been a surreal experience. Since I was a child, I always dreamed of running a business and making a difference, being apart of someone bigger than myself. This experience came with a significant amount of trials: physically, mentally, and spiritual. However, God never ceased to prevail. I'm passionate that ParaBrands is what we are called to do. It's our ministry through apparel."

Sam Karabashian: "As a senior, being able to apply my leadership, analytic, and project management skills to the men and woman on this team was the biggest reward for me. It is an honor to be able to say that I play a contributive role to this victory and can very easily see God's hand in this process as a whole."

Jack Nicholas: "I would say that winning the Startup Competition was a highly rewarding experience. There is nothing like the sense of accomplishment you get when putting 100% of yourself into something. Especially when it succeeds."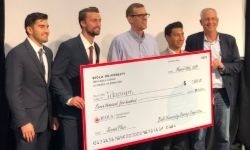 Second Place Prize goes to Titanium (coached by Mark Strom)
The 2nd Place team will receive $7,500 and a free legal consultation graciously provided by our sponsor Brown & Streza LLP, represented by attorneys Jay Bettinger and Greg Cragg.
Titanium is taking advantage of the booming athleisure wear market to make a difference in the world. We are tackling the waste epidemic by producing fashionable, performance-enhancing activewear made from 100 percent recycled plastic. Our company will be the first activewear company producing all its gear from recycling plastic bottles that litter God's world. Athleisure wear or active wear is casual, comfortable clothing designed to be suitable for both exercise and everyday wear.

TEAM MEMBERS
Leo Thompson, International Business
Henry Reeves, Business with a minor in Biology
Paula-Marie Labate, Business Marketing and Management
Alejandro Pelayo, Kinesiology
COACH: Mark Strom ('84)
Mark Strom ('84) was a PwC advisory partner and led the global operations practice and management consulting in the U.S. before he retired in June 2018. After college at Biola, he worked for operations at McDonnell Douglas. After he received his MBA from Stanford, he joined PRTM, an operational strategy consulting firm, where he served technology-based clients (electronics, software, telecom, life sciences), helping them grow revenue and improve profitability. He became a partner at PRTM in 1996 and ultimately Americas Managing Director prior to PRTM's acquisition by PwC in 2011. Mark lives in Brea, Calif. with his wife, Andrea, and three children.
"It was exciting to see the art of the possible in crafting a business that produces high-performance, comfortable clothes and that directly supports children in Latin America orphanages. It was especially gratifying to see the personal development in each team member by learning how to fully integrate their faith into a profitable, sustainable business."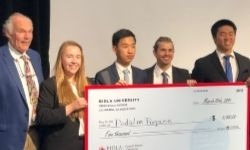 Third Place Prize goes to Pedal on Purpose (coached by Barry Watkins)
The 3rd place team will receive $5,000 and a free legal consultation graciously provided by our sponsor Brown & Streza LLP, represented by attorneys Jay Bettinger and Greg Cragg.

Pedal on Purpose's vision is to create a sustainable environment that recognizes and restores the identity of Christ in people transitioning out of homelessness.
We aim to start a for-profit bike shop employing individuals who have experienced homelessness to assemble bikes and sell them to baby boomers and millennials in Southern California at highly trafficked swap meets and events. Our employees are the core of our business and the reason for our existence so we aim to provide every opportunity possible for developing skills that enable them to leave their homelessness in the past and start anew.

TEAM MEMBERS
Caleb Strauss, Business Marketing
Daniel Shen, Business Marketing
Farrah Hasen, Marketing Management
Andy Pak, Accounting

COACH: Barry Watkins
Barry Watkins is president and founder of Watkins Commercial Properties and is a specialist in the commercial real estate retail industry. He is also an inventor. Barry and his wife, Michele, are both Biola MBA mentors and have a heart for Jesus, Biola students, and social impact.

Caleb Strauss: "The startup competition was an incredible learning experience. It offered guidance and structure while also connecting us to resources and fellow entrepreneurs who are passionate about impacting the world for Christ through business."

As a next step, all six finalist teams in the Biola Startup Competition will be encouraged to attend the Praxis Academy to be held at Biola, July 29 - August 2.

The Praxis Academy is a next-generation entrepreneurial community pursuing redemptive action through business & nonprofits. Last year, 200 students from 90 universities spent a week at Biola for the Praxis Academy, including an international cohort of 12+ from Latin America, recruited by Biola. This year, Biola also plans to recruit young innovators from Asia and Africa.

Since 2016, approx. 50 Biola students have graduated from the Praxis Academy, including Jordan Terranova, founder of Illuminate International (and winner of the 2nd annual Biola Startup Competition). Jordan is also now a Praxis Emerging Founder.

Elaine Fung ('18) and senior business student Ashley Moschetti (also Praxis Academy grads), founded the Biola Entrepreneurship Society, a community of innovative thinkers -- across all majors -- at Biola.

The student-led society is now run by:

President: Zachariah Anderson
Vice President: Nethanya Zapata
Co-Directors of Digital Marketing: Christian Rim & Zihao Wang
Director of Communications: Breanne Medrano
Creative Director: Trisha Poster

and graduating seniors:

Chief Marketing Officer: Melissa Sugeng
Director of Public Relations: Samuel Choi

Recently, Biola's Crowell School of Business made a three-year commitment to be the host site of the Praxis Academy (2019, 2020 and 2021) -- building on an already established strategic relationship since 2015.

During lunch at the Biola Startup Competition FINALS, Dean Gary Lindblad interviewed Grant Van Cleve, CEO, Buy It Installed, Inc.

Lunch was provided by our generous sponsor, Thomas Purtell, owner of Chick-fil-A, La Habra Marketplace.

Grant Van Cleve (a Biola parent) is a global entrepreneur, angel investor, and business accelerator. He is listed among the 50 most influential people in Orange County. Grant is involved in 59 start-ups, serving as a board member or advisor in a third of those. He is an active leader in the Tech Coast Angels — America's most active angel investing group. He was President of their Orange County chapter and is now Chairman of the whole network. Grant loves the amazing adventure of seeing great ideas turn into catalytic companies and encouraging entrepreneurs in the courageous pilgrimage behind seeing those impactful ventures happen.

The Finalist Judges at the 4th annual Biola Startup Competition were:

Dr. Matt Benson currently serves as Sr. Vice-President of Operation Mobilization, an international Christian movement of almost 7,000 workers in 120 countries. His focus on the organizational culture and people functions of the enterprise keeps him in global contexts in which the intersection of leadership, organizational strategy, and cultural values coalesce (or collide!).

The bulk of Dr. Benson's professional life has been spent as a faculty member and Vice-President at Bryan College in which he served as the chief strategist overseeing innovative and integrative educational strategies that promoted formational education across all areas of the college. He continues to teach in the MBA program at John Brown University as well as the Graduate Ministry program at Ohio Christian University.

Dr. Benson is a graduate of both Dallas Seminary and Talbot School of Theology. He and his wife, Melody, also a professional educator, have three children and live in Peachtree City, GA.

Ruth Lopez Novodor serves as CEO for Beverly Oncology and Imaging Centers (BOI) Medical Group, Inc., a position that she has held since 1980. In this capacity, Ms. Lopez Novodor is responsible for the company's business planning and execution of strategic goals. The company's medical professional team is known for building a family-like relationship with each patient by demonstrating compassion and cultural sensitivity to provide the highest-quality cancer treatment for the region's multi-cultural population. Under her direction and execution, Ms. Lopez Novodor has helped this medical center achieve national recognition and industry credibility by receiving Joint Commission accreditation.

Ms. Lopez Novodor has served as a Delegate to the White House on Small Business; was a two-term Chairman of the Board of the Latin Business Association (LBA); a four-year member of Wells Fargo Bank's Corporate Diversity Council and a Board Member for El Proyecto del Barrio. Additionally, she served as a Board Member of the National Federation of Independent Business (NFIB) and as Chairman of the Leadership Council of NFIB California. She's also an active Board Member on the National Latina Business Woman's Association in the Inland Empire (NLBWA-IE), as well as President of its Institute. She was appointed by the Mayor of Los Angeles to the Workforce Development Board of LA (WDB) where she continues to serve as Chairman of the Nominations Committee. She was also appointed by Governor Schwarzenegger to the State Compensation Committee where she served for several years.

Ms. Lopez Novodor holds an MBA and a Bachelor of Science degree in Business Administration from Pepperdine University. In 1996, she completed the Executive Program for Managed Care at the University of Missouri, at Kansas City's National Center for Managed Health Care Administration, and Henry W. Bloch School of Business and Public Administration. She is active with her husband, children, and grandchildren; and participates as a speaker at entrepreneurial conferences and community activities. She serves as a Crowell School of Business MBA Mentor.

John Schad is Vice President of Marketing for 20th Century Fox, where he leads marketing initiatives for film properties including Star Wars, Avatar, James Bond, X-Men, The Planet of the Apes, Ice Age, The Passion of the Christ, The Sandlot, and The Sound of Music.

John previously held Domestic and International Marketing positions at Warner Bros. Studios. John founded a baseball card brokerage business with 6 full-time employees and over 400 sales representatives and has served as an advisor to several start-ups.

John co-leads the Career Transitions Now ministry at Calvary Community Church in Westlake Village, where he has assisted hundreds of job seekers in aligning their avocation with their vocation through the discovery of their God-given gifts, skills, and passions. John is an MBA Mentor at Biola University's Crowell School of Business and was the keynote speaker for the 2nd Annual Biola Startup Competition.

John holds a B.A. in Government from The College of William and Mary, an M.B.A. in Marketing and Management from Columbia University, and Certificates in Advanced Negotiation and Leadership Mastery from Stanford University. John's passions are his family, mentoring, baseball cards, movies, vintage movie posters, and traveling.

Biola's Crowell School of Business thanks it's Advisory Board (listed below) and all of our loyal supporters in making the 2018/19 Academic Calendar year such a success. We look forward to hosting our 5th annual Biola Startup Competition in September 2019.

Advisory Board
Ronnie Andrews, Founder, The Bethesda Group
Thomas Ellsworth, President, PHP Agency LLC
Fred Gladney, Founding Partner, The Gladney Group
Ruth Lopez Novodor, Chief Executive Officer, Beverly Oncology And Imaging Centers, Medical Group, Inc.
Jessica Rey, Founder, And CEO, Rey Swimwear
Canstantino (Connie) Salios, The Barnabas Group
Harold C. Taber, Jr., Former Director, MBA Mentor Program, Crowell School Of Business, Biola University And Current Director Of Monster Beverage Co.
Dean Vandekamp, Partner, Cultivation Capital
Wes Wasson, Co-Founder Dreamstart Labs
Robert Yi, President & COO, Westfall Gold

The Biola Startup Competition and our annual hosting of the Praxis Academy are generously funded by friends of Biola and the Crowell School of Business — who desire to make a direct investment in Christ-centered young innovators.

To make a donation or to discuss sponsorship opportunities, please contact Robert.Harp@biola.edu / 619.977.5747.