I'm delighted to report that the 2012 Summer Business Intensive in Quito Ecuador was a resounding success! Students from three universities (including Biola) participated in the nine-week program that combines nine units of coursework with a part-time internship, all while living with an Ecuadorian family. The courses were:
Global Marketing, taught by our own Lari Mobley.
Business as Mission, taught by me, which included two field trips.
Spanish Intensive, taught by the prestigious Andean Language Institute, which does language training for U.S. embassy workers, employees of foreign multinationals, and others.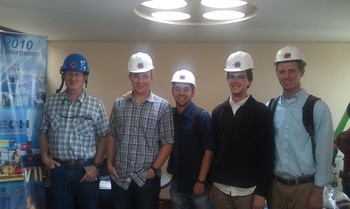 In addition to teaching one of the business courses, I personally visited each student at their internship, met several of the host families, and sat in on their Wednesday night Bible study. I couldn't be happier with the way this program combines professional development with personal and spiritual growth.
If you know anyone who might be interested in taking part in the 2013 program, refer them to the promotional video available at http://livingandlearninginternational.com/. With a successful test run now behind us, we are now promoting the program at 45 Christian universities this year, and praying for students from 10 of them. Please pray for that with us.
Did you participate in the Ecuador program last year? Are you considering it for 2013? Please share your thoughts in the comments below.