Dr. Barry H. Corey, President of Biola University, will be awarded the International Association of Campus Law Enforcement Administrators (IACLEA) annual President's Award on June 29 in recognition of his exemplary leadership and tireless dedication to fostering global campus safety and unwavering support of IACLEA. This is the first time this award will be presented to a university president and the first time it will be given to someone at a faith-based institution in the 65-year history of the IACLEA organization.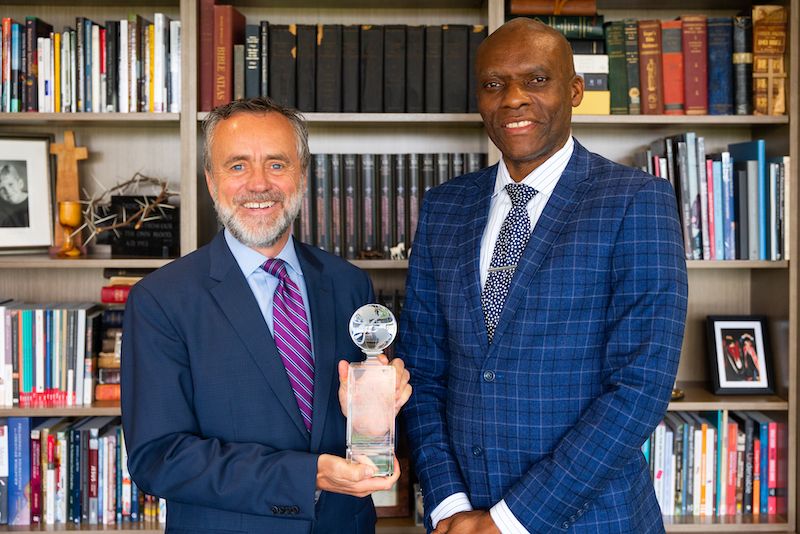 Chief John Ojeisekhoba, associate vice president and chief of campus safety at Biola and president of IACLEA, will present the award at the IACLEA annual conference and exposition in Orlando, FL.
"I receive this [award] on behalf of tens of thousands of college presidents around the world who sleep better at night because campus police chiefs like John Ojeisekhoba don't," said Corey. "I am deeply humbled, but I can honestly say that I've never worked with a more ethical, and integrous and noble leader than John Ojeisekhoba."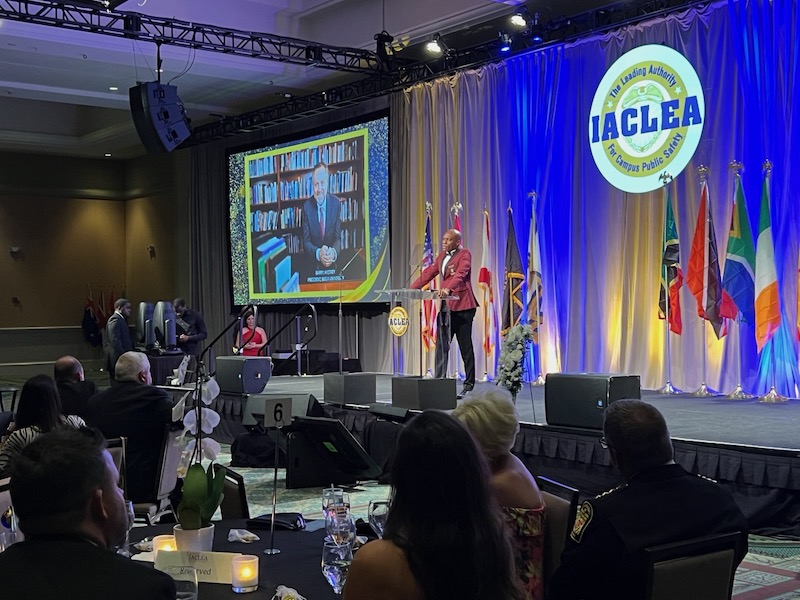 The IACLEA website describes the award as one of the association's most prestigious awards. The award is presented to an individual or individuals who have significantly contributed to improving the field of campus law enforcement and safety at the local, state, federal and global levels.
On May 19, Corey was presented the award in advance of the IACLEA conference at the Biola Board of Trustees retreat by Executive Director of IACLEA Paul Cell and Ojeisekhoba. In his address, Cell remarked on Corey's dedication to upholding campus safety.
"The level of support you offer to your team is extraordinary. Because of that, your campus safety department serves as an example to many campuses," said Cell. "Your actions have brought encouragement to many chiefs who are struggling to get that support in their universities."
Ojeisekhoba was recently appointed by the U.S. Department of Homeland Security (DHS) Secretary Alejandro N. Mayorkas to the Homeland Security Academic Partnership Council (HSAPC) to provide advice and recommendations on campus safety and security. Last year, he was sworn in as the president of IACLEA, where he cast a vision and goals for the association and led campus police and public safety chiefs across the U.S. and globally to address the increasing safety challenges on campuses.
Written by Sarah Dougher, media relations coordinator and administrative assistant. For more information or interviews, please email media.relations@biola.edu.