Biola University Director of Hispanic Services, alumna Erika Sanchez ('13) attended Biola University as a first-generation student. Graduating with a bachelor's degree in sociology in an impressive three years at age 20, she points back to the non-profit group in her neighborhood, Kidworks, started by alumni Larry Acosta and his wife Jayme, as what helped get her through school and into college. Now, she has big visions for the future of Biola and how the university can serve Hispanic students on campus.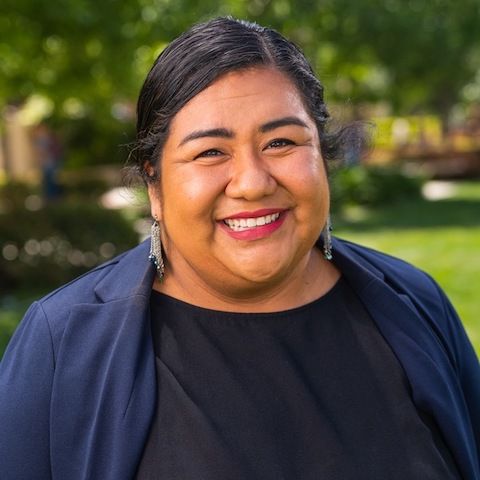 Working in Biola's Division of Diversity and Inclusion, Sanchez founded Biola's first Office of Hispanic Services and is working to create an environment at Biola where Hispanic students feel welcomed, celebrated and supported. She provides leadership and training to administrators, faculty and staff and is helping prepare Biola to become a Hispanic Serving Institution, a national designation of non-profit higher education institutions that have at least 25% of their undergraduate population identify as Hispanic.
Since she began her role, a year ago, Sanchez has also worked to earn Biola institutional membership with the Hispanic Association of Colleges & Universities, which benefits Hispanic students through their internships, scholarships, college retention and advancement programs, pre-collegiate support, and career development opportunities and programs. Biola also has membership with Excelencia in Education and The Alliance for Hispanic Serving Institution Educators, both of which also allows Biola to effectively support Hispanic students in their academic journeys.
Below, Sanchez shares more about what her role entails and her journey coming back to Biola to serve Hispanic students and the greater community.
Since you were a student at Biola, what did you feel was calling you back to your alma mater?
I believe in Biola's mission of equipping men and women in mind and character to impact the world for the Lord Jesus Christ. After my time as a student at Biola, I was able to spend some time abroad in the Philippines serving in urban poor communities. I was able to witness the power of the gospel and the impact education can have on young people. I was drawn back to Biola because I have a passion for helping young people discern how they will impact the world for Jesus. I felt God preparing me to help Biola be a place where all students can discern their calling and feel highly equipped to follow it.
What is your vision for Biola's Office of Hispanic Services?
This role provides accountability to university plans pertinent to becoming a Hispanic Serving Institution. This role leads the Hispanic Serving Institution Task Force, sub-committees, outreach areas, community relations and Latino/a student recruitment strategies. The office provides leadership and training to administrators, faculty and staff which in turn fosters an environment where Hispanic students feel a meaningful sense of belonging so they can thrive in their educational studies and successfully attain their degree at Biola University.
The office also provides Hispanic family consultations, where 30 to 50 consultations are available for students and families during the beginning of the school year and throughout. The office also supports Biola events such as Biola Hispanic Conference, Turn Your Campus, Hispanic Heritage Month, Spanish Chapel, and will help provide bilingual tours and college readiness workshops.
What about working at Biola and with students, staff, faculty and others do you find exciting and meaningful?
As a Biola student, my greatest accomplishment as a student was being Unidos president [Unidos is the student club for Hispanic students]. I had the privilege of leading events for students. But it was not close to this scale. It is my honor to be able to collaborate with so many across campus to be able to highlight and celebrate the heritage of many students, faculty and staff.