Dear Brothers and Sisters at Biola,
The situation remains serious for our Talbot extension center in Kyiv as well as Kyiv Theological Seminary (KTS). We must intercede with urgency for them and their nation.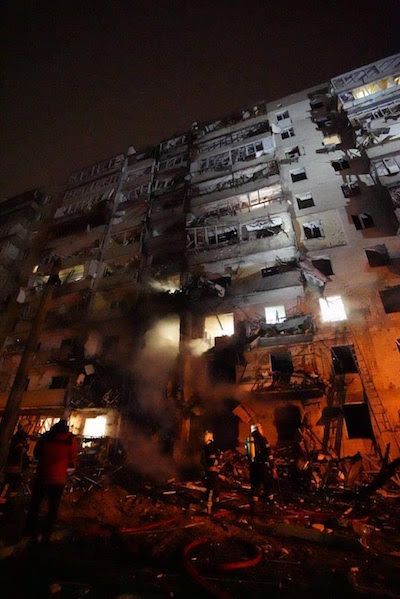 A week ago Friday, I interviewed Ruslan Khmyz, President of KTS, on a call with our Biola staff and faculty where he shared tangible ways we can pray. Over the weekend he updated us on the worsening situation around the seminary, including this worrisome perspective as a parent:
"Last night, a 10 story building not far from the seminary was destroyed by Russia's rocket. The rocket hit exactly the bedroom of a ten-year-old boy, Dima, who is in the same class with my daughter. Dima survived because at that moment he was with his mother in a bomb shelter."
No child or parent should have to endure this fear from such a ruthless attack on a sovereign nation.
Eduard Borysov, on-site director of Talbot's Kyiv Extension, sent word to us saying, "We do not know whether we will survive in this war, or what the damage will be to our country and ecology (the Chernobyl nuclear power plant was occupied by Russian troops). But we hope the world will learn and see how God is on the side of the weak and faithful against the demonic powers behind our aggressors."
In a most recent email over the weekend, Ruslan said that there is much more active fighting in and around Kyiv right now. There are reports that even more people than before are fleeing, and that some children, and presumably women and elderly, have been killed.
We are all heartbroken and grieving over the tragedy unfolding by the minute in Ukraine as a result of the violent Russian invasion of this nation. There have already been far too many deaths and extensive destruction while the situation is on a trajectory to become even more dire.
As you all know, we have a special interest in Ukraine because the capital city is the home of Kyiv Theological Seminary and Talbot School of Theology's extension center. Although the seminary has suspended classes during these hostilities, there are a number of students living on the seminary campus. Yesterday a missile hit an apartment building not far from the campus.
Talbot has many current students and alumni scattered throughout the country. Some of them, especially those with young families, have attempted to flee the danger through Poland. But the imposition of martial law is now preventing men between the ages of 18 and 60 from leaving. Others, such as Pastors Mykola Romaniuk and Vasyl Ostryi, are mobilizing their churches to provide emergency medical response and care for family, friends and neighbors.
Others are attempting to defend their country from the aggressors.
There are many specific ways that we can pray for Ukraine, for our fellow Talbot students and alumni, and for our friends at KTS:
Above all, pray for peace;

Pray that God would miraculously turn back this invasion;

Pray for the protection of the lives of KTS alumni, students and their families;

Pray that God would pour out his grace on believers to experience peace and confidence in the Lord so that they can minister to others and bring hope;

Pray for the leadership of the USA and NATO — that they would have wisdom to know how to intervene and the courage to take the right steps;

Remember the instruction of our Lord to "bless those who curse you and pray for those who abuse you" (Luke 6:28). Pray for Vladimir Putin. Pray for the Russian people. Pray for Christians in Russia.

Pray specifically for Ruslan, Mykola and Vasyl who are all Talbot Kyiv Extension grads.
Please remember God has a way of taking what Satan designs for evil and turning it into a good. Let's pray the Lord would be powerfully at work through this horrible situation and that many hearts might be open to the gospel.
If you are led to provide financial assistance, you can do so through SEND International (a ministry partner of Kyiv Theological Seminary) which is collecting funds to provide country-wide relief as soon as possible. Let's join together as a community and stand strong with these faithful brothers and sisters in prayer and support.
Thank you.
In Christ,
Barry H. Corey, President Clint E. Arnold, Dean, Talbot School of Theology
March 30, 2022: Update from the President of Kyiv Theological Seminary
Dear Biola Community,
Greetings from Ukraine!
We are grateful that so many at Biola continue to be interested in the state of affairs at Kyiv Theological Seminary (KTS) and throughout Ukraine.
Thank God the seminary has not been damaged and is in excellent condition. Several KTS employees live in the building and guard it. The building is also used as a warehouse for humanitarian aid.
The situation in Kyiv is unstable. The city is bombarded with mortars and missiles, resulting in destroyed houses and administrative buildings. Thanks to the air defense system, most missiles are shot down by the military. There are also Russian reconnaissance groups in Kyiv. Sometimes you can hear shooting in the streets.
Many have left Kyiv with their families and churches. At the moment, it is still not possible to operate on the seminary campus. In addition, most students are involved in various service ministries and cannot devote enough time to study. Maybe things will change in a few weeks.
Some of our teachers are starting a series of online meetings with students, where theological issues related to the war in Ukraine are discussed. This is not a complete "course," but these discussions will help students and teachers formulate questions and find evangelical answers.
Many in the KTS circle (graduates, students, faculty and staff) are actively involved in ministry. We try to keep in touch with them and to help with finances and humanitarian aid. Over the past few weeks, many funds and volunteer hours have been spent through the ministry of KTS.
The war in Ukraine seems to be entering a new phase, and it may turn out to be sluggish and exhausting. Please pray for us in the hope of a speedy victory and a return to peaceful life.
Sincerely,
Ruslan Khmyz
President of Kyiv Theological Seminary