Biola University School of Science, Technology and Health students scored in the top 25% of math departments eligible to participate in last year's Putnam Competition — a prestigious national competition administered by the Mathematical Association of America (MAA).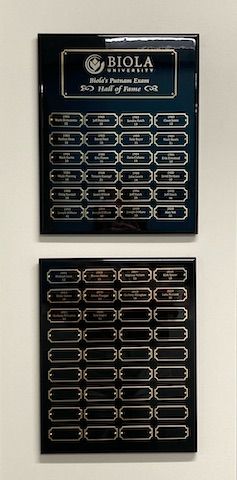 Mathematics majors Zachary Ellington, Sam Lopez, Rachael Combes and Luke Hanson, as well as computer science majors Daniel March and Bridger Schippa participated in the 82nd annual Putnam Competition during the 2021-2022 academic year. Students prepared vigorously for the difficult exam.
"The Putnam Exam, run by the Mathematical Association of America (MAA), is the most prestigious math contest for undergraduates in the US and in Canada," said Dr. Joseph DiMuro, associate professor of mathematics.
DiMuro led weekly Putnam Exam prep sessions. He shared that their sessions together made them feel like a team entering into taking the exam, despite that students take the exam individually. With the complexity of the exam, scoring one point is seen as a great accomplishment. The exam totals up to 120 possible points, but often the median is a few points or zero.
The released test scores showed that two students scored above 10 points on the exam — Ellington scoring 14 and Lopez scoring 11. Combes, Hanson, March and Schippa scored four. With their scores, the students placed Biola in the 75th percentile among the 427 institutions that participated, meaning that Biola is considered in the top 25% of math departments who are eligible to participate in the exam. Among other participating schools are MIT, Princeton and Harvard.
Biola students have participated in the Putnam Competition since the 1980s. The competition is divided into two sections, each lasting three hours. Each section includes six difficult math problems that students complete individually. Ranks are based on the combination of the scores of the three highest-scoring participants, which added a team aspect to the competition since students are always required to register for the test under the higher education institution they attend.
After scores are released in the spring semester, institutions are to be ranked according to the sum of their top three applicants. Approximately 4,000 students take the exam every year, and every 4-year higher education institution qualifies for the exam.
A Putnam Exam Hall of Fame plaque has been added to the Alton and Lydia Lim Center for Science, Technology and Health that features names of students since 1980 who have scored a 10 or higher on the exam.
Learn more about the department of Mathematics and Computer Science and Science, Technology, and Health.