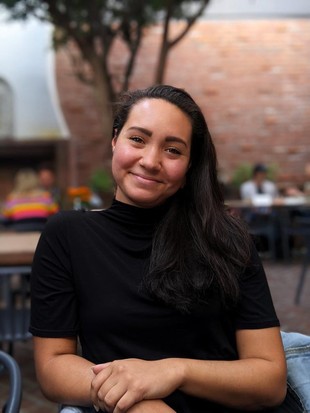 Alumna Olivia Hernandez ('14) wanted a career as an AD — assistant director — ever since she was a freshman at Biola University. An AD is the person on a film set responsible for tracking the daily progress of a shoot against a tightly organized production schedule and generally maintaining order. It is a challenging job that includes juggling logistics while clearing a path for the director to do essential creative work.
Since graduating from Biola's Snyder School of Cinema and Media Arts in 2014, Hernandez has pursued her goal with tenacity. She reached a career milestone in January when she completed the Los Angeles Assistant Directors Training Program, jointly sponsored by the Directors Guild of America (DGA) and the Alliance of Motion Picture and Television Producers. As a result, she was invited to become a member of the Directors Guild of America. Joining the guild is one of the entertainment industry's crowning achievements, and there are several ways to attain it.
"I researched all the routes and chose the one with the shortest line between A and B," said Hernandez.
In order to enroll in the DGA's training program, you must first be chosen. The selection process is composed of three levels: general application, a group assessment, and a final interview before the program's board. Once the applicant is selected, the program puts the trainee to work on various kinds of film and television sets, ranging from half-hour sitcoms to feature films. Hernandez's training included spending time on the sets of the Starz series Vida, Amazon Studios' original series Upload, and The Little Things, a feature produced by Warner Bros. Pictures. Apart from a handful of mandatory seminars, a trainee spends the majority of their time — 350 to 400 paid hours — working on shows.
"I'm fortunate to have met a lot of great people who have reached out to bring me along at the start of my AD career," said Hernandez.
Her time at Biola was especially meaningful to her.
"My most valuable takeaway from the Biola Cinema and Media Arts program was the community. Even if only one or two go with you into the next chapter, the initial community and foundation is a great, nurturing start," said Hernandez.
There are many roads into the media and entertainment industries. Hernandez has some practical advice for those who do not necessarily aspire to be a director or writer.
"Get out there. The greatest film school in the world can't simulate a real working set and industry operations," said Hernandez.

Hernandez also emphasized the importance of doing your homework.

"There are no rules to how and when a career can happen," she said. "Educate yourself on the requirements and qualifications. This will minimize lost time on the back end, if that's what you want."

Learn more about and apply to the Snyder School of Cinema and Media Arts.

Written by Nate Bell. For more information, contact Jenna Loumagne, assistant director of strategic communications and media relations, at media.relations@biola.edu.