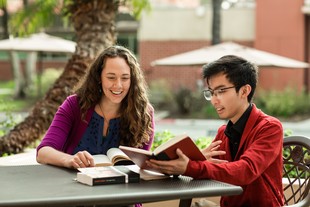 Biola University's Torrey Honors Institute has changed its name to Torrey Honors College in recognition of the program's impact. In its 25-year rich history serving Biola students, Torrey Honors has continued to expand its influence as the undergraduate honors program at Biola.
"The name change does not mean that Torrey is changing," said Biola President Barry H. Corey. "Torrey Honors remains committed to academic excellence and cultural impact, unwavering in its mission to prepare students to pursue the Good, the True and the Beautiful. Torrey alumni are leaders in their vocations and fields, firmly committed to the lifelong pursuit of learning and virtue."
Torrey Honors is a world-class great books program, designed to replace undergraduate core curriculum courses with classical learning and discussion, and has been recognized by Christian scholars and leaders as the premier honors program. Founded in 1996, The Torrey Honors Institute quickly rose to prominence as an innovative leader in liberal arts education among Christian universities. Since its founding "Honors College" has become more common in American higher education.
"I am thankful to Biola's leadership for recognizing our commitment to academic excellence by changing our name to Torrey Honors College," Paul Spears, director of Torrey Honors College. "We are grateful for these past 25 years of work as Biola's undergraduate honors institute, and we look forward to the many years ahead as Biola's undergraduate honors college, equipping students in mind and character to impact the world for the Lord Jesus Christ."
In recent years, Torrey Honors has experienced steady growth of enrolled students. The new title better represents the breadth of Torrey's academic rigor and student preparation. Torrey Honors prioritizes theological education and formation through the reading of great books.
"If you want to picture the work we do in Torrey, picture a small circle of students gathered around a classic text: that's what we do," said Fred Sanders, associate director of Torrey Honors College. "A set of academic friends from a diversity of backgrounds, guided by a team of professors, and all focused on a great book. Everything flows from that: our hundreds of Torrey Honors alumni are an extension of that as they influence their workplaces."
Torrey Honors College and will continue to be housed under the School of Humanities and Social Sciences.

For more information about Torrey Honors College and to apply, visit the Torrey Honors website.

Biola University is a leading Christ-centered university in Southern California that offers a premier, nationally ranked education and has been named one of the nation's "up and coming" universities by U.S. News & World Report four times in five years. Founded in 1908, Biola is committed to the mission of biblically centered education, scholarship and service — equipping men and women in mind and character to impact the world for the Lord Jesus Christ. With more than 6,300 students at its Los Angeles-area campus and around the world, the university offers more than 150 academic programs through its nine schools, ranging from the B.A. to the Ph.D. For more information, visit www.biola.edu.