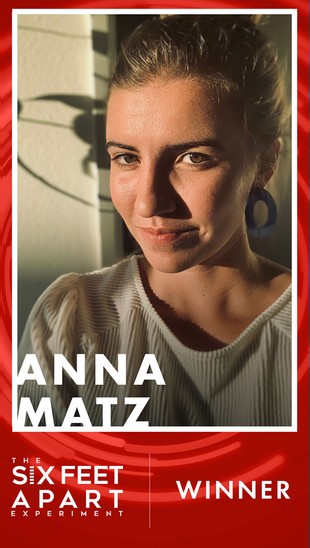 Biola University School of Cinema and Media Arts alumna Anna Matz ('19) was selected as a winner of the "Six Feet Apart Experiment" filmmaking competition for her original screenplay, "Love You Anyway." The competition was launched by Justin Baldoni — director of the teen drama "Five Feet Apart" and star of the network series "Jane the Virgin"— through his company, Wayfarer Entertainment.
The contest, which was announced in May, was inspired by the theme of social distancing during the COVID-19 pandemic. Each script submission was required to deal with the social impact of the health crisis, coupled with a production plan demonstrating how the film could be executed on a limited budget under the new safety protocols. Applicants had one month to produce an original script. Out of hundreds of entries, five winners were selected and awarded $50,000 in production funding. The filmmakers were then paired with an industry mentor who will advise on production.
"Love You Anyway" dramatizes, through various home video footage, the life of a girl named Mackenzie as she matures, battles depression, and grows closer to Lucas, her childhood friend.
"The goal of the script was to create the feeling that the protagonist could be your own sister or friend," Matz explained. "So as you watch her on this very intimate, personal journey via all the ways she's been recorded in her life (ranging from home video to iPod Nanos to dash-cams to social media), you love her and empathize with her like she's your own childhood friend while she deals with the highs and the lows of her journey with depression."
Matz teamed up with Biola Cinema and Media Arts alumnus Emilio Mazariegos ('19) to submit to the competition.
"Anna polished the script and presentation while I wrote up a viable production plan that included team dynamics, a rough budget and schedule, and a plan to comply with COVID," Mazariegos said. "Then, we essentially just waited. At the time, I never thought we'd win, so the question of me producing the film had not really been on the table. We waited for a while and out of nowhere they told us we were in the Top 10. Then waited another couple of weeks and then were told we won."
In addition to the $50,000 in financial backing, Matz will be mentored by Adil El Arbi and Bilall Fallah, directors of "Bad Boys 3" and the upcoming "Beverly Hills Cop 4." She and Emilio plan on involving other Biola alumni in the production pending approval from Wayfarer Studios.
In the script, when Mackenzie hits what she thinks is her lowest moment, Lucas tells her, "No matter what you've done or who you think you've become, I will always love you anyway."
For Matz, who is also a graduate of Biola's Torrey Honors College, this line of dialogue resonates with her faith.
"For me, that's the heart of the Gospel and what Christ tells all of us every day of our lives. I'm so excited to get to bring that powerful sentiment to the screen and tell the story not only of depression and addiction's often tragic downfall, but also the story of recovery, love, and belonging."
Matz's success was featured in a Deadline article that covered all of the participants of the Six Feet Apart initiative. She was also featured in two Hollywood Reporter articles, one titled Reign Edwards, Charlie Gillespie Starring in Wayfarer Studios Drama 'Love You Anyway' (Exclusive), focusing on Matz's recent entrance into the film industry, and the other titled Justin Baldoni's Six Feet Apart Experiment Filmmaking Competition Unveils Winners, covering the five winners of the $50,000 production grant, including Matz's film.
Written by Nate Bell. For more information, contact Jenna Loumagne, assistant director of media relations and strategic communications, at jenna.loumagne@biola.edu.