Biola University School of Cinema and Media Arts alumnus Stephen Yao ('05) earned his first editing credit on the feature film "Howard" — a documentary about Academy Award-winning lyricist Howard Ashman, who wrote such beloved tunes as "Under the Sea" and "Beauty and the Beast." Ashman died of heart failure caused by HIV/AIDS in 1991 at the age of 40.
Yao had been working as a professional editor for years, mainly in the documentary field, before working on "Howard."
"At Biola, I didn't know what I wanted to major in my first year and went undeclared at first," said Yao. "I was considering being an engineer, but I have a creative side that was drawn to film. Editing is a craft that mixes creative and technical skills that I was attracted to."
After graduating, Yao worked on several sports documentaries before getting his foot in the door as a post-production coordinator on Disney's "Maleficent."
The opportunity to edit "Howard" came through Don Hahn, a Disney producer whose wide list of credits include "Who Framed Roger Rabbit?" and "The Nightmare Before Christmas."
"It was a project that Don had been wanting to make for a long time," Yao remembers. "He personally worked with Howard Ashman on 'Beauty and the Beast' and always wanted to tell his story."
Production began in 2017. Working with a team consisting of only three people — including producer Lori Korngiebel — Yao amassed a collection of archival footage and photos dating back to the 1970s. Ashman's old collaborator, composer Alan Menken, contributed the emotional score.
"Just keeping organized and creating turnovers for music and sound and color made me feel like my head was going to explode at times," Yao said.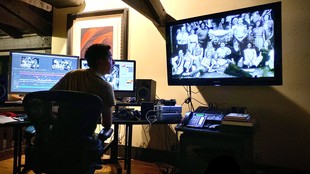 The final mix was completed at Skywalker Ranch and the team screened an early version of the film on a Disney cruise to the Bahamas, with Yao in attendance.
"Howard" held its world premiere at the 2018 Tribeca Film Festival, followed by a limited theatrical run. The film was finally released on Disney+ on August 7, 2020.
The movie has drawn praise from critics, and currently holds an approval rating of 95% on Rotten Tomatoes. The Hollywood Reporter called it, "A rich cinematic portrait." Yao is proud of his work.
"This was the first feature doc I've edited from the very start through to the finish, so for me it was a huge learning experience which I really enjoyed," said Yao. "And to have it available for people to watch on a platform like Disney+ is so incredible."
Written by Nate Bell. For more information, contact Jenna Loumagne, assistant director of media relations and strategic communications, at jenna.loumagne@biola.edu.