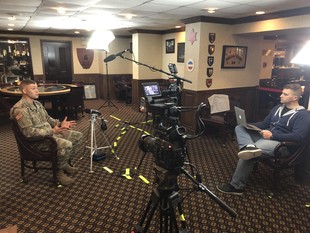 Biola University School of Cinema and Media Arts alumnus Ethan Morse ('12) recently completed a four-part documentary series, Honor Guard, to premiere on Amazon on Christmas Day. Morse, an Army veteran-turned-filmmaker who studied at Biola from 2009 to 2012, produced the film with his creative partner Neal Schrodetzi for their production company, Time to Kill Productions.
Honor Guard explores the four distinct specialty platoons of the 3rd U.S. Infantry Regiment in Washington, D.C., a unit nicknamed The Old Guard because of its status as the oldest currently active regiment in the Regular Army. Morse and Shrodetzki have an intimate knowledge of their subject, having served side-by-side under this regiment. The filmmakers were permitted unique access to document the 3rd Infantry's rigorous 10-week training cycle, aspects of which had never been put on film before. The series also dives into the rich history of The Old Guard and its ongoing participation in ceremonial events such as the military funerals in Arlington National Cemetery.
Morse and Shrodetzki previously teamed up on The Unknowns, a feature-length documentary about the Tomb of the Unknown Soldier which garnered praise on the film festival circuit before finding a home online. Morse has high hopes that Honor Guard will reach a wide audience.
"The Department of Defense shared it across the military news sources," said Morse. "Our contact at the Pentagon is working on posting it to the Army's social media as well."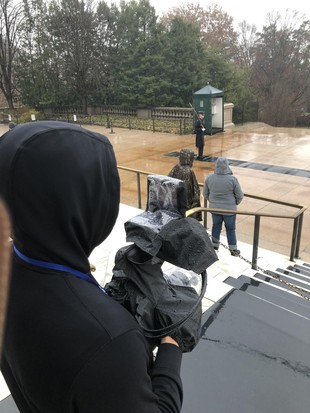 One element that will help boost the series' visibility is the narration by film and television star Sam Elliott, who was nominated for an Academy Award last year for his performance in A Star Is Born. Elliott's sonorous voice over the soundtrack lends a sense of gravitas to the docuseries. The filmmakers were thrilled to land such a big name to their independent production.
"We wrote him a nice letter," Morse recalled. "About two and a half weeks later, Sam's agent got back to us and said 'Yes.' I cried."
Time to Kill Productions is self-distributing Honor Guard, debuting it first on Amazon and using an aggregator to place it on Apple TV and Google Play. From there, the series will expand to Roku, Tubi, Fandango and several dozen other streaming services. The filmmakers are currently searching for a "presenting sponsor" to acquire the right to put their name on the product. Morse is hopeful.
"We make our plans, but God directs our steps. He has been opening and closing doors for me all the time. Are we trusting him?"
Morse entered Biola's film school after serving in the Army for several years.
"I loved my time at Biola," he said, citing his screenwriting classes with Peggy Medberry and his producing class with Jack Hafer. "I probably learned the most from Jack, but my favorite course was Jesus' Life and Ministry with Dr. Jonathan Lunde. Pursuing Hollywood can be such a drain on your soul. But after taking that class I knew that this is why God had me at Biola."
Their company name alludes to the famous passage in Ecclesiastes 3: "There is an appointed time for everything. And there is a time for every matter under heaven… a time to kill and a time to heal; a time to tear down and a time to build up."
"Neal and I were both military and trained to kill," said Morse. "But we also felt called to make movies. The verse in Ecclesiastes acknowledges our military lineage, but it also has a double meaning: If you have time to kill, check out our show!"
Learn more about Honor Guard.
Learn more and apply to the School of Cinema and Media Arts.