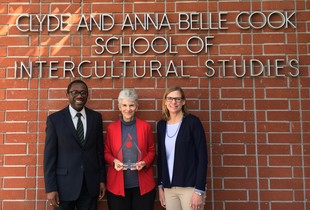 LA MIRADA, CALIF. — Kitty Purgason, a Monrovia resident, is this year's recipient of Biola University's Deborah Ruby Award for Leadership and Wisdom.
"She's an incredible teacher that is so humble about her accomplishments and yet so insightful, wise, gotten countless scholarships from Kazakhstan, encouraging to students and faculty alike and shines the love of Jesus," wrote her nominator.
Purgason teaches TESOL classes at Biola's Cook School of Intercultural Studies, including methodology, curriculum, materials and intercultural communication. On campus, she brings experience to the classroom through her years of living, studying, serving and teaching in India, Russia, Korea, China, Turkey, Turkmenistan, Mauritania, Indonesia, Kuwait, Oman, Tajikistan, Vietnam, and Spain.
"I am honored to receive this affirmation and grateful for all the leaders who have modeled to me what true wisdom is and does," said Purgason.
Besides the Deborah Ruby Award for Leadership and Wisdom, she has received three Fulbright fellowships and the Biola Faculty Award for Excellence in Teaching and Mentoring. Purgason has presented on methodology and materials-related topics at more than 30 local, state and national TESOL conferences, and has also spoken about TESOL at the Urbana International Conference and other similar conferences. She is the author of multiple TESOL related books including "Professional Guidelines for Christian English Teachers" and "English Language Teaching in Theological Contexts."
Other awards that were presented at a ceremony on March 13, 2019 at Biola University include the Priscilla Ruby Award for Teaching and Mentoring and the Esther Ruby Award for Obedience and Servanthood. Biola has given out Ruby Awards since Biola's centennial year in 2008 and holds an annual awards ceremony each March in honor of women's history month.
Biola University is a private Christian university located in Southern California. For more than 100 years, Biola has remained committed to its mission of biblically centered education, integrating biblical principles with every academic program. Learn more at www.biola.edu.
Written by Bella Burchett, media relations intern. For more information, contact Jenna Loumagne, manager of media relations, at (562) 777-4061 or jenna.loumagne@biola.edu.