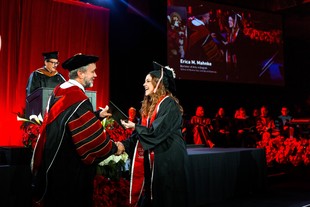 Today, more than 400 undergraduate and graduate students received their degrees from Biola University. Co-founder and managing partner of Trumark Companies, Michael Maples, gave Biola University's commencement address at the fall ceremonies on December 20 at 2 p.m. and 7 p.m.
"Mike Maples' story combines both inspiration and integration. He's an inspiration of what clear vision and hard work can do. And in his work, he draws from an integration of his business degree and his theology degree," said Biola University President Barry H. Corey.
Maples has been a managing partner at Trumark Companies since he founded the firm in 1988. Trumark Companies has operated for 30 years and recently won recognition as the 2018 Builder of the Year by Professional Builder Magazine. The company is a diversified real estate development and building firm. Maples shared a vision for the future of today's graduates and redefined the secular view of achievement and fulfillment in light of the Gospel.
"Your generation will find meaningful, authentic faith and ways to live out the Gospel. And I believe that about you. During your lifetime, so much will change," said Maples. "... In these times of change, there is one thing that will never ever change. We are broken people walking among broken people who need Jesus."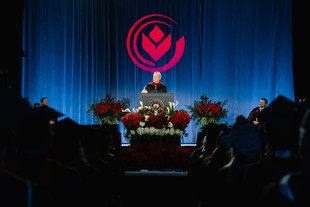 Maples laid out a vision for what it looks like to live into God's love and forgiveness and even failing in your career while finding joy in Christ even when failing in the context of the book of 1 Peter.
"He [Peter] reminds them and us that we should live as strangers in the world with this tension of living appropriately in a culture that is often in conflict with our values and beliefs and to do this without being shaped and controlled by the culture that we are just passing through," said Maples.
Maples encouraged graduates to take their sacred calling as believers into their workplace as influencers for Christ.
Both ceremonies took place in Chase Gymnasium. The first ceremony included the School of Cinema and Media Arts, Cook School of Intercultural Studies, Rosemead School of Psychology, School of Humanities and Social Sciences, and Talbot School of Theology. The second ceremony included Crowell School of Business, School of Education, School of Fine Arts and Communication and the School of Science, Technology and Health.
Maples earned a bachelor of science degree in business administration from San Jose State University and a master of divinity degree from Bethel Seminary in St. Paul, Minn. Maples has served on the boards of Hume Lake Christian Camps, The Gathering and San Diego Christian College as well as serving currently as vice chair of the Board of Trustees at Biola University. Trumark Companies includes: Trumark Communities, a master planned community developer; Trumark Homes, a next generation homebuilder; Trumark Commercial, which builds, leases and sells commercial buildings; and Trumark Urban, a vertically integrated residential developer focused on core urban neighborhoods. Maples and his wife live in Corona Del Mar, Calif. and have four children, three of whom attended Biola.
For more information, please visit the Fall 2019 Commencement Website, or contact Jenna Loumagne, assistant director of media relations and strategic communication at jenna.loumagne@biola.edu.