Starting Fall 2023, Biola's Talbot School of Theology will debut a fully online Certificate in Biblical and Theological Studies program taught completely in Spanish. As the first program in a new initiative called "Talbot en Español," the online certificate will offer a foundational theological education to Spanish-speaking women and men.
Dr. Dominick Hernández, director of Talbot en Español, is optimistic about the program.
"Students can expect the highest quality biblical and theological education facilitated by Spanish-speaking professors who are committed to the church and living out historical Christian doctrine in an array of contemporary societies," Hernández said.
Students will be able to dive into the Old and New Testament, learn how to interpret and study the Scriptures, and examine the central doctrines of the Christian faith — all at the affordable price of only $315 per course. The cost- and time-efficient Talbot en Español certificate offers a foundational theological education that is suitable for a wide range of students — including lay church leaders, church elders and ministers without formal training, Hernández said.
"Students can be in a space where they will engage with peers and faculty members with whom they will share a strong sense of affinity," he said. "Students and faculty from all over the Spanish-speaking world will come together in Talbot en Español to learn from each other and increase their kingdom impact by way of their biblical and theological education."
Learn more at biola.edu/talbot-en-espanol.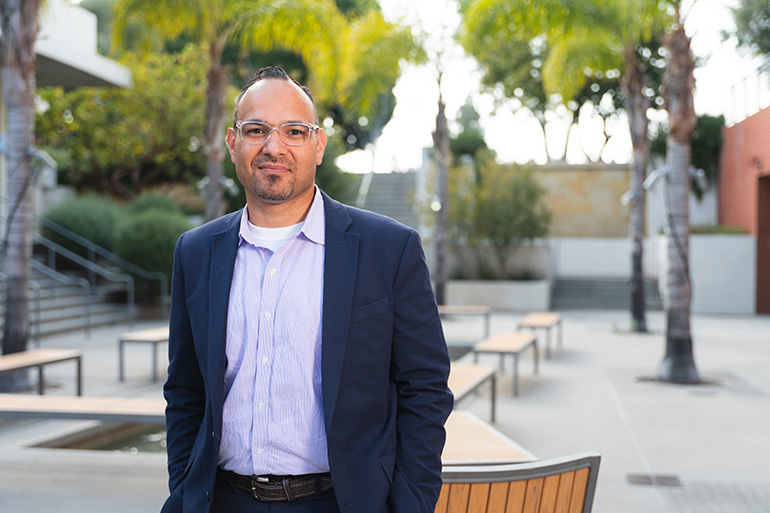 Dominick Hernández serves as the director of Talbot en Español, the new Spanish-language program at Biola's Talbot School of Theology.