Sheep have peripheral vision up to 320 degrees. This means they can graze on a patch of green grass, glimpse another patch and wander off. Their distracted vision can move them from tuft to tuft until they're grazing in the far country unable to find their way back. As a shepherd once said, "Sheep can nibble themselves toward lostness."
Christian higher education can nibble itself toward lostness. No presidents of faithful universities come into their role saying that in 10 years their universities will be less faithful to Christ, less biblically centered, less of a caring community, less concerned about those suffering, less committed to discipleship or to worshipping God with our minds. But losing focus on mission happens because of peripheral vision, wanting to wander toward the more appealing or distracting. It's not intentional. But it is inevitable, unless we're disciplined to know our mission and stick to it, even in turbulent times, even when it's countercultural.
Biola University — established as the Bible Institute of Los Angeles 113 years ago — is not governed by the president. It is not governed by the faculty. It is not even governed by the Board of Trustees. Biola is governed by our mission as understood by our founders. In the Biola community we rally around a common cause. This is our calling to mission faithfulness. This is what it means to look to the future while keeping our eyes fixed on our past.
It was Winston Churchill who said, "The farther back you can look, the farther forward you are likely to see."
For us to look forward, therefore, we must first look back. We look back to our university's history in the early days of the 1900s. Biola's founding, founders and founding principles are among our university's greatest assets, and to both preserve and honor them will be essential for Biola to continue to be faithful to its mission. If we are inattentive to our founding vision, we will nibble ourselves toward lostness.
Biola began not to blend in but to be set apart. It is our sacred obligation today to know our reason for being and to commit together that this is why we are here. This is what holds us together.
We should all be concerned during this reactive season that we don't fall prey to those who want us to demolish our history, deconstruct our founding principles or cancel our founders. The most vital way we understand our mission is to understand our history. Failing that, we will define our university in light of the moment in which we live rather than the bedrock on which we began. Too many colleges have opted for "moment" over "bedrock."
What was that bedrock, those first and abiding Biola principles that we must not only safeguard but unite around as we move through this season of major transformation? I believe there were six: a commitment to knowing the truths of Scripture, a commitment to pursuing true knowledge, a commitment to the virtuous life as God intended it, a commitment to evangelism, a commitment to being a reconciling community and a commitment to making our education accessible. Put in simple words, they are Scripture, scholarship, virtue, evangelism, reconciliation and access.
The principles cherished by our founders must continue to define us as distinct, to set us apart. Staying true to first principles in ways that make sense today will secure our future, will attract outstanding faculty, will increase our appeal to more students and will motivate our generous investors. More than all of this, staying true to our first principles is not about growth or fundraising or faculty stature. It is a matter of integrity.
This past year during the pandemic I reviewed histories, reread old notes, asked questions, heard stories and sought out historians. I have tried not to fall into several common historical traps. One is nostalgia, wanting old times to continue to keep the warm feelings warm. The other is amnesia, forgetting the past. University leaders who have been nostalgic have led their schools to irrelevance, trying to preserve the old ways of doing things thinking that's faithfulness. It's not. University leaders who have been amnesic, on the other hand, have allowed their schools to drift by having little recollection of their founding ideals.
In looking back, it's foolhardy to think our founders fulfilled their ideals with perfection. They didn't. Missteps were made and ideals were not backed by courageous decisions. Though they didn't always get the decisions right, they had a prophetic understanding of what the essence of Biola should be as it was established in Los Angeles, arguably the most innovative and imaginative city in the world.
As I've studied and verified their founding vision, I have come to appreciate their ideals as being as relevant and timeless as they were a century ago. All of what our founders had in mind with these principles was to graduate students who truly loved Christ and worshipped God, who saw the gospel way of truth and grace as the more beautiful way. How did they do this? They did this by emphasizing six ideals, what I would call first principles.
Scripture. The first principle was a commitment to the authority of the Bible. Biola was established to educate students who know, admire and affirm the Truths of God's Word, graduating students who know Scripture, love Scripture and live Scripture.
Scholarship. The second principle was scholarship. Thoughtful Christians needed thoughtful defenses of the faith. Done right, the institute would educate thinkers to stand for truth. For Biola's founders, Biola would be a place of reasonable ideas, neither naïvely accepting nor shallowly critiquing the fashionable trends of his day. Biola would pursue wisdom to endow students with fruitful habits of mind.
Virtues. The third principle our founders wanted to define Biola was the virtuous life. More than good theology, Biola was established to help students live the joyous life through a deeper relationship with Christ. Biola would nurture students to embrace noble attitudes of the heart, preparing students to excel in their lives because they were first committed to living obediently as Jesus' disciples.
Evangelism. The fourth principle was evangelism. Biola began with a heart for the spiritually lost to know Christ. This is in our history. This is in our documents. This is in our doctrine. Evangelism was in our bones, a commitment to prepare a generation of students to reveal in word and deed the Good News of Jesus. Biola was founded as an institution that would advance the gospel toward making disciples of all nations, nurturing students to be disciple makers.
Reconciliation. The founders' fifth principle was reconciliation. Biola would be committed to becoming a Christian community where everyone belonged, modeling for students a spirit of unity amidst diversity, as we'd say today. Our founders often said, "all people regardless of race, color, class, creed, or previous condition, will ever be welcome to [Biola's] privileges."
Access. The sixth principle of our founders' vision was their commitment to create for students learning pathways that were both achievable and affordable. Biola's earliest idea was to overcome barriers to accessing its educational resources and to make sure Biola was affordable to all who were qualified to attend.
There you have it. Six founding principles: Scripture. Scholarship. Virtues. Evangelism. Reconciliation. Access.
These are guiding principles in our work and will be in our planning.
As a faithful university, we will be wise to keep our focus on our reason for being. History has proven that those who stray from their early principles find restoring them nearly impossible. Faithfulness into our strongest years will be possible if we do not forsake guidelines our founders gave us. As a shepherd once said, "Sheep can nibble themselves toward lostness."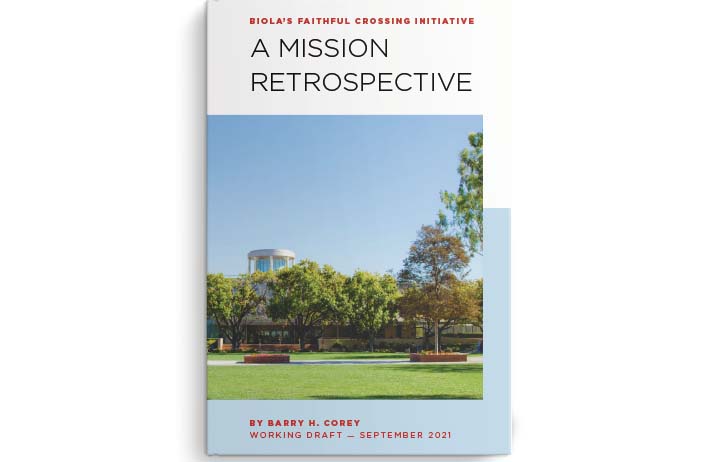 Read More
For a deeper dive into Biola's six founding principles — and how they still guide the university today — read "A Mission Retrospective," a new booklet from President Corey. Find it at biola.edu/about/mission.