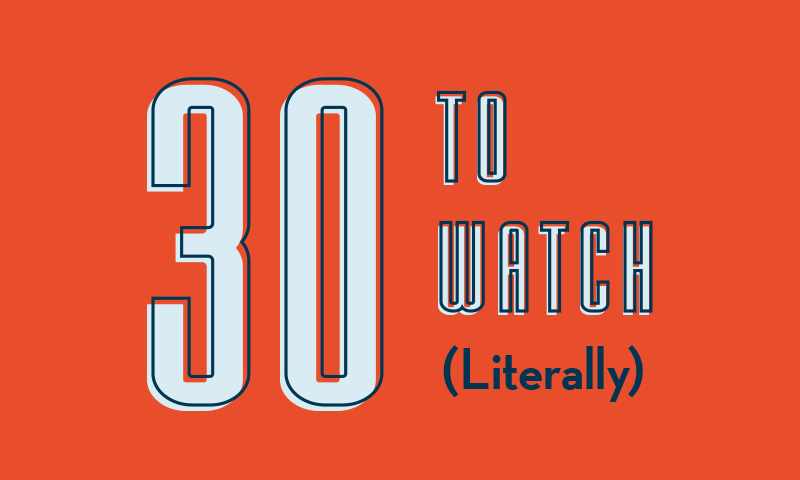 The rising reputation of Biola's Snyder's School of Cinema and Media Arts is a major credit to the many alumni who are making an impact through their craft and character across the entertainment industry. Over the decades, the school (and its preceding programs in film and television) have equipped hundreds of alumni for careers in entertainment, media and storytelling — with more than 50 new graduates being added to their ranks each year. Here, meet just some of the gifted alumni from the past 10 years who have especially bright futures and bold ambitions, selected with help from Snyder faculty and staff.

Morgan English ('12), Coordinator at wiip
At wiip, the studio behind Mare of Easttown and Dickinson, English's role consists of tracking the development slate, supporting the cofounder and CFO, and coordinating special projects from events to company initiatives, like creative asset management. After graduating from Biola and finishing her MFA at Pepperdine University, she had the opportunity to work at Warner Bros. as well as teach as an adjunct professor at Biola, both of which were dreams come true, she said. She and her husband also produced a short film called Where We Were. A play she wrote called Boundaries was produced in Hollywood and then went to the Edinburgh Fringe Festival.


Mitchell Callisch ('12), Visual Effects Coordinator
Notable Credits:
The Mandalorian, Thor: Ragnarok, The Falcon and the Winter Soldier, Dune (2021)
How Biola Prepared Me:
Biola provided a strong community of students to grow with. There was always a shoot happening that we could work on to really get our hands dirty and explore the various elements of the filmmaking process. They also provided the tools that if we ever just wanted to grab a camera and go film something, we could.
View Mitchell Callisch's IMDb page.

Angela Ang ('12), Sound Editor
What I Do:
Along with a tight-knit team, I am the gatekeeper of everything you hear in a movie. I wrangle dozens to hundreds of layers of sound effects and words to make a movie feel intimate, relatable and larger than life.
Notable Projects:
Shang-Chi and the Legend of the Ten Rings (Dialogue Editor); Tenet (Foley Editor); Bill & Ted Face the Music (Dialogue Editor)
How Biola Prepared Me:
In class, we studied movies and treated them as if they were pieces of literature. That transformed the way I perceived films and I brought that with me when I began working on films of my own, helping me to develop a gentler ear and a keener conviction for how a story deserves to sound.
View Angela Ang's LinkedIn page.

Forrest Clark ('19), Augmented Reality eCommerce Partnerships Producer at Facebook Reality Labs
While at Biola, Clark and fellow student Grace Lindblad secured one of the top five spots in the annual Coca-Cola Refreshing Films competition and received $15,000 as finalists to produce a 30-second film, "Neon Jungle." At Facebook Reality Labs, it's his job to "own and maintain relationships between established brands, internal artists and vendor studios to ensure highest-quality branded augmented reality content is delivered within expected timelines."
View Forrest Clark's LinkedIn page.

Zach King ('12), Filmmaker and Social Media Creator
Zach King is one of the most recognized faces on the internet. His short videos, often centered around elaborate, comical magic tricks, have won him a wide and devoted fanbase of more than 100 million followers across all social media channels. And he currently holds the Guinness World Records title for the male with the most followers on TikTok (over 60 million as of the magazine's publication).
King — the winner of Biola's Young Alumnus Award in 2016 — began to build his career while still a Biola student, creating YouTube videos from his dorm room. (One of his early viral hits, "Jedi Kittens Strike Back," features Star Wars-obsessed felines battling in Biola's Media Production Center.) It wasn't long before he translated his growing success into a thriving business, King Studio — where many Biolans have gotten their start as interns and employees.
These days, in addition to producing original content for his channels, his King Studio creates digital ads for brands like Disney, Apple, Mercedes-Benz and Coca-Cola, and partners on promotions for films (giving him the chance to co-star with celebrities like Chris Pratt, Selena Gomez and Jack Black). He's also published a series of augmented reality books, been a contestant on The Amazing Race with his wife, Rachel (Holm, '13), and appeared in a 2020 Super Bowl ad for Sabra hummus.
To see him hit Biola's president in the face with a slow-motion pumpkin pie, check out the video "Amazing Things at Biola with President Barry Corey and Zach King" on YouTube.
View Zach King's LinkedIn page.

Jonathan Hensley ('12), Trailer Editor for AV Squad
AV Squad, a Hollywood-based vendor that specializes in entertainment marketing, is contracted by various studios to help produce, edit and finish trailers and TV spots for films and television series. Hensley has edited montages that aired during multiple Academy Awards ceremonies, and trailers/TV spots for clients including Netflix, Amazon Prime and HBO.
View Jonathan Hensley's LinkedIn page.

Evan Arnold ('12), Producer and Managing Partner at Between Friends Pictures
What I Do:
I run a little production company with partners Delaney Buffett, Katie Corwin and musician/entrepreneur Jimmy Buffett. My job is to identify stories or scripts that resonate with us, package them by attaching a director and/or talent, then pitch the packages to independent financiers and buyers (networks, streamers, distributors). Then we try to get the movie made despite being told "no" a hundred times. There's a reason this process is commonly referred to as "pushing boulders uphill."
Notable Projects:
Identifying and shepherding the four-time Oscar-nominated Mudbound (2017) into our fold and helping produce it from square one was the highlight of a lifetime. For various reasons, I'm also proud of the work I did in the producer's unit on Elvis & Nixon (2016), JT LeRoy (2018) and Billionaire Boys Club (2018).
How Biola Prepared Me:
Biola prepared me for this work by rooting me in my faith and giving me the biblical perspective needed for this mission field. There's a lot of brokenness and emptiness in this business, and my hunger to enact change and embrace my biblical perspective points directly back to my time at Biola.
View Evan Arnold's LinkedIn page.

Jason Tenandar ('13), Editorial/Story Production Coordinator at Dreamworks Animation
What I Do:
I help manage the workload for the story artists/editors/assistant editors and make sure we're hitting our weekly target while also making sure the other departments receive the latest story updates to continue their work.
Notable Projects:
Minions 2: Rise of Gru, Secret Life of Pets 2, Sing 2 and The Bad Guys (Editorial/Story Production Coordinator) and Star vs. The Forces of Evil (Episodic Production Coordinator)
How Biola Prepared Me:
My time at Biola taught me the value of keeping God at the center when trying to balance work aspirations and following the calling on your life. In addition, the CMA professors gave much valuable insight that provided the foundation on how I navigated the work landscape and how to forge my relationships with those around me.
View Jason Tenandar's LinkedIn page.

Olivia Hernandez ('14), Second Assistant Director
As an assistant director (and new member of the Directors Guild of America), Hernandez works in the logistical arm of entertainment, helping stories and vision come to life through coordinating and scheduling. To date, she's played a role in such projects as Warner Bros. Pictures' The Little Things (starring Denzel Washington), FX's Mayans and HBO's "Untitled Lakers Project."
View Olivia Hernandez's LinkedIn page.

John Rizkallah ('20), Director, Writer and Comedian
Rizkallah is currently a fellow for the Deutsche Bank Frieze Los Angeles Film Award with his film Dear Mama. His Biola film Mallory, Los Angeles won Best Short Film at the Riverside International Film Festival. And his senior thesis, Habib, has screened at multiple festivals across the nation.
View John Rizkallah's LinkedIn page.

April Caputi ('17), Creative Associate at Disney General Entertainment (formerly Walt Disney Television)
What I Do:
I am in Disney's new Executive Incubator Program, where I get to rotate in development, casting, current programming and marketing to learn about the TV business through the executive lens. In short, I'm like a junior TV executive in training and I get to make an impact in multiple, diverse fields.
Notable Projects:
While doing a rotation with Freeform's Development team, one of the scripts I reviewed did not depict the deaf community accurately. The team listened to my feedback and ultimately passed on the project. I also co-founded and co-led ENABLED LA — Disney's disability employee resource group for the L.A. chapter that advocates for disability inclusion, accessibility and representation in entertainment and the workplace. I also drafted a proposal for disability inclusion outlining a Central Accommodations Office for Disney, and it was positively received by Chairman Peter Rice.
How Biola Prepared Me:
A consistent theme I learned at Biola is the importance of grit and work ethic in Hollywood. For my Paramount internship, I woke up at 4:30 a.m. and arrived at the door while it was still locked. Taking the posture of a servant's heart like Jesus enabled me to not only be a professional resource, but a personal support to those around me.
View April Caputi's LinkedIn page.

Brian ('12) and Julianna ('12) Ulrich, Producers, Owners of Brotherhood Studios Inc.
Brian Ulrich ('12) recently wrote, produced and directed his first feature, Last Three Days, a dramatic, mind-bending thriller with a philosophical undercurrent. It was sold to Gravitas Ventures at the 2020 Cannes market and released on iTunes in November 2020. Ulrich produced the film alongside his wife, Julianna Ulrich ('12).
Last Three Days follows an undercover cop named Jack (played by Walking Dead: World Beyond star Robert Palmer Watkins) who wakes up one day to find himself drugged and his wife (Deborah Lee Smith) missing. A crucial subplot involves a powerful Japanese crime syndicate called the Yaku.
"Ten percent of the movie is in Japanese," Brian said. "My inspiration came from working with professor Dean Yamada on a Biola short film, Persimmon, which I edited. Jack Hafer [then department chair of Cinema and Media Arts] helped me put together a viable business plan. And then [Biola alumnus] Mark Joseph came on as executive producer in post-production."
The film's crew featured several Biola film alumni — Megan Mead (production designer), Kianna Bliven (art director), Townsend Dick (1st assistant camera), Nathan Johnson (production coordinator), Hannah Parrott (composer), Davy McCall (associate producer), Natalie Grace Comstock and Blake Kliewer (editors).
"At the end of the day I wanted to make an action movie. To get audiences hooked," Brian said. "But I also wanted to deconstruct the typical Hollywood love story, which is built up around getting the girl and living happily ever after."
View Brian Ulrich's IMDb page.

Joy Nguyen ('17), Virtual Production Coordinator at Lightstorm
What I Do:
I problem-solve and bridge the flow of motion-capture and facial-capture information between our editorial, sequence (virtual art department) and stage departments to build files for camera capture (the phase in which the director composes and records CG shots).
Notable Projects:
Avatar 2, Avatar 3
How Biola Prepared Me:
Biola equipped me with skills and self-confidence to confront the unique professional and spiritual challenges of the film industry. My professors empowered me to think critically, to ask the right questions and to listen well.
View Joy Nguyen's LinkedIn page.

Sofia Silva ('19), Law student at Chapman University Fowler School of Law; legal intern for Tyler & Bursch, LLP
"One of my projects that I am most proud of is my senior thesis, The First Dance. It captured a moment of my family history and made a small difference in portraying the Latino community. My film was about how my grandparents met during the 1960s. One of the actresses that auditioned for my film told me that even if she was not chosen for the film, she wanted to thank me for making the film because it was the first film she had auditioned for that she was not playing a member of the drug cartel or an illegal immigrant crossing the border. My actors also were grateful for starring in a film that showcased the Latino community in a positive light. I am very proud of the small impact my short film had."
View Sofia Silva's LinkedIn page.

Emilio Mazariegos ('19), Creative Producer and Executive Assistant
Notable Projects: Love You Anyway (feature with Wayfarer Studios); executive assistant for Yoruba Saxon (which just signed a first-look deal with Disney+); producer of smaller-scale commercials and music videos that include clients like The Gospel Coalition, Nickelodeon and Kamiyada+.
View Emilio Mazariegos' IMDb page.

Hannah Chu ('15), Leadership Development Coordinator at Pixar Animation Studios
What I Do:
I coordinate all the nuts and bolts that go into our leadership training initiatives at the studio. A fun way to put it: I play Tetris with schedules, ping-pong with emails, and DDR with Zoom functions for classes and meetings.
Career Highlights So Far:
Most recently, my team rolled out a program called "Leading Inclusively at Pixar" that equips all leaders across the studio to cultivate a healthy filmmaking culture. As part of The Palette studio resource group for people of color, I cofounded Asiana, Pixar's "swatch" that advocates for and celebrates Asian heritage and representation. Also, I wasn't in production, but Soul is my first Pixar feature credit!
How Biola Prepared Me:
Biola helped lay a foundation for me to live out Colossians 3:23: "Whatever you do, work heartily, as for the Lord and not for men." I certainly learned a lot of skills in the CMA program, but showing up at work every day with the joy of the Lord was really what catapulted my career growth.
View Hannah Chu's LinkedIn page.

Megan Scott ('20), XR Director & Developer, Game Designer, Founder
After graduating from Biola, Scott hit the ground running with a prestigious internship and a fellowship, each designed to advance her career as a virtual reality (VR) developer. As a student, she earned a fellowship with the Oculus Launch Pad scholarship program in 2018 and embarked on creating her own VR experience. In September 2020, she received a second fellowship with Oculus Launch Pad, where she received support and mentorship while networking with other creatives. She was also selected as a 2020 Virtual and Augmented Reality Development Fellow with the Television Academy.
Scott's current passion is for multiplayer narrative experiences, where friends navigate and interact through a story together. Biola prepared her to be a storyteller across multiple mediums and connected her to a network of like-minded creatives, she said.
"At first, I was skeptical how my film degree would carry into the game industry, but being able to tell a great story isn't limited to a single medium," she said. "There's so much creative power and potential in working in the AR/VR/MR industry — we've barely scratched the surface. It's a great world to dip your toes in, the water is great!"
View Megan Scott's LinkedIn page.

Celeste M. Scott ('18), Social Media Strategist at Squarespace; Writer
During her time at Biola, Scott was involved in several extracurricular activities — including working on the GRIT editorial staff and helping run the social media channels for Biola Admissions — which gave her a sense of how she might be able to use her writing skills for social and editorial marketing after college, she said. As a social media strategist, her job is to ideate and execute on Squarespace's social media strategy, working closely with several teams across the organization.
View Celeste M. Scott's LinkedIn page.

Kip Henderson ('19), Comic Book Artist, Creative Producer, Writer, Illustrator
"Looking back, it's hard to imagine a better runway than Biola for my career in storytelling to take flight. The campus's culture and teachings are firmly rooted in the greatest story ever told — the Creator of the World took on flesh to rescue us, the condemned, and through death defeated death so that we may reign victorious with him. If even a hint of that echoes through the stories I tell, I've done my job well."
View Kip Henderson's LinkedIn page.

Dani Light ('13), Visual Effects Producer
What I Do:
My job is to help directors realize the full vision of their story by creating everything beyond reality (e.g., alien invasions, disaster movie destruction and all those incredible superpowers) through computer-generated images.
Notable Projects:
Mad Max: Fury Road; Ant-Man; The Good Place Season 1
How Biola Prepared Me:
It takes thousands of creatives to get an idea off the page and onto the big screen; Biola really emphasized how important it is to work as a team to make the best movie possible.
View Dani Light's LinkedIn page.

Annaliese Franklin ('14), Line Producer at Mythical Entertainment
At Mythical — an entertainment company and lifestyle brand founded by the wildly popular hosts of "Good Mythical Morning," Rhett and Link — Franklin leads the start-to-finish production process on "Mythical Kitchen," a comedic cooking show with more than 1.6 million YouTube subscribers. In her role, she participates in idea development, writes script beats, runs efficient team communication and makes sure shoot days run smoothly. "Working at Mythical Entertainment has been a dream of mine for over a decade as I've always found a meaningful joy in their content," she said. "I still pinch myself that I work there!"


Alissa Rooney ('18), Cinematographer
What I Do:
Cinematography involves visually interpreting a director's vision for a project through the use of lighting, composition and camera movement. Whether you are watching a film, series, music video, documentary, commercial or YouTube content, there is always a cinematographer who has intricately planned out exactly how they want you to perceive their images.
Notable Projects:
Frame.io's Camera to Cloud Launch; "Asylum" for The Salvation Army; Tim Allen's The Vik; National Covid-19 television spot for The Salvation Army
How Biola Prepared Me:
Biola's School of Cinema and Media Arts and the professors who taught there were a massive encouragement and always gave me the space to explore my craft in depth. They provided amazing access to industry-standard equipment that enabled me to develop a solid cinematography reel that continues to help me land jobs in the industry.

Josh Nelson ('15), Head of Immersive and Interactive Media at JuVee Productions
At JuVee Productions, a production company led by Viola Davis and Julius Tennon, it's Nelson's job to find, create, develop, produce and deliver immersive and interactive projects (XR experiences, video games, shortform digital series, etc.) that align with the company's mission to give voice to the voiceless. He recently produced an immersive exhibit called The March with JuVee Productions and TIME Magazine, which allowed viewers to to travel back in time via virtual reality to attend the 1963 March on Washington and witness firsthand the iconic "I Have a Dream" speech.
View Josh Nelson's LinkedIn page.

Nolan Goff ('12), Commercial Director and Filmmaker
What I Do:
I spend my days telling stories and creating visually driven commercials on behalf of the brands you love, ranging from Nike to Peloton to Lebron James' Ladder. The rest of the time, I'm behind my keyboard, writing and developing narrative projects, with my feature-length movie I'll Leave These Bones Behind being my next endeavor.
Notable Projects:
Nike "Air Max" commercial (director); Peloton Summer 2020 commercials (director); Lululemon "Take Flight" commercial (director); Nobody Knows (writer-director)
View Nolan Goff's LinkedIn page.
Andrés Aragón ('20), Cinematographer
Aragón's thesis film, Silly Human, has been recognized by the American Society of Cinematographers for its cinematography as part of their Student Heritage Awards of 2020.
View Andres Aragon's LinkedIn page.

Taylor Rae ('11), Line Producer
What I Do:
My job involves a mix of creative and logistical management, translating the creative ideas into line-by-line budget items and managing the various stakeholders who will help that vision come to life.
Notable Projects:
Commercials for Nike, Apple, Lululemon, eBay, Intuit, Lenovo and Dermalogica
View Taylor Rae 's LinkedIn page.

John Terranova ('13), Animation Development/Production at Marvel Studios
What I Do:
I get to bring Marvel comics to life on groundbreaking animated shows, working with many of the same actors and talented creatives behind the Marvel Cinematic Universe.
Notable Projects:
I'm proud to have worked on an eclectic body of work including the marketing campaign for Star Wars: The Force Awakens, a variety of projects at DreamWorks TV animation, upcoming Disney feature animated films and the upcoming Marvel Studios show What If?
View John Terranova 's LinkedIn page.


Anna Matz ('19), Writer/Director
Anna Matz was selected as one of five winners of the "Six Feet Apart Experiment" filmmaking competition in August 2020 for her original screenplay Love You Anyway. The competition was launched by Justin Baldoni — director of the teen drama Five Feet Apart and star of the network series Jane the Virgin — through his company, Wayfarer Entertainment.
The contest was inspired by the theme of social distancing during the Covid-19 pandemic. Each script submission was required to deal with the social impact of the health crisis, coupled with a production plan demonstrating how the film could be executed on a limited budget under the new safety protocols. Applicants had one month to produce an original script. Out of hundreds of entries, five winners were selected and awarded $50,000 in production funding. The filmmakers were then paired with an industry mentor.
Matz is represented by Cavalry Management. She is currently pitching her next project to production companies and networks.