Photo above: Biola alumni Rich Hung, Kellee Popp and Ben Flemming help lead the National School Project from their office in Whittier, California. (Photo by Cassandra Ashlyn Tancinco).
It's 2:20 p.m. at Fluor Fountain, a central area on Biola's campus. Students at this intersection can be seen shuffling off to class while others sit with their feet propped up, enjoying the open air with their textbooks and laptops. It's also the meeting spot for a group of Biola students who are about to embark on a witnessing outing.
These student volunteers with the National School Project gather regularly to carpool to local public high schools to share the gospel alongside high school students. Sage Wilson, a junior, is leading the charge in Anaheim, and recalls the questions two high school girls recently asked after expressing their desire to be followers of Christ: "If Jesus died for our sins, why did people have to sacrifice lambs in the Old Testament?" "Can I have a boyfriend in heaven?" "Is Michael Jackson being tortured in hell?"
Simple conversations like these, Wilson knows, can have an eternal impact. It's part of what has energized her — and a significant number of other Biola students and alumni — to serve with the National School Project, which aims to spread the love of Christ in public schools. In fact, since the organization began on Biola's campus nearly two decades ago, more than 500 Biola students and alumni have been involved in its evangelistic outreach efforts.
Now, with bold new initiatives to reach more schools and students than ever, many of these Biolans have faith that God is awakening a hunger for the gospel among young people of this generation, many of whom have never heard of Jesus.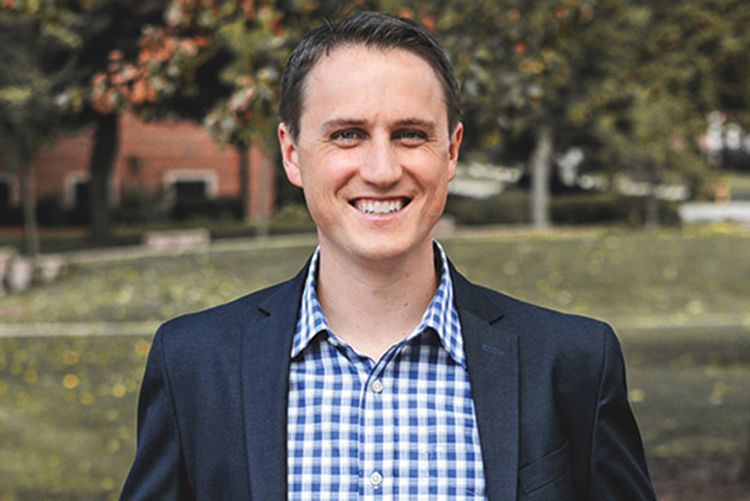 "We want to do everything in our power so that every student has the chance to hear the good news about Jesus during the most spiritually formative years of their life." – Mark Hopson ('06, M.A. '13), President of National School Project

The Origin Story
It all started on Biola's campus when one man's vision to share the gospel with unreached high schoolers grabbed the hearts of like-minded Biola students. NSP founder and CEO Warren Willis had been serving in Mongolia as a missionary with Cru for a decade before he came back to his hometown in Los Angeles with a desire to share the gospel and reach the lost in L.A.
"When I got back to America, I learned that between 75–85% of all people [who] accept Christ in the U.S. do so before the age of 18," Willis wrote in NSP's recent annual report. "This means the fastest way to reach America is through high school students!"
Many of the first students who got involved were recruited from Biola's Torrey Honors Institute. Some of the earliest volunteers who now make up NSP's executive team are Biola graduates, including Mark Hopson ('06, M.A. '13), NSP president, Kellee Popp ('07), development director, and Ben Flemming ('08), director of human resources.
Hopson, a humanities graduate from the Torrey program, was among the first crop of students who got involved. He recalls seeing the organization listed under Biola's student ministries, and was particularly compelled because of the mission to reach high school students, and by Willis himself, a seasoned Cru veteran who had served at UC Berkeley in the '60s and around the world.
"I loved his vision and his faith," Hopson said. "I also loved his missionary mindset that America had a huge spiritual need and if God could do all these miracles for missions work abroad, why couldn't he do the same right here in our country?"
Popp, a Christian ministries graduate, also remembers Willis' compelling vision after stopping to talk to him when he was recruiting Biola students in the cafeteria. Even now, she recalls his words: "Did you know that there's 300 high schools in the Greater Los Angeles area and hundreds of thousands of high school students that need to know the gospel? Did you know that Christians can share their faith on campuses? I'm starting a ministry, and I'd really like your help to make it a reality."
"I never thought about high school as a mission field," Popp said. "And because I was so excited to train people to share their faith, it just grabbed my heart."
Popp, Hopson and Flemming are just a few of the early workers who have now been with the organization for more than a decade. A vision that began with the Greater Los Angeles area and was previously known as the California School Project has now expanded to include all of California, Arizona, the Pacific Northwest, Illinois, New York and Texas. Since its start, more than 500 Biola students have been involved and more than 162 schools have been coached by Biola students, reaching more than 95,000 students through its gospel rallies.

In addition to the support of many Biola professors, one of the other ways Biola and NSP have mutually supported one another is NSP's evangelism training with the Student Missionary Union (SMU), as well as Torrey and NSP's co-sponsorship of an evangelism lecture series. The annual fall lecture, which started in 2014, brings in speakers with experience and expertise in evangelism and serves as an opportunity to encourage students to be engaged in evangelism through NSP's ministries.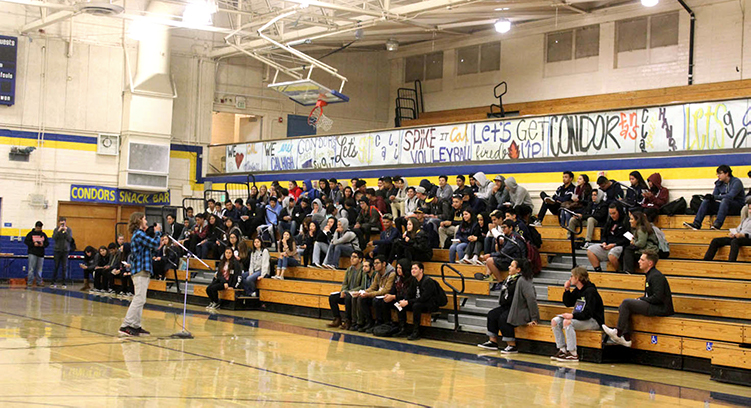 A Mission to Mentor
NSP's primary aim is to give middle and high school students every opportunity to hear the gospel. To embark on this mission, NSP offers Biola students opportunities to equip student-led and student-initiated outreach efforts to unchurched youth on public school campuses. Since 2004, NSP has coached 345 schools nationwide, led over 1,500 witnessing outings and has seen more than 8,500 individuals make a written or verbal confirmation to follow Christ.
Biola students typically get involved as volunteers, lead coaches, or interns, and work with middle or high school student club leaders. Lead coaches, a part-time staff position, are assigned three to five schools in a specific area and are responsible for recruiting volunteers to provide personalized coaching and mentorship to students at any one school. Local churches, parents and teachers get involved in various ways: through prayer, providing food and supplies for campus rallies, or advocating for student rights with school administrations when needed. With the training provided and a network of support, middle school and high school students can then host rallies on campus, share their faith, distribute Bibles and ultimately reach their campuses with the gospel message.
Wilson, a Torrey student double-majoring in intercultural studies and business, has been serving with NSP since her freshman year and is now one of eight interns with NSP's Biola chapter. Wilson personally mentors student leaders at Anaheim High School and just started mentoring at Pacifica High School in Garden Grove. After having served as the president of her high school's Christian club in Pittsburgh, Pennsylvania, Wilson thought she was done with high school ministry, with recollections of how challenging and sometimes lonely it was serving in that role. Despite those feelings, Wilson felt a tug to get involved with NSP.
"God has chosen to use high school Christians to reach their peers, and that's the cool thing about NSP: We don't do it for them," Wilson said. "We help the high school students do it but it's because we really believe that God has placed them at their schools to be a unique witness to who God is in a way that their friends will understand."
The Biola chapter, led by chapter director Jaston Epp ('16), a graduate student at Talbot School of Theology, currently has eight interns and 29 coaches or college volunteers who work with 19 local high schools and four distance schools in Orange County, Barstow and Monument, Colorado.
"Consistently, Biola has always had a strong witnessing culture and students that are just ready to do it and ready to train other students to do it," said Rich Hung (M.Div. '17), NSP's California state director. Because of NSP's growth and ongoing new opportunities, Hung now oversees not just California but all of NSP's ministries on the West Coast.
People often ask how it's possible for the gospel to be preached on public school campuses, so NSP makes it a priority to educate students and others about student rights by way of the First Amendment — which ensures students have freedom of religion and freedom of speech — and the Equal Access Act, which ensures that Christian clubs are given the same privileges on campus that every other club receives.
"The spirit of the age has really almost led believers and Christians in the church to believe that the Bible and God have been taken out of schools, which is not the case," Hung said. "The students can pray; the students can bring their Bibles; the students can — through the Christian club — be able to invite pastors, preachers, teachers, to bring God's Word unashamedly, unreservedly, invite and call people to Christ. The students themselves can share their testimonies. The students themselves can share the gospel at school during lunchtime, in the classroom, in the library, through the club."
But regardless of the legality of student-led expressions of faith on campus, are today's students even receptive?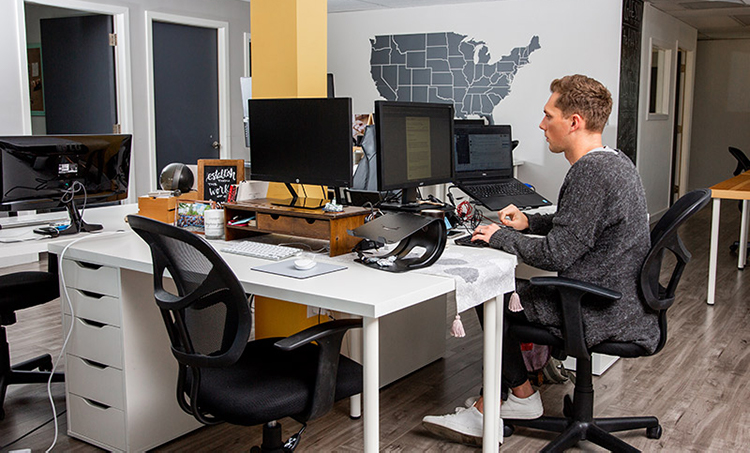 A Generation that Wants to Talk
Popular assumptions about today's youth raised on smartphones are that they don't want to talk, aren't open to hearing the gospel or reject religious conversations. But NSP staff and interns have found quite the contrary as they've initiated countless conversations with high school students.
"I honestly think [high school students] are the most open," said Spenser Wagner, a sophomore psychology major in the Torrey program who has been working with Bell High School, a Los Angeles public school about 13 miles west of Biola. "They're really great to talk to. Honestly, some of the best conversations about religion I've had have been with high school students who maybe don't know a lot [about Christianity]. They're just open books who just want to learn because they have so many questions."
One of the key things Wilson has learned through this ministry is how to be an effective witness by knowing how to start conversations and verbalize the gospel.
"If I've learned anything from NSP, it's that high school students want to talk about their lives and they want to talk about religion and God but they don't have outlets for it, and we get to do that with them," Wilson said.
This semester, in addition to serving as a mentor and running all-team meetings, Wilson is overseeing a witnessing initiative at Biola, with the goal of getting 75 Biola students who aren't already involved with NSP to go on witnessing trips. During the fall semester, the Biola chapter went on over 40 witnessing trips, Wilson said.
"[These students are] interested in talking and want to have conversations about God," Popp said. "This is one of the most unchurched generations. ... What a cool opportunity to go into their world, where they are, because they're not coming to the church, so what a cool opportunity to go to them."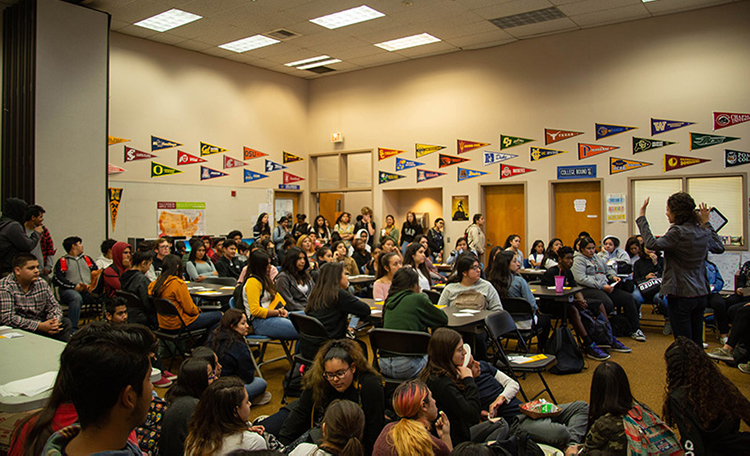 "I've wanted to be a missionary since I was 10. The missionary stories [are] what got me excited in life. Being at Biola, the Lord has opened my heart to many more places, and part of that is NSP because I realized that the United States is more unreached than I thought." – Sage Wilson, Junior, Biola Chapter Intern

Meant for More
Biola University has long held a commitment to biblically centered education with a mission "[to equip] men and women in mind and character to impact the world for the Lord Jesus Christ." With various changes and challenges in higher education and cultural pressure to tone down biblical convictions, the university has reiterated its commitment to biblical fidelity and Christlike discipleship. One of Biola's seven aspirations in its University Plan is to "lead in spiritual development and the proclamation of the gospel." This commitment to gospel proclamation stretches back to 1923, with the start of the Student Missionary Union, which continues to thrive with students active in local and global missions. It's also visible in Biola's more recent launch of the Center for the Study of the Work and Ministry of the Holy Spirit Today.
This heart for the gospel is pumping NSP's ministry, where nearly half of its more than 60 full- and part-time staff are made up of Biola students and alumni, and the driver behind the "Meant for More" movement, an initiative to reach 1 million students with the gospel within the next 1,000 days.
"We really want students to know that they are meant for more than the things of this world," Popp said. "And we really want Christian students to know that they're meant for more than just going through the motions of youth group and church and just the typical things of high school and that they can actually be ambassadors for Jesus."
This bold initiative came in response to a startling recent statistic on the growing number of students who had either attempted or committed suicide. According to the Centers for Disease Control and Prevention, suicide is in fact the second leading cause of death among young people, after accidents.
"One of the biggest things we're seeing today is a sense of hopelessness," Hopson said. "This goes beyond socioeconomic lines. Tragically, suicide and suicide attempt rates are on the rise today among our youth. ... Jesus says the devil comes to steal and kill and destroy, and we really see that on full display among youth today in everything from school shootings to suicide to drug addiction, not to mention all the worldview influences seeking to point youth in every direction today except God."
To give students opportunities to hear the gospel, over the next three years, NSP hopes to expand its existing ministry or launch new ministries in 12 major cities, including Sacramento, Phoenix, Minneapolis, Houston, Oklahoma City and Tulsa. So long as there are middle school and high school students who have never heard the gospel, NSP's mission will continue "'til every student has heard."
"Our leadership has a strong sense of urgency for this mission," Hopson said. "So, we're praying for God to significantly expand the reach of the ministry so we can reach more students in more cities across the country."
Editor's note: After this issue went to print, Kellee Popp and Ben Flemming received new titles at National School Project. Popp is now the vice president of public relations and Flemming is the vice president of mobilization and administration.