Three of Biola's nine schools began the academic year under the leadership of new deans, each stepping into their roles this summer following extensive nationwide searches. The three new academic leaders include a major television network executive, a psychologist with expertise in addiction, and a longtime Biola professor and speech-language pathologist.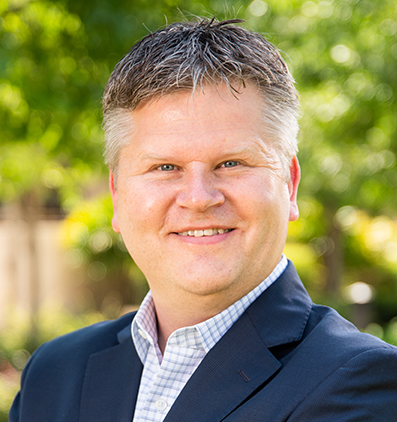 Tom Halleen, School of Cinema and Media Arts
Tom Halleen left his position in New York City as an executive vice president at AMC Networks to accept the role of founding dean of Biola's School of Cinema and Media Arts. During his 18 years at AMC Networks, Halleen was a key team member in AMC's transition into one of the most innovative cable networks — in part through the launch of the groundbreaking series Mad Men, Breaking Bad and The Walking Dead, the highest rated basic cable series in television history.
With nearly 30 years as a programming executive, Halleen has experience in all divisions of programming. At AMC Networks, he led a 43-member programming strategy team across the linear and on-demand platforms for five of its entertainment services, including AMC, BBC America, IFC, Sundance TV and WEtv. Prior to joining AMC, he spent 12 years at the Family Channel (now Freeform), where he worked his way from intern to senior vice president of primetime programming and development while supervising hundreds of hours of original series, movies and specials.
Halleen earned a master's in communications from Regent University and a bachelor's in mass communications from Taylor University. He's an active member of the Academy of Television Arts and Sciences and previously served on the TV Parental Guidelines Monitoring Board. And to top it off, his son Sam is a Biola cinema and media arts graduate.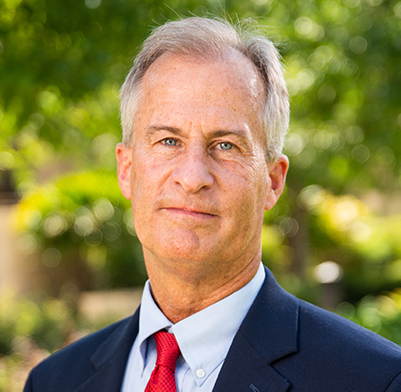 Doug Daugherty, Rosemead School of Psychology
Dr. Doug Daugherty came to Biola's Rosemead School of Psychology this summer from Indiana Wesleyan University, where he served for 23 years as a professor of addictions and psychology and most recently as the executive dean of the College of Arts and Sciences and dean of the School of Social & Behavioral Sciences and Business.
Daugherty is a licensed clinical psychologist with research interests in student belonging and success, positive psychology and spiritual formation. He has published in the areas of substance abuse and recidivism, as well as mobile technology, specifically ecological momentary assessment (EMA) and ecological momentary intervention (EMI) utilizing smartphones. He has an interest in testing smartphone tools as a "means of extending the reach of positive psychology and psychotherapy" and enjoys collaborating with others to understand behavior.
Daugherty earned a doctorate from Indiana State University, a master's in clinical psychology from Ball State University and a bachelor's from Franklin College. He is the founder of Grace House, a faith-based recovery home in Marion, Indiana, and is founding partner of LifeData, a tool that provides real-time insights for research and clinical trials.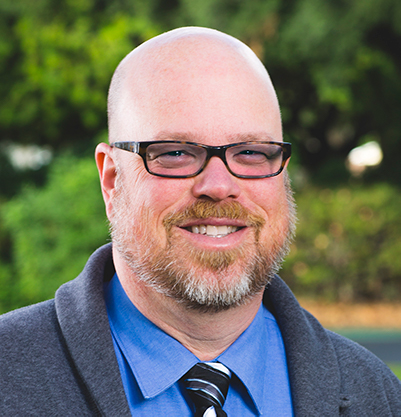 Matt Rouse, School of Science, Technology and Health
Dr. Matt Rouse accepted the role of dean of Biola's School of Science, Technology and Health this summer after serving as the interim dean since April 2019. Rouse is an accomplished health sciences professional with experience serving in key administrative roles at Biola in addition to teaching in Biola's Department of Communication Sciences and Disorders since 1999. Teaching in the classroom has afforded him a diverse range of experience as professor and administrator managing undergraduate, graduate and professional programs.
Rouse earned a doctorate in speech-language pathology from Nova Southeastern University, and a master's in communicative disorders and bachelor's in biological sciences from the University of Redlands. A former pastor, he also holds master's degrees in Christian apologetics and in biblical and theological studies from Biola.
"I am thrilled to take on this exciting and challenging role and reimagine the future of STEM and health at Biola with our school's faculty and staff," he said. "We believe that our Christian faith integrated into science and health makes a powerful argument for Christ. Our desire is to send biblically faithful Christians into graduate programs as well as industry and health contexts to show that faith and science together is better."