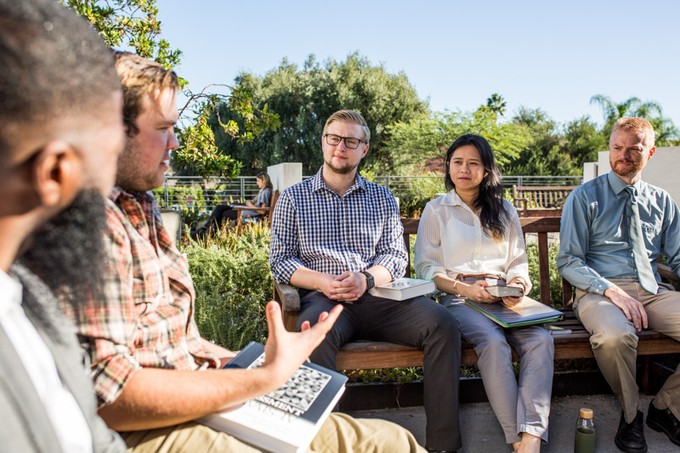 Each fall, psychology professor David Cimbora stands before a class of doctoral students to welcome them to the first week of their five year journey through Biola's Rosemead School of Psychology. As he makes his introductions, he writes a single word on the whiteboard:
"Brokenness."
If these students are going to learn to do psychology as Christians — to provide therapy, to offer treatment, to conduct research and ultimately to help people flourish — they first need to be willing to confront the brokenness in their own lives, he tells them.
"If we don't understand brokenness in our lives — if we don't feel it, if we don't embrace it, if we don't learn to not defend against it — how can we understand brokenness in anyone else's life?" says Cimbora, who in addition to teaching also serves as associate dean of Rosemead's doctoral programs.
"As therapists, being in touch with our own brokenness and our own need for a Savior allows us to say, 'I've got you. I can care for you. I can take what you're telling me and still be in relationship with you.'"
For Rosemead, which celebrates its 50th anniversary this year, this emphasis on the need to both understand human nature and experience the depths of grace is just one of the features that illustrates the school's unique place in psychological education. Since its founding as one of the nation's first Christian psychology schools, Rosemead has become widely recognized as a leader in the integration of psychology and theology, a place where clinicians and researchers explore behavioral science and a Christian worldview together in an academically robust way.
As it enters its second half-century, the school is continuing to impact countless lives through the research, scholarship, resources and services of its faculty and alumni, and it has a bold vision for continuing to spread faith-integrated psychological resources to individuals and faith communities around the world.
A Legacy of Integration
Of the many qualities that sets Rosemead apart within the landscape of psychological education, one of the most significant is its integration of psychology and theology.
That commitment traces back to its founding in 1968 by Clyde Narramore and his nephew Bruce Narramore, who recognized a need for a graduate program that would train Christians to become professional psychologists, equipping them with specialized scientific and clinical training that went beyond pastoral counseling. Established as Rosemead Graduate School of Psychology (after the Southern California city where it was originally located), the school initially offered M.A. and Ph.D. programs in counseling psychology. After its first decade, it merged with Biola in 1977, a few years before the then-college transitioned to a university.
In the early decades, it wasn't unusual for Christians to look upon psychology with suspicion. Christian psychologists often found themselves having to offer a defense for their involvement in the discipline.
"They had to make it clear that psychology didn't replace biblical knowledge and reliance on Scripture, that it wasn't trying to be special revelation," said Rosemead's current dean, Tamara Anderson. "Christians were very comfortable with the medical side of things, but not as comfortable with the psyche, mainly because it was too close to the soul. So there was a lot of speculation, a lot of worry that there would be these secular ideas brought in that would override a commitment to Christian beliefs and Scripture."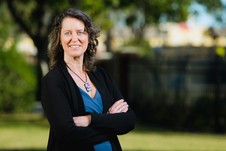 Over time, Rosemead became a leader in integrating the two, affirming the value of gaining wisdom from both special and general revelation. Today, integration remains a hallmark of every program, from the Ph.D. and Psy.D. in clinical psychology to the traditional undergraduate psychology program to the recently added online bachelor's degree in applied psychology.
"When you're trying to understand people, who are incredibly complex, the more we can understand them the better," says professor Elizabeth Hall. "When you think about psychology from an integrative perspective, we get to hear what God says about people's functioning through special revelation, through the Bible. General revelation is also knowledge that God allows humans to figure out, and one of the best ways of getting at that is through the science of psychology. If you bring both of those sources together, you get something that is much more complete than you would be able to get otherwise."
This integration plays out in many ways, starting in the classroom. At the graduate level, students take a series of theology courses and integration seminars that are specifically dedicated to such areas as Christian ethics, spiritual transformation, sin, shame and the kingdom of God. But an integrative approach is also woven into every other class, allowing students to explore, for example, questions about the relationship between human fallenness and psychopathology. At the undergraduate level, one of the first courses students take is "Psychology and Christian Thought," which grounds their program on a foundational understanding of how to evaluate psychological concepts from a Christian worldview.
Integration is also a prominent focus in Rosemead's scientific research, where faculty and students have led significant studies examining psychological questions with a Christian perspective. The two premier academic journals devoted to integrative research — the Journal of Psychology and Theology, which originated at Rosemead in 1973 and has been published in association with the school ever since, and the Journal of Psychology and Christianity — are both led by Rosemead faculty.
And integration is also a key aspect to students' clinical training and internships, where they learn to care for clients with a Christian ethic and Christlike compassion while also maintaining the appropriate professional and ethical boundaries.
All told, Christian faith is intentionally interwoven throughout the entire educational process in a robust and distinct way, faculty say.
"Our consistent, intentional commitment to integration is part of what makes Rosemead distinct in higher education," says Hall, who has taught at Rosemead since 1998. "If you want to do integration, Rosemead is really one of the best places on the planet to do the integration of psychology and theology."
Pioneering in Research
As Rosemead has grown in size and influence over the years, so has its capacity for conducting and publishing innovative research.
Across the school, most faculty members are actively engaged in research, often involving graduate and undergraduates as research assistants. Together, they're exploring such questions as: How do people draw on their faith in the midst of suffering, and does it make a difference in terms of outcomes? How can Christian students in the sciences gain intellectual humility as they deal with the tension of religious doubt? What role does religion play in how Christian women understand their professional callings, their spiritual lives and their sexuality? How can we best evaluate the effectiveness of programs that treat survivors of sex trafficking?
Other key areas of focus include the impact of religion in the quality of life of cancer patients, methods for training ethical therapists, how to measure humility and character, and explorations of the psychological effects of trauma — including everything from bullying to war to physical abuse to natural disasters.
Several of these projects have been made possible through external funding, including significant grant funding from the John Templeton Foundation, the Lilly Endowment, the Council for Christian Colleges & Universities and other outside organizations.
Hall, a prolific researcher, said she's excited about the steady increase of research, noting the importance of this work for generating healthy conversations about Christianity within the psychological community.
"Christianity has a lot to offer people, but unless we have the kind of research that we're doing to kind of move it into the limelight, to move it into the top journals, then we're not going to have the kind of impact that we could have," she said. "We're making some dents in presenting religion as an aspect of culture that deserves being paid attention to. I think the attention to psychology in underrepresented populations has really worked in our favor in terms of helping people realize that a lot of what makes even minority cultures different from others are the religious values that they hold, for example. It's made for some interesting pathways to be able to present Christian content."
John Williams, chair of Rosemead's undergraduate psychology department, said he's been encouraged by the growth of opportunities for external research funding and the growing acceptance among the broader psychological community for religiously focused research. Within the past 15 to 20 years in particular, there has been a widening recognition of the value of researching how people's religious beliefs shape their behavior and thinking, he said.
"For most people, religion is an aspect of how they process and think about things," Williams said. "In a sense, that gives a little bit more of a license to study these things more scientifically. Not only are more people doing that kind of research, but there's also more funding for that kind of research."
Shattering Stereotypes
Beyond its work in teaching and research, Rosemead has also come to place a high value on providing a thoughtful Christian voice in the broader field of psychology by serving in leadership positions in prominent professional organizations and associations.
Within the past decade, both Cimbora and former dean Clark Campbell have served as president of the National Council of Schools and Programs in Professional Psychology (NCSPP), an organization that develops standards for graduate training in clinical psychology. Anderson, the current dean, is finishing her seventh year on the California Psychological Association Ethics Committee. Professors Elizabeth Hall, Peter Hill and others have served in leadership roles with Division 36 of the American Psychological Association.
In each of these cases, faculty members have had an opportunity to advocate for faith-integrated education and to counter negative stereotypes in settings where Christianity is often looked upon with suspicion or derision, Anderson said.
"To be people of faith at a faith-based institution, there are decisions that get made about you, and if you're not at the table, you're in trouble. So we've made sure to be at the table," said Anderson, who noted that it isn't unusual with some of these professional organizations' committees for a Rosemead faculty member to be the only professing Christian in the room.
"We're there to be able to speak into the conversation. Sometimes, it's just literally being a visual: Some things don't get said or decisions don't get made because you're sitting there. And at the same time, we develop really great friendships with people."
Cimbora, who served as president of NCSPP in the 2012–13 academic year, said he valued the opportunity to demonstrate the gospel in action within a secular organization, particularly to members of the psychological community who have been historically hurt or marginalized by Christians.
"This is very much a 'Joseph in Egypt' sort of story, because the agenda of psychology can be antithetical, and sometimes antagonistic, to a Christian worldview," he said. "To me, leadership at the national level is more than shaping the discipline and science. It's shaping perception and relationship, while not watering down the gospel."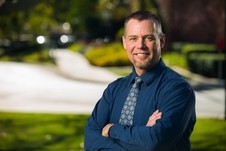 Vision for the Future
As Rosemead looks to the future, its leaders say they're excited about the opportunities ahead.
The school's undergraduate program continues to rank as one of Biola's three most popular majors. Its highly selective doctoral programs continue to fill to capacity each year. The new online bachelor's degree in applied psychology has been growing steadily in enrollment each term. And a recently launched online certificate program, offered in English and Chinese, is reaching an expanding audience in China with biblically integrated training in counseling, preparing students to address unmet mental health needs worldwide.
All of this points to a growing impact for Christ through Rosemead's alumni — already thousands-strong and serving in such diverse settings as hospitals, counseling centers, universities, the criminal justice system, community mental health centers, private practices, nonprofit organizations and school districts.
In the years ahead, Rosemead leaders are exploring a number of possible partnerships with other Biola schools, including potential programs in neuroscience with the School of Science, Technology and Health, music therapy with the Conservatory of Music and organizational leadership with Crowell School of Business.
One of the most ambitious goals for the school is the potential creation of a new center to serve mental health needs within the church. If significant external funding can be identified, the vision for the center would be threefold: to produce practical, empirical research on effective mental health programs for churches; to provide one-on-one consultation for pastors and church leaders who need expertise for handling specific needs; and to offer training sessions to churches on such topics as conflict resolution, recognizing mental disorders and identifying suicide risk.
Above all, Anderson said she wants to continue building on Rosemead's 50-year legacy of integration and preparing students to serve Christ.
"We want to continue doing what we're known for — training good clinical psychologists who are impacting the world ... and really equipping our undergraduates well," Anderson said. "But these other areas are very exciting, and we look forward to seeing what happens with them."