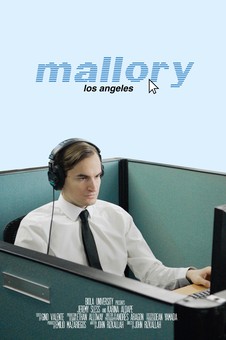 Mallory, Los Angeles, a student-produced film that focuses on society's unhealthy reliance on technology, received an award of excellence at this year's Broadcast Education Association Festival of Media Arts, a prestigious international exhibition of student and faculty work.
Mallory, Los Angeles was one of 16 films to receive an award of excellence in the narrative category in the Student Film and Video Competition.
Every year, Biola's School of Cinema and Media Arts produces one official student film. Mallory, Los Angeles, directed by student John Rizkallah and produced by student Emilio Mazariegos, was selected as the 2018 Biola film after Rizkallah pitched it to a class in April 2018. Students were then selected to fill positions on the crew that began producing the film in the fall of 2018 through a class led by professor Dean Yamada.
"I loved working with this crew because I've known them since their first years in our program, and they are a particularly tight- knit and talented group," Yamada said. "It was so much fun to see them in action."
The short film focuses on the life of a lonely surveillance man who becomes obsessed with a woman he sees on screen.
"The characters in Mallory, Los Angeles are reminiscent of what our world is and could become if we continue to rely on media to forge our human relationships," Rizkallah said. "Society is continuing to accept disconnection as a norm, and therefore makes it increasingly difficult for us to break out of our comfort zones."
The story encapsulates how technology can create unhealthy relationships in society by portraying the comfort of being behind a screen. In the film, a man begins to feel an eerie connection to a woman he sees through a surveillance camera.
"My hope for the viewers of Mallory, Los Angeles is that they would gain a realization of what social media is doing to our world, and would try to change that by remembering to be with people and to be present without a screen to separate them," Rizkallah said.
The BEA Festival of Media Arts is an international display of award-winning faculty and college student projects in the following categories: audio, documentary, interactive media and emerging technologies, film and video, news, scriptwriting, sports and two-year/small colleges. Across all categories, the BEA gave awards to 295 entries this February, selecting from a pool of more than 1,500 entries representing more than 300 participating schools.