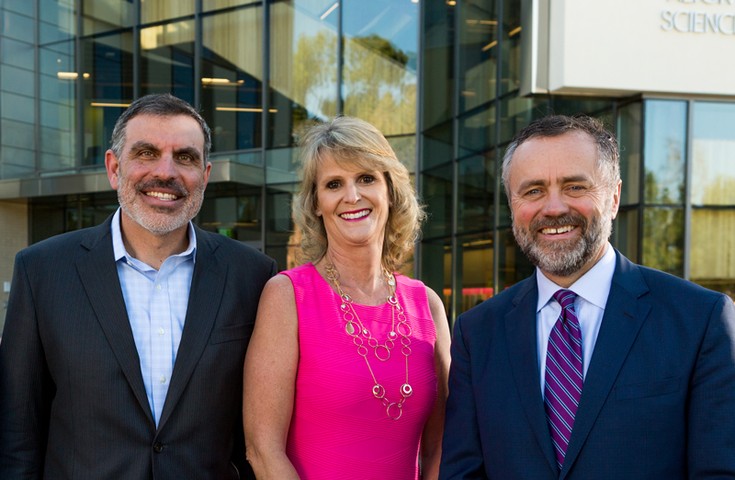 A major gift from two Biola parents will endow a permanent new faculty position in Biola's School of Science, Technology and Health, the university announced this spring.
Through their generous commitment of $2.5 million, Dave and Deanna Rosa are establishing the Rosa Chair in Molecular Biology — a permanently funded faculty position that will enable the school to hire a top-level scholar into a key leadership and research role. It is the university's first fully funded endowed chair and the first of many such endowed positions that university leaders hope to establish in coming years.
The Rosas, from San Jose, Calif., have long known about Biola, but became much more familiar when they took their daughter, Caroline, on a college tour that included a visit to Biola. This spring, Caroline completed her fourth year in Biola's five-year nursing program, and her younger sister Stephanie, a sociology major, finished her freshman year.
The Rosa family was attracted to Biola's 30 required credits of biblical and theological studies integrated into every traditional academic undergraduate degree program.
"They're sending people into business and into medicine and into all these different fields prepared," Deanna Rosa said. "Prepared to not just excel in their fields, but also carry the gospel in a real way."
Dave Rosa, a professional engineer and now executive vice president and chief business officer at Intuitive Surgical, Inc., believes deeply in showing that STEM (science, technology, engineering and math) fields are not at odds with faith but rather that the Bible and science can coexist. Through their involvement and engagement with the School of Science, Technology and Health, they saw a pressing need to endow a chair and wanted to help.
"Part of it is the perpetual investment," Dave said. "We're not investing in a thing, but in a person who is going to be fundamentally educating our children, is involved and connected and leading them in a way that they can spread their faith and hopefully in STEM-based areas. So it's a way to impact now and impact what I hope is the long-term future of Biola."
Endowed chairs are permanently funded by the revenue from the endowment created for that specific purpose. In addition to helping recruit great faculty members, this endowment allows the university to keep operational costs down with the support of outside funding.
"We are so grateful for the partnership of the Rosa family in advancing the vision of the School of Science, Technology and Health," said Deborah Taylor, Biola's provost and senior vice president. "Within any growing academic scientific enterprise, the establishment of donor-funded endowed chairs provides long-term funding stability to recruit and retain excellent faculty scholars. Chairs are also a benchmark of maturity and substantive strategic progress of the school with acknowledgement of that success by our external donor community."