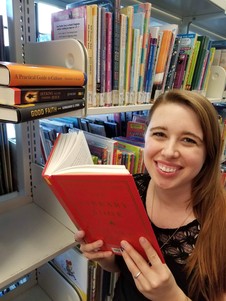 Havilah Steinman ('12) is a booklover. And she wants to share her appreciation for great books with you.
Steinman, a Biola Alumni Regional Contact for the San Diego area, is spearheading the Biola Book Club, an online reading group for booklovers to discuss titles written by fellow alumni.
"The Biola Book Club is a way for me to meet alumni of any generation or location and get to connect with them over books I love," Steinman said.
Steinman grew her love for great books while a student in Biola's Torrey Honors Institute. She had her eye on a legal career when she majored in political science. Now, she's combining her love of books and law as she pursues a master's in library and informational science at San José State University, and she hopes to work in a law library in the future.
"My degree at Biola and Torrey Honors equipped me academically and professionally, but what stands out to me even today is the incredible people who are in my community for life," Steinman said. "I have a vast group of people who wouldn't think twice about laying down their life for one another. Some of these people are members of my Torrey group, or people I came into contact with afterwards at alumni events."
The Biola Book Club connects alumni from around the world. Because readers discuss and connect online, members are participating from Houston to Hong Kong. The group just finished reading A Practical Guide to Culture: Helping the Next Generation Navigate Today's World, by John Stonestreet and Brett Kunkle ('97, M.A. '13). After the group finished the book, Steinman hosted an online webinar with Kunkle on March 14, where readers could ask him questions about the book.
"Because of the nature of the books we choose, I have the opportunity to facilitate discussion about difficult issues," Steinman said. "During these tenuous topics, specifically, I've seen the most fruitful discussion develop. I am grateful for the opportunity to practice moderating such important and dynamic communications."
The Biola Book Club's next book is God of Tomorrow: How to Overcome the Fears of Today and Renew Your Hope for the Future by Caleb Kaltenbach (M.A. '07). Biola alumni throughout the country and around the world are encouraged to join by signing up for the Biola Book Club on Facebook. Members will receive weekly emails during active reading sessions. The next session starts June 1.
---
Interested in connecting with other alumni in your region?
Reach out to your Alumni Regional Contact (ARC) or sign up to become one to organize a meet-up in your area. You can start by emailing Don Bernstein at don.bernstein@biola.edu.
Follow on Facebook @Biola.University.Alumni. Sign up for the Biola Book Club by joining the Facebook group or contacting Havilah at biola.book.club@biola.edu.