As Biola's STEM and health programs reach greater heights, meet just a few of the Biola alumni making a difference in their science careers.
A SURGEON IN THE SERVICE
Brandon McKinney ('11) prepares for medical duty in the Air Force
In the war zone, common combat injuries include broken bones, shrapnel wounds, spinal cord injuries and loss of limbs — injuries that often call upon the help of an orthopedic surgeon. Brandon McKinney ('11) responded to this call when he became an Air Force officer under the Health Professions Scholarship Program (HPSP). This program, upon acceptance, covers the student's medical school costs in exchange for a minimum of four years of service as a physician.
"I don't think I could see myself voluntarily choosing to be in combat," McKinney said. "But it's kind of a unique experience to take care of people who have put themselves in that position to fight for the country. It's kind of a cool opportunity to work with them and their family members, and retirees. It's not something everybody gets to do."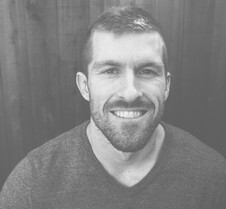 He's not the only one in his family with ties to the Air Force. His wife's grandfather was an Air Force member who served as a bomber pilot during World War II. He was also influenced by his brother-in-law, who's also an Air Force officer as an ENT surgeon.
After he graduated a semester early from Biola, McKinney spent a year and a half preparing for medical school and eventually completed his training as a doctor of osteopathic medicine at Western University of Health Sciences in Pomona, Calif.
Now still in the early stages of the HPS program, McKinney has already spent a few months at a military hospital in Texas for basic training. Most officers complete their residency with the military, but because he received a civilian deferment, McKinney will start his service after he completes his five-year residency in orthopedic surgery. At that time, he and his wife will be stationed at a base, either stateside or in an international zone, depending on the need. Much of his time in residency is dedicated to treating trauma patients in California in a Ventura County hospital, as well as on elective cases and special pediatric cases at a community hospital in Orange County.
While at Biola, McKinney was a biological sciences major, but he didn't always aspire to be a doctor. In fact, before college, he was interested in music, but his family doctor, who was a good friend, encouraged him to take college science classes. On that advice, he dove into science coursework and experiences, and after working closely with an orthopedic surgeon during his third year at Biola, he realized that's what he wanted to do: orthopedic surgery.
"I really liked the idea of restoring our God-given anatomy," McKinney said.
– JOANNA WU
---
FROM THE STAGE TO THE SCIENCE LAB
Angela Nicholson ('15) took an unexpected route to Biola, MIT, Caltech and UCSD
Before Angela Nicholson ('15) spent most days in her lab coat, she was twirling around in her dance shoes. After high school, she was accepted to the Pacific Conservatory of the Performing Arts and went on to perform in a number of stage plays, including "West Side Story" and "Macbeth." But after a debilitating knee injury, she was forced to consider other paths.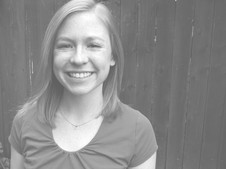 What she couldn't have predicted was that her road would lead to a laboratory where she would pursue a Ph.D. in biology. Nicholson is now a third-year Ph.D. student at the University of California, San Diego, working in an RNA lab, researching gene expression and messenger RNAs (or more specifically, "how polyA tails of messenger RNAs contribute to gene regulation, as well as deadenylation of mRNAs as mediated by microRNAs"). With today's technology, she and her colleagues are making discoveries that can change what textbooks have typically taught about gene expression.
"Ten, 15 years ago, we didn't even have the technology to look at this, and now, new things are coming out, and people are starting to get a finer-tuned look at this," Nicholson said. "And that's really exciting because science and technology kind of work together, and using new technology, you can figure out things that we thought were the opposite."
Her interest in science was piqued when she was in community college and started learning about the tools available to study organisms she had only read about in high school textbooks. Nicholson, who was a biochemistry major, decided to transfer to Biola because she wanted to learn how to think about science from a faith-integrated perspective and hear from other Christian scholars.
"To me, to study science and every day be in the lab, you're kind of uncovering this very holy space," Nicholson said. "To study that is exciting."
At Biola, faculty members mentored her and encouraged her to apply for several internships. When she was accepted to a research internship at the Massachusetts Institute of Technology, she didn't initially realize how prestigious MIT was. Upon hearing that she had been offered this opportunity, Behzad Varamini, associate professor of biological sciences, told her to immediately accept. She did, and that summer, she experienced work and research in a lab for the first time.
"It was extremely scary, but it was really cool," she said.
After that summer, she wanted to have more experience in the lab so she contacted researchers at Caltech in Pasadena, where she ended up interning her senior year. This was the lynchpin before she decided to apply for Ph.D. programs.
In addition to four years of acting, she now has a published paper in Nature Structural & Molecular Biology and is a recipient of the National Science Foundation's Graduate Research Fellowship Program.
– JOANNA WU
---
BREAKING COMMUNICATION BARRIERS
Professor Diana Petroi ('02) helps patients find their voices
When patients first encounter Diana Petroi ('02), they're often struggling to form words due to a physical or neurological disconnect.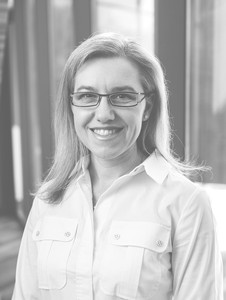 It's her call in life to help them find their voice.
Petroi — who is both a graduate of Biola and a professor to its current students — has a passion both for teaching and for learning. She's particularly driven to discover the root causes of the communication struggles faced by her patients at Biola's on-campus Speech-Language Clinic, many of whom have disorders caused by mental barriers that prevent them from forming verbal phrases with the same level of articulation they feel in their minds.
"I've come to realize I like the challenge of figuring out what patients have and why they have it," said Petroi, who teaches in Biola's master's program in speech-language pathology and undergraduate program in communication sciences and disorders. "The unfortunate thing is that some of the patients we work with are going to get worse over time. So I think it's important to provide them with high quality care and to address all the needs that are within our scope of practice."
After graduating from Biola in 2002, Petroi went on to earn a master's from Loma Linda University and a Ph.D. from Texas Tech University, before ultimately conducting fellowship research at the famed Mayo Clinic in Minnesota. She jokes that she will never fully understand the reason God sent her to the coldest region in the United States, but she considers the personal and professional growth she attained at the Mayo Clinic unmatched in the scope of all her educational experiences.
"With each of the courses I took, and each of the experiences I had, it just confirmed that this is what I wanted to do, and I just felt it was more than a job," Petroi said. "I'm really glad the Lord called me to do this."
Though she instructs her students in the ways of diagnosis by providing the vocabulary and knowledge necessary to care for patients, Petroi also integrates an arguably more important element to her teaching: love for their holistic well-being.
"It's important to treat patients as a whole, and to collaborate with other colleagues to provide quality care for patients and their families," Petroi said. "The unique thing about our field is that we can be the hands and feet of Jesus. I think our field is very conducive to being able to help people in need."
– SAMANTHA GASSAWAY
---
THE CODE FOR SUCCESS
Leah Chatkeonopadol ('12) takes flight as a software engineer for Boeing
When Leah Chatkeonopadol ('12) chose computer science as her undergraduate major at Biola, she was a complete newbie to the field. But now, 10 years later, the one-time novice has developed into a software engineer at Boeing, the world's largest aerospace company — the kind of job that many computer science students dream about.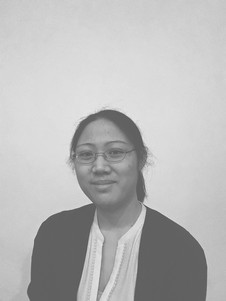 "Going into Biola, I knew nothing about computer science. The first thing I learned about anything related to that was my first class at Biola: Intro to Com-Sci," Chatkeonopadol said. "All the professors were really encouraging. They never made me feel like I didn't know what I was doing. I felt like that, but it was not because of them.&rdquo
After graduating summa cum laude from Biola with majors in both computer science and physical science — and as a member of Epsilon Kappa Epsilon, the Biola University Scholastic Honor Society — Chatkeonopadol went on to earn an M.S. in computer science from the University of California, Santa Barbara, in 2014. Later that year, she landed her current job at Boeing Commercial Airlines.
In her role, she's worked on various types of projects, with the majority being web applications, where she helps to implement the graphical user interfaces (or GUIs).
"A lot of that ends up being forms for people to input information, or tables and charts to display data, or search pages with filters like Google or Amazon," she said. "Sometimes I get designs to follow, and sometimes I have to make up the layout myself based on whatever requirements we got from the customer."
Her Biola education prepared her well: She writes and reviews code daily in the exact manner her Biola professors assigned for occasionally grueling homework, she said. And beyond the technical training that prepared her for her current career, some of the most influential experiences she had at Biola were those gained in her Torrey Honors Institute courses, where she learned how to resolve conflict and communicate proactively, she said.
– SAMANTHA GASSAWAY
---
A PA IN THE ER
Austin Petrich ('09) cares for people in high-pressure situations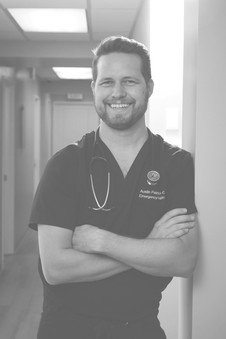 Austin Petrich ('09) started caring for people in danger during his sophomore year in high school, and he's never looked back.
As a lifeguard during high school and college, he developed an early affinity for protecting and saving people from potential emergencies. That calling is part of what led him to study human biology at Biola, and ultimately end up where he is today: working in an emergency room as a physician's assistant at PIH Health in Whittier, Calif.
"Biola prepared me a lot. I felt like the science program at Biola was very difficult, and while going through it, it was frustrating," said Petrich, who completed a physician's assistant program at Western University of Health Sciences. "But getting to PA school, it made PA school a lot easier."
Beyond his work in the ER, Petrich has also been able to use his medical training on the mission field, including helping to set up a clinic in Cambodia to care for people's spiritual and medical needs.
"Because God has helped me with [my education and career], I feel like he's also called me to use those gifts, those blessings, to bless other people and further his kingdom," he said. "So missions is something that's always been on my heart."
– SAMANTHA GASSAWAY AND JASON NEWELL
---
A DATA SCIENTIST IN THE MAKING
Olivia Bernstein ('17) is pursuing a doctorate in statistics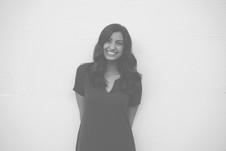 Olivia Bernstein ('17) has a knack for chemistry and a love for math. So naturally, at Biola, she double majored in both chemistry and mathematics.
During her junior year, a professor encouraged her to apply for a research program in computational chemistry, "the math side" of chemistry. So she spent her summer at the University of Georgia with other peers — and for her first time, conducted research.
"It was really interesting working on these problems where there wasn't a solution, and you don't have to figure it out right there, you get to sit around and talk about it," Bernstein said. "And you have to present your findings. ... I really liked the atmosphere of being in a research group.&rdquo
Bernstein, now a first-year doctoral student in statistics at UC Irvine, hopes to pursue a career in big data, to become a data scientist and advise businesses on consumer products. She's originally from Yorba Linda, Calif., and part of a Biola family, including two younger brothers who are current undergrads in STEM programs, and her parents, who met at Biola.
– JOANNA WU