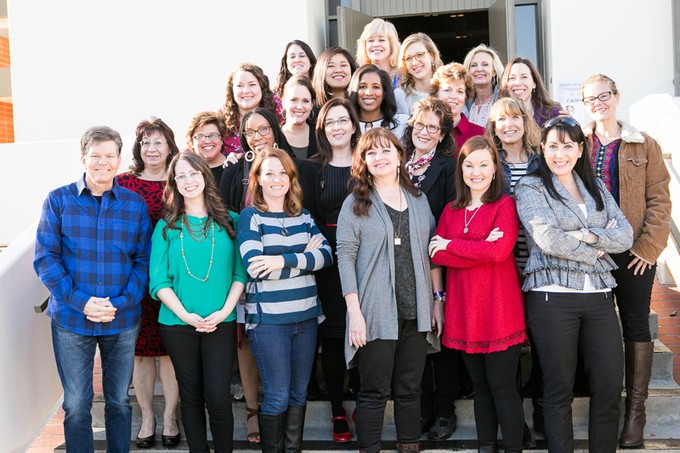 Biola University, home to one of the world's most reputable Christian apologetics programs, hosted the first-ever Women in Apologetics (WIA) Conference on Jan. 19–20. The two-day conference gathered close to 200 attendees, many from all over California, several from out of state and a couple from as far as Ireland.
Rachel Shockey, WIA's executive director of development and a current student in Biola's Christian apologetics program, was inspired to host this conference after multiple conversations with her classmate and now WIA's president, Laurie Stewart, an attorney and co-founder of Intelligent Faith. They talked about the need to gather female apologists and how Stewart and her husband had been long praying for an intelligent faith conference for women.
"The very first Women in Apologetics Conference that took place on campus was a truly compelling event," said Craig Hazen, founder and director of Biola's master's program in Christian apologetics and the master's in science and religion. "As one of the WIA leaders said, 'It's not just that women need apologetics, but that apologetics needs women.' I think we are going to see growth and amazing impact in this area for years to come."
Jade Turner, WIA's director of resources and board secretary, remembers being one of the few women in her apologetics program and saw how this conference provided an opportunity for women to gather, fellowship, speak and build relationships with one another.
"I think it's huge to have all these women come together and show that Christianity is for smart people — for thinking people," Turner said. "We see the Christian worldview as more reasonable and more backed by evidence than the narrative society gives us."
Some of the key topics speakers explored included how to respond in an increasingly intolerant environment, equipping the next generation, issues of faith and science and how to diagnose a person's source of doubt.
Just within the past five years, the share of women in Biola's apologetics program has doubled, from 10 percent of its students to now more than 20 percent.
"[Dr. Hazen's] always been behind the vision of women in apologetics," Shockey said. "Having his support and the support of the department has been incredible."
All the keynote speakers either received their training from Biola's apologetics programs or are currently in the program, including alumnae Mary Jo Sharp (M.A. '08) and Melissa Cain Travis (M.A. '12), both of whom are assistant professors of apologetics at Houston Baptist University; Natasha Crain, a Christian parenting author, blogger and speaker with a certificate from Biola's program; and current student Hillary Morgan Ferrer, founder of Mama Bear Apologetics.
In addition to these speakers, attendees heard from a number of other female speakers and apologists from Ratio Christi, The Veritas Forum, Intelligent Faith and others.
"One of the sweetest parts of the conference was making friends, meeting each other, building each other up," Turner said. "It was one of the most encouraging times I've ever had."
WIA looks forward to hosting the conference at Biola again on Jan. 11–12, 2019. To stay tuned and learn more about WIA, visit womeninapologetics.com. For training in Christian apologetics, learn more about Biola's programs, available on campus or online at biola.edu/apologetics.