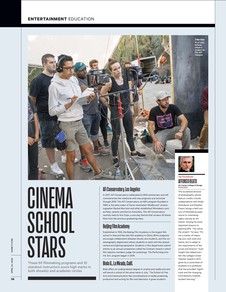 Biola University has given the green light to its newest school — the School of Cinema and Media Arts — and even before its official launch this summer, the film school is garnering critical acclaim.
In its April 25, 2018, issue, leading industry publication Variety listed Biola among the world's top 40 filmmaking programs in an article titled "Cinema School Stars," which recognized schools that "score high marks in both showbiz and academic circles."
Located less than 25 miles from Hollywood, the entertainment capital of the world, Biola's new film school will accommodate growing student interest in cinema and digital media and create opportunities for new academic programs, all aligned to expanding career opportunities in the industry.
"Cinema and media arts is an area of incredible growth opportunity for Biola," said President Barry H. Corey. "This new school will allow us to position ourselves as an influential leader in the field in order to equip future culture creators."
Biola currently offers an undergraduate degree in cinema and media arts, with concentrations in media management, production and writing for film and television. A record number of students applied for the program in fall 2017, as 180 students vied for 72 openings. With the new school, the university will introduce several new undergraduate degrees and concentrations over the next five years in areas such as acting, film scoring, cinematography and directing. University leaders hope these new programs will attract nearly 750 new students by 2027.
In September, Biola's Board of Trustees approved a plan to raise and allocate funds to renovate the existing production center and construct a new state-of-the-art facility to be completed in late 2021. The new 50,000-plus square-foot building will house a screening room capable of seating 220, several sound stages, a Foley stage, recording and editing rooms, five classrooms and 23 faculty and staff offices.
Biola's existing cinema and media arts program has a well-established record of preparing alumni for success in the entertainment industry and offering them access along the way to internships, industry speakers, networking opportunities and the latest equipment. The new school will take that success to the next level, program leaders said.
"Integration of our faith and craft is not superficial, as we believe storytelling is inherently germane to what it means to be created in the image of God," said Gerald Fisher, professor and chair of the cinema and media arts program. "Emphasizing high production value gives our graduates the skill set future employers desire. We are one of the oldest and largest Christian media programs in the world. Our location in Los Angeles cannot be beat."
Be sure to check out Biola Magazine's next issue for an in-depth feature story about the launch of the new school, the founding dean and new programs to come.