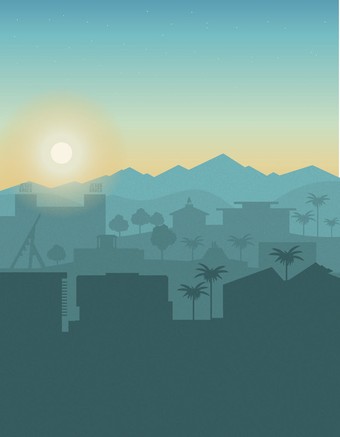 I'll admit, I was one of the skeptics. When university leaders announced the launch of an unprecedented $180 million fundraising campaign five years ago, I inwardly worried that the target had been placed at the wrong end of the continuum between "faith-stretching" and "completely out of reach."
I was wrong. Five years later, by the grace and provision of God, you did it. More than 20,700 of you came alongside this university and gave generously toward The Campaign for Biola University — not just reaching the goal, but dramatically exceeding it. When the campaign came to its official end in December 2016, you had given more than $214 million to support the university's vision.
God has faithfully used and led this university since well before any of us were born, and the successful completion of the largest fundraising campaign in Biola's 109-year history is just the latest evidence of how he is guiding us forward.
That's what we've tried to capture in the illustration on our cover, created by graphic designer Rebecca DiMarzio ('12), shown off to the right. Off in the distance, just beneath the rising sun, is the original Bible Institute of Los Angeles building, topped by its famed neon "Jesus Saves" signs. As the Southern California landscape extends forward, so do the iconic landmarks that represent different eras in Biola's history: Calvary Chapel, the Bell Tower, the library, the Fluor Fountain, the business building and Talbot East. Finally, nearest to us in the bottom right corner rests the outline of the soon-to-be-completed Alton and Lydia Lim Center for Science, Technology and Health. In this one image, we see Biola's past, present and future, all against the backdrop of a dawning day.
Through the generosity of so many people in the extended Biola family, this campaign has helped to launch a new day for the university. As you can read about in the cover story from President Barry H. Corey, Biola faces exciting and challenging opportunities in its immediate future. In the coming years, the university is positioned to grow in leadership in the STEM fields, serve an ever-more-diverse community of students, reach thousands of people around the world through new online programs, move into NCAA competition, and produce biblically centered research and teaching on the most important issues facing Christianity and culture.
These are exciting times to be a part of the Biola community — not because we collectively raised $214 million, but because of what those resources will enable us to accomplish for the sake of God's kingdom. This dawn of a new day is an occasion to step back and praise God for the great things he is doing. As you glance back at the cover illustration, let the words of Psalm 113:3 resound in you: "From the rising of the sun to its setting, the name of the Lord is to be praised."